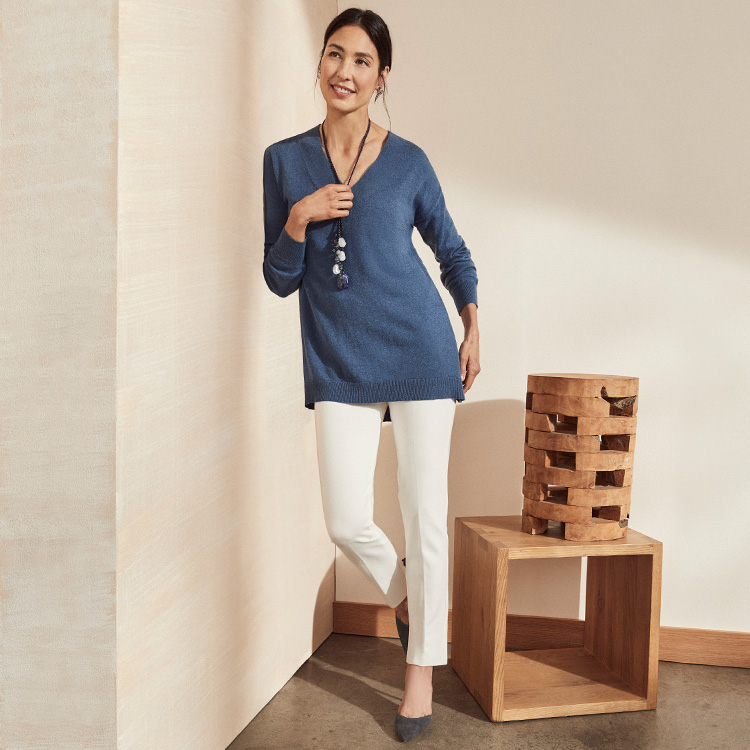 What are ponte pants? How do I wear ponte pants? What should you wear with ponte pants? We're here to answer all of your questions on Chico's go-to style! Let's start with what exactly Ponte, pronounced pon-tee, pants are.
WHAT ARE PONTE PANTS?
Chico's Ponte Pants are made from high-quality knit fabric, engineered with the perfect blend of rayon, nylon, and spandex to fit and flatter your body. The beauty of Chico's ponte pants is that these bottoms are both flattering and forgiving in all the right places! The fabric makes them feel like a combination of your favorite leggings, skinny jeans, and trousers – they are truly genius! 
The thickness of the fabric makes these pants sturdy yet soft. You'll look fabulous and feel comfortable in our ponte pants no matter what. Since our ponte pants sit just below the waist with a sophisticated line from hip to knee, you can wear these pants to add a hint of polish to any outfit. They remain comfortable all day long while also keeping their shape, making them perfect for office attire, casual attire, or an evening outfit. 
HOW TO STYLE YOUR PONTE PANTS
Now, let's get into how to wear and style your ponte pants. Ponte pants are super easy to wear because they are cling-free, so you don't have to worry about how they look, and there are endless ways to wear them. The fitted bottom of our ponte pants makes it easy to pair them with a nice blouse and stylish heels. In the wintertime, you can throw on a pair of boots with a nice sweater and your ponte pants for the perfect outfit. Pull-overs go great with our ponte pants to create a nice sleek fit.
ELEVATE YOUR CASUAL STYLE
If you're going for a more casual look, pair your ponte pants with a stylish slub tee and sandals. Another one of our favorite combinations is classic white shirts with our ponte pants. Or, trade out the white shirt for an artisanal top and heels to dress up your outfit. For a classic, easy-breezy look, try a satin shirt with our ponte pants.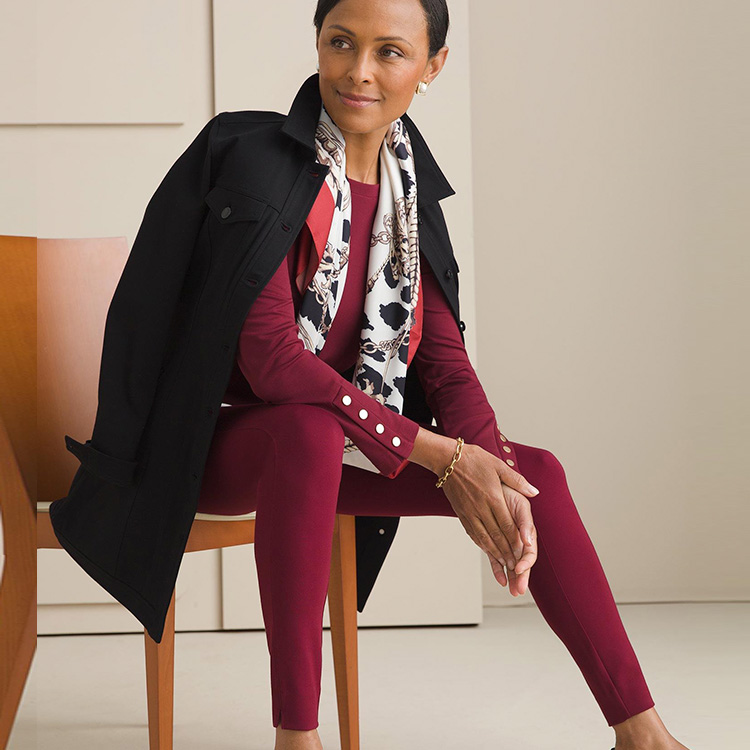 Our customers are raving about our brand new Juliet Side-Vent Ankle Pants! These new ponte pants feature our So Slimming® 360 technology with a Hidden Fit panel that smooths your shape and trims your tummy. You'll look flawless from every angle in these ankle length jeans. Spice up your outfit with an animal print top and your ponte pants, or add a feminine touch with a flowy floral print shirt.
Our no-fail formula for chic is to pair tunics with our tailored ponte leggings to create a long, lean shape. Our ponte pants are an absolute game-changer because they really do go with almost anything! There are endless ways to style your ponte pants, from casual fits to elegant, classy looks.