How to Style Faux Leather
Faux leather has evolved into a sophisticated fabric that instantly elevates any look. This material is also an excellent alternative for those who don't want to wear real genuine leather anymore. The best part is you don't have to compromise the look you love!
Faux leather outfits are flattering and designer-approved for any occasion. Chico's wants to inspire you to incorporate this must-have fabric for fall and winter into your wardrobe. In this guide, we'll help you explore the different ways to take on faux leather fashion.
What is Faux Leather?
4 Ways to Style Faux Leather
Can You Wear Faux Leather All Year?
How to Find Quality Faux Leather Pieces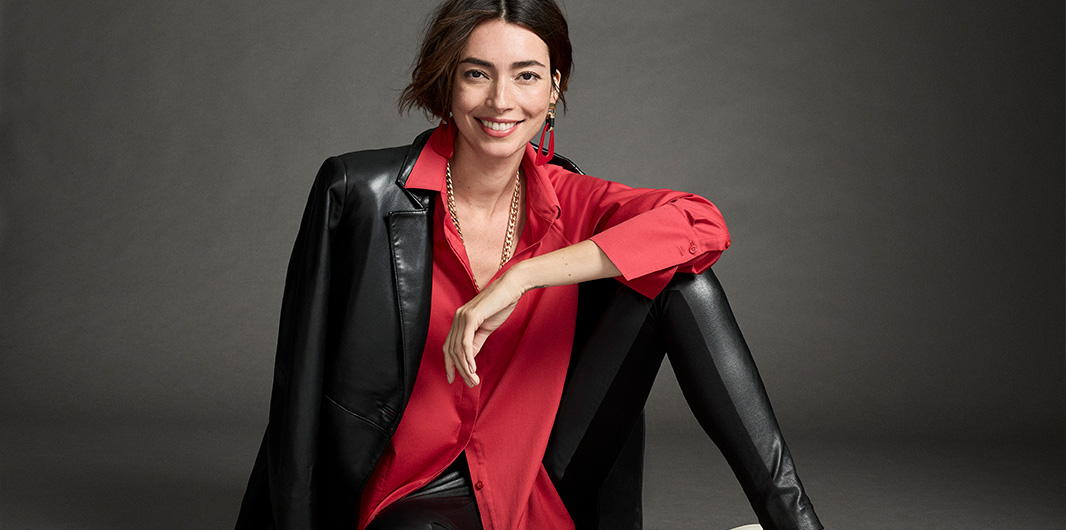 What is Faux Leather?
First, faux leather is a manmade fabric that is meant to imitate genuine leather. Faux leather is a synthetic fabric that is treated to provide the appearance of leather. It is popular for designing clothing because it is affordable, breathable, and easy to clean.
When made with care, faux leather can look very high quality. It's also quite versatile and offers an alternative option to real leather. There's always room for new fabrics in your wardrobe, and faux leather is one that is not only timeless but easy to style in ways that will always keep you ahead of the curve.
Benefits of Wear
The main reason people seek out faux leather is that it looks and feels very similar to real leather, but with a variety of benefits for those who don't mind—or even want—an alternative.
For one, faux leather is usually more affordable than real leather. While real leather has earned its place in the fashion world, it has some design and longevity limitations that make it less than ideal in some use cases. This is where faux leather comes in.
Faux leather is very versatile and offers more finishes, like high shine patent, matte, and everything in between. It is also available in a wide array of hues, styles, patterns, and designs. Unlike real leather, which is made from animal skins, faux leather is easy to clean, won't crack, and is more or less stain-resistant.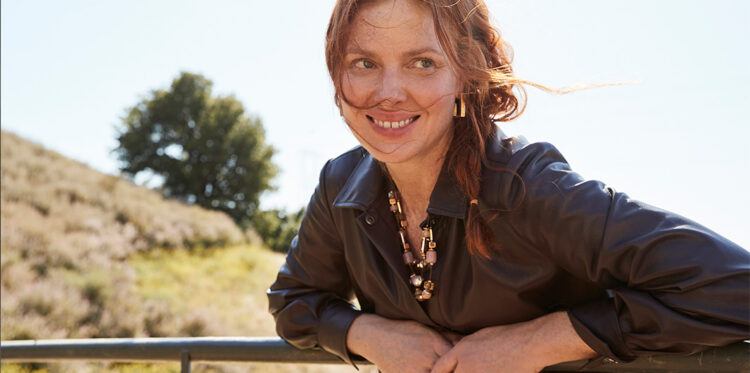 4 Styling Tips
Faux leather is easier to style than you might think. If you're on the fence and aren't quite sure if this fabric is for you, we're here to show you how to style faux leather in ways that might convince you to add a piece or two to your wardrobe.
Our designers have traveled far and wide and spent countless hours to find the most spectacular faux fabrics resulting in gorgeous, soft-to-the-touch, comfortable fashions. Ease into the faux leather scene with one piece like a faux leather moto jacket or jump in with both feet and enjoy head-to-toe faux.
Take a look at the following styling ideas that are modern and sophisticated.
For a Night Out
Going out with the girls? Grab your favorite girlfriend or boyfriend jeans and a classic white button-down, and you've set the foundation for a fun night out look. The finishing touch? A relaxed faux leather moto jacket will pull it all together. Leave it unbuttoned and open to reveal a statement necklace or a large-buckled belt. It is all you need for a look that turns heads and looks great in photos.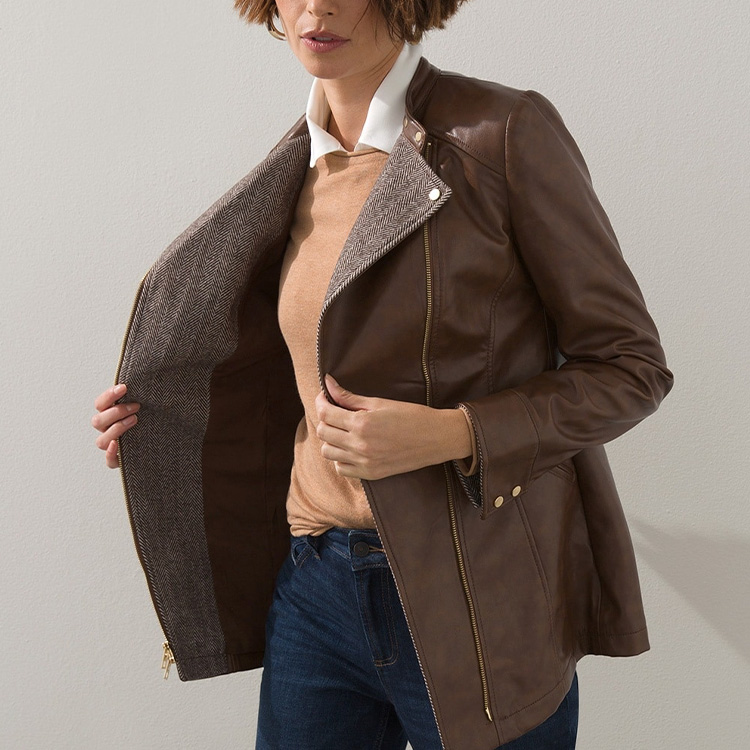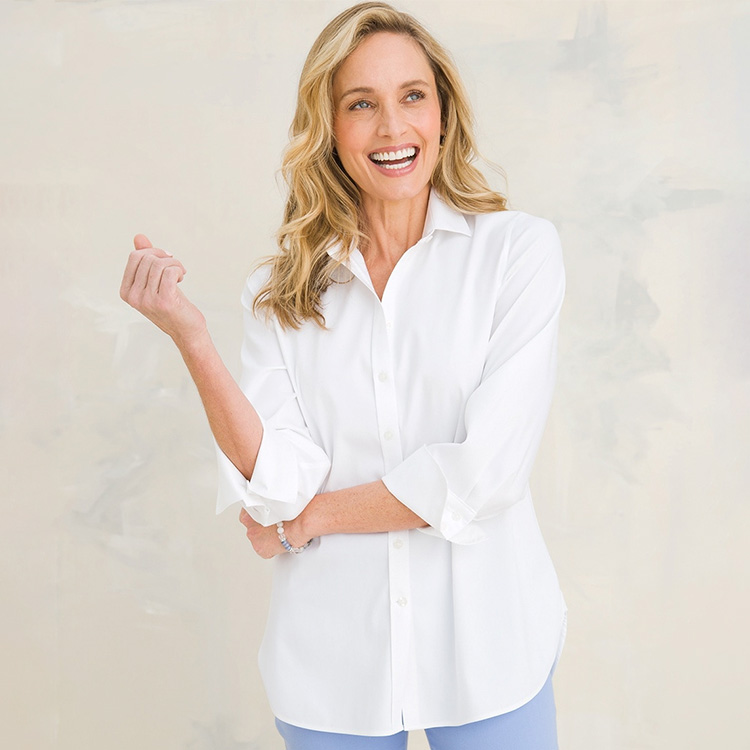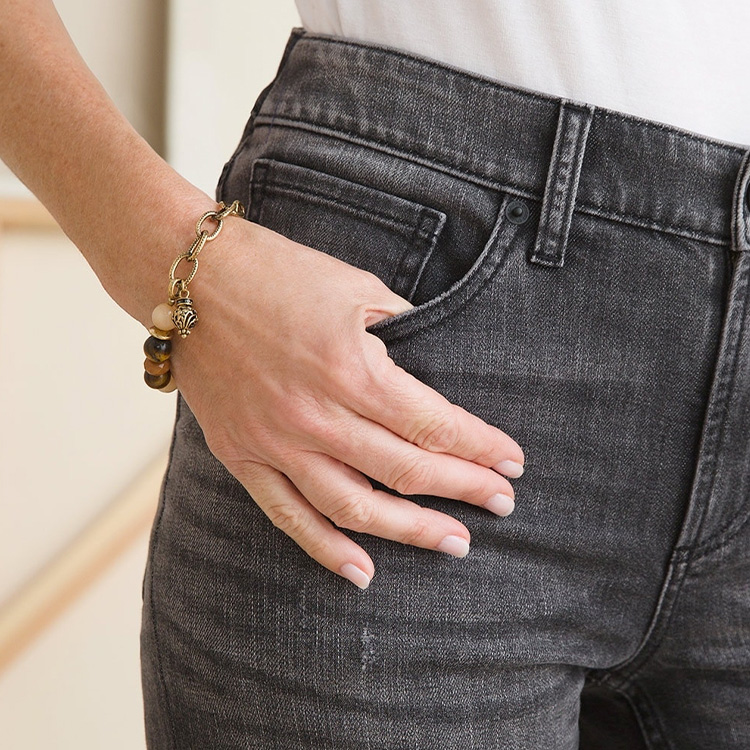 Perfect Moto Style
Chico's has your back when it comes to a modern "moto" style. Rev up your look with a classic style inspired by motorcycle wear.
Our classic Faux Leather Moto Jacket takes the best of both worlds with an elevated, sophisticated design that is perfect for pairing with your favorite wardrobe go-to's. This moto jacket features two front zipper pockets, plus modern zipped cuffs. It's the perfect work look as a comfortable topper over a patterned dress. Or, wear it with a simple, solid dress and pair it with a pair of boots to finish off the ensemble.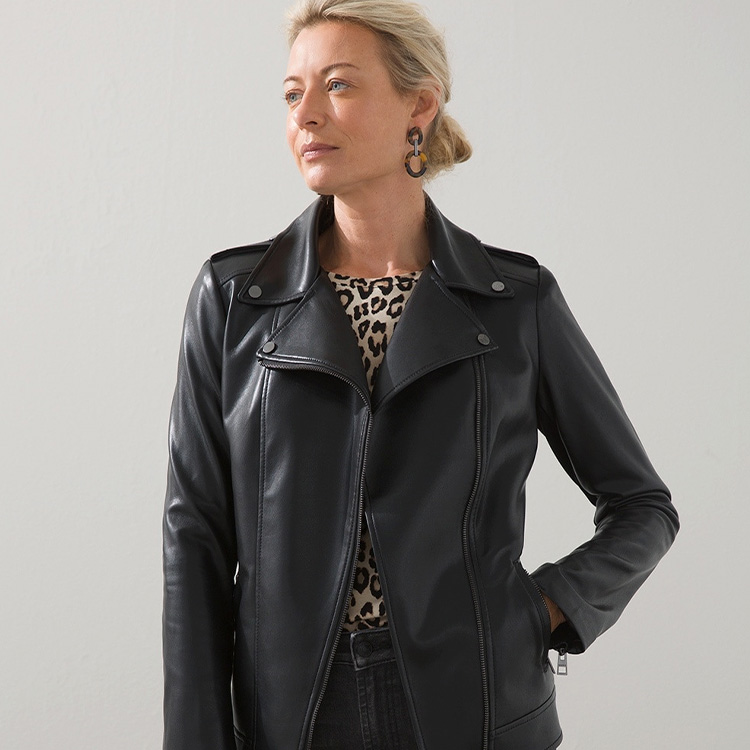 Running errands or heading out for some shopping? Team your moto jacket with a pair of flattering leggings, one of our tees, and a pair of flats or high-end sneakers. A simple layered necklace will tie it all together.
Chico's Fashion Tip: Wear your faux leather moto jacket unzipped for an open, coat-like casual look, or zip it up halfway for a more form-fitting, curve-enhancing style.
Make it Professional
It might surprise you, but faux leather clothing is perfectly appropriate for a professional workplace. It's all about pairing them with the right pieces. Our Edge to Edge Faux Leather Topper is designed in a bold, smart style that provides a suit-like layering piece. Go for a monochromatic look and team with a pair of classic black slacks and a black Ponte collared long-sleeve tunic. Your favorite flats or kitten heels will get the job done. Complete the look with an oversized watch or chunky bracelet and earrings.
A dress-down day doesn't always mean looking too sporty and casual. Capture a refined, casual look in faux leather crops in a beautiful cherry brunette hue that's subdued but impactful. Complete the outfit with an anything-but-basic black long-sleeved layering tee, bold blazer or cardigan, and white sneakers.
Dresses are always acceptable in a professional scene. Our Faux Leather Shacket in light oak breathes new life into this wardrobe essential. It is a lovely light neutral color that easily coordinates with any dress style, length, or color, creating the perfect combination for wearing to work.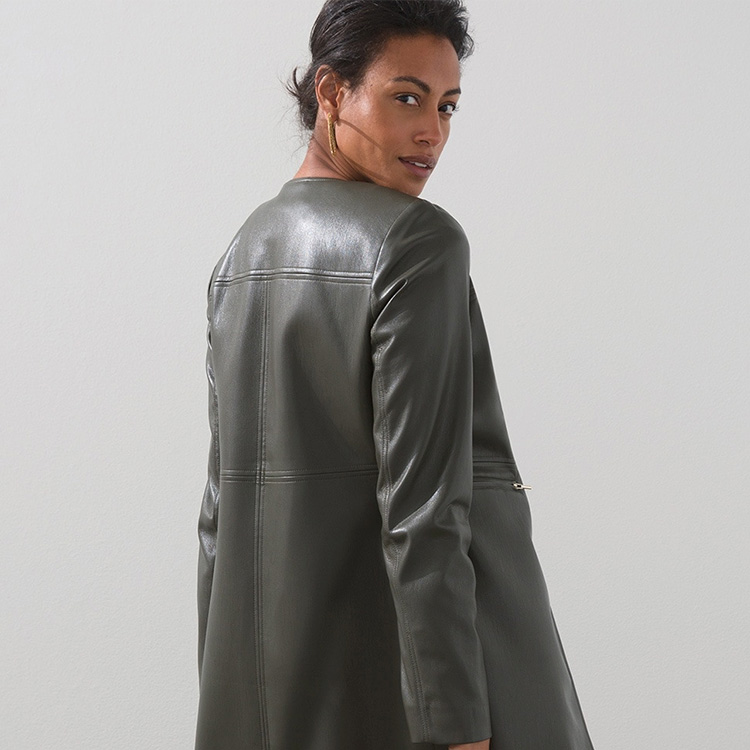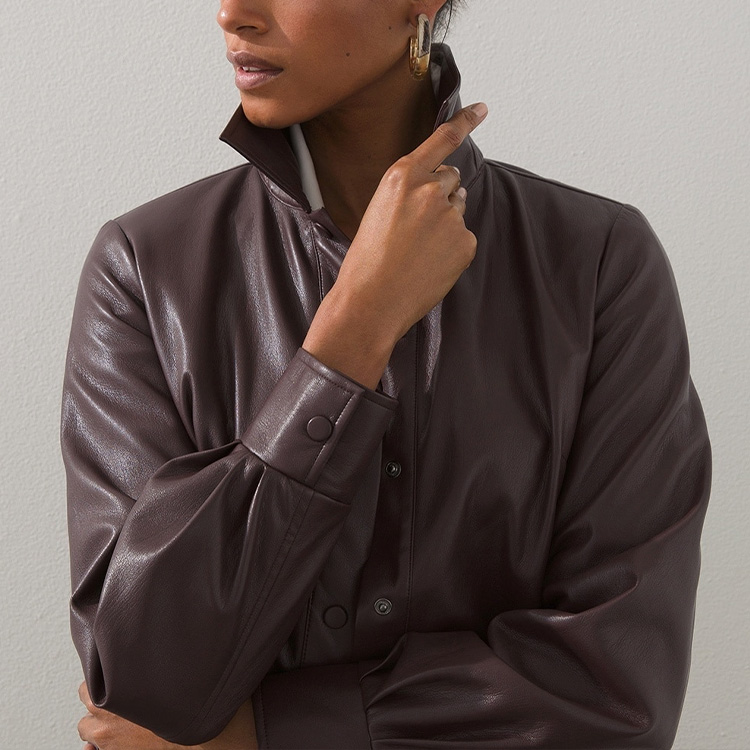 Keep it Casual
Faux leather clothing takes a casual look to an elevated level. Turn everyday events into special moments while wearing your new Chico's favorite faux leather. Take your go-to boyfriend denim jeans up a notch and wear them with our laid-back Faux Leather Shacket.
What's a shacket? It's a top layer that resembles a shirt but has the function and weight of a jacket. This modern, must-have piece is perfect with satin shirts, animal prints, tunic tops, and camis. Pop on your favorite ankle boots, slides, or sneakers to tie it all together.
Faux leather and Ponte combine as one to create a pair of pants with dimension and sophisticated style that can be dressed up or dressed down. Keep it simple and wear it with a Cotton Slub Side Vent Tee, plus a tried-and-true denim jacket, like our Indigo Frayed Hem Denim Jacket. Add a pop of color with a floral design flat. A simple gold bracelet and hoop earrings add a subtle finish.
Chico's Fashion Tip: Denim jackets pair perfectly with faux leather clothing and are available in a variety of colors, styles, and designs.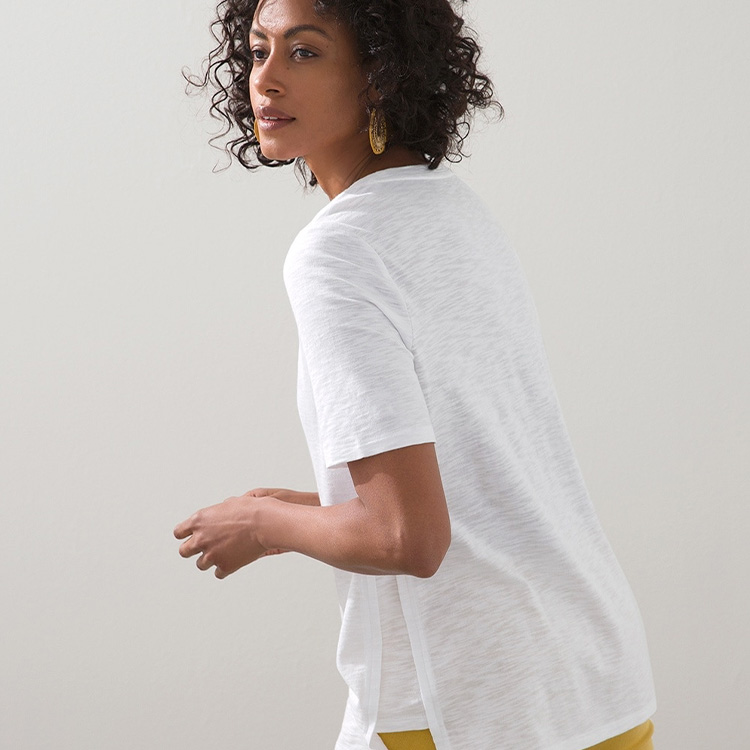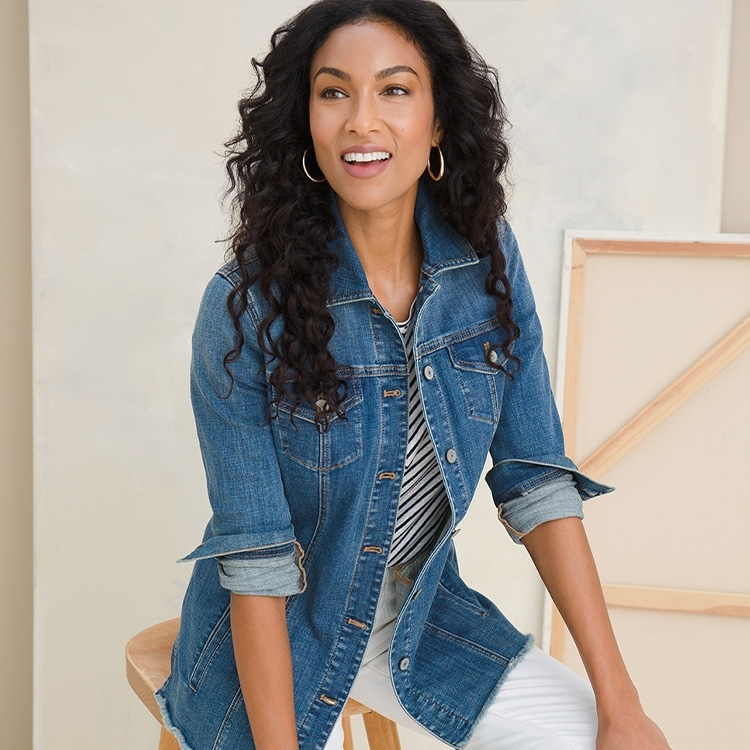 Can You Wear Faux Leather All Year?
Yes, faux leather is wearable throughout the entire year as it can be transitioned easily from season to season. Items like full faux leather set clothing and faux leather jackets are better suited in cooler months, but there are many ways faux leather can be comfortably worn on warmer days. Pair faux leather pants with lightweight fabrics, short-sleeved tops, and open-toed shoes. Or, wear faux leather tunics with leggings and crops for a comfortable, easy-breezy warm weather style.
How to Find Quality Faux Leather Pieces
It's important to note that not all faux leather clothing is created with the highest quality in mind. Look to brands like Chico's, who have a track record of bringing you modern clothing that is created with carefully selected materials and quality craftsmanship. Here are a few tips to keep in mind when shopping for faux leather:
Sturdiness: You want your faux leather pieces to last wear after wear.
Machine-wash safe: It should be easy to wash your faux leather pieces.
Comfort: Faux leather should be breathable and easy to move in.
When you're shopping, be sure to check the product details to learn more about the materials used and see what the reviews say, so you can find the best faux leather clothing.
Get the Perfect Faux Leather Pieces for Your Style
Whether you're trying it for the first time or are a long-time faux leather fan, Chico's has the latest faux leather styles that you need to add to your wardrobe. Shop Chico's faux leather collection to find pieces you can wear season after season to create timeless looks that are the epitome of modern, sophisticated style.