How Do I Wear Ponte Pants, Tops, & Dresses?
What are ponte pants? How do I wear ponte pants? What should you wear with ponte pants? We're here to answer all your questions on Chico's customer-favorite fabrication! Let's start with what exactly Ponte (pronounced pon-tee) pants are.
What is Ponte Fabric?
What are the Benefits of Wearing Ponte Fabric?
How to Style Ponte Clothing
Elevate Your Casual Style with Ponte Fabric
Find Essential Ponte Pieces for Your Wardrobe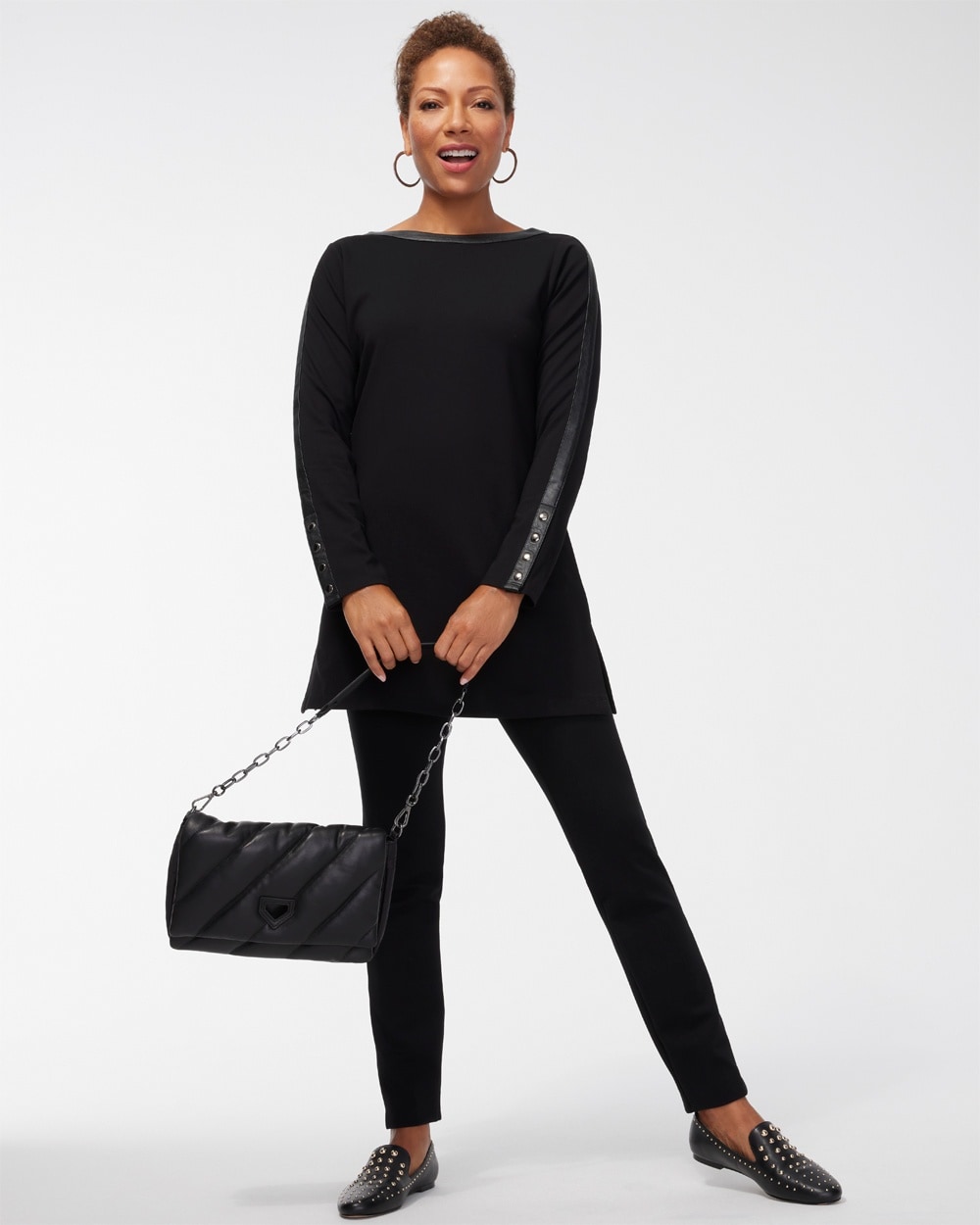 What is Ponte Fabric?
Chico's Ponte Pants are made from high-quality knit fabric, engineered with the perfect blend of rayon, nylon, and spandex to fit and flatter your body. Ponte fabric is double-knit, creating a blend that provides structure and thickness.
The thickness gives it a polished appearance, making it the perfect option for sophisticated occasions. Ponte is versatile and durable, providing the stretch and comfort you love without compromising on style.
We use this material in our women's ponte pants to provide bottoms that are both flattering and forgiving in all the right places! The fabric makes them feel like a combination of your favorite leggings, skinny jeans, and trousers – they are truly genius!  The thickness of the fabric makes these pants sturdy yet soft.
You'll look fabulous and feel comfortable in our ponte pants no matter what. Thanks to the unique blend, you can also wear ponte fabric all year round. It provides warmth in cooler weather without being too heavy for milder temperatures.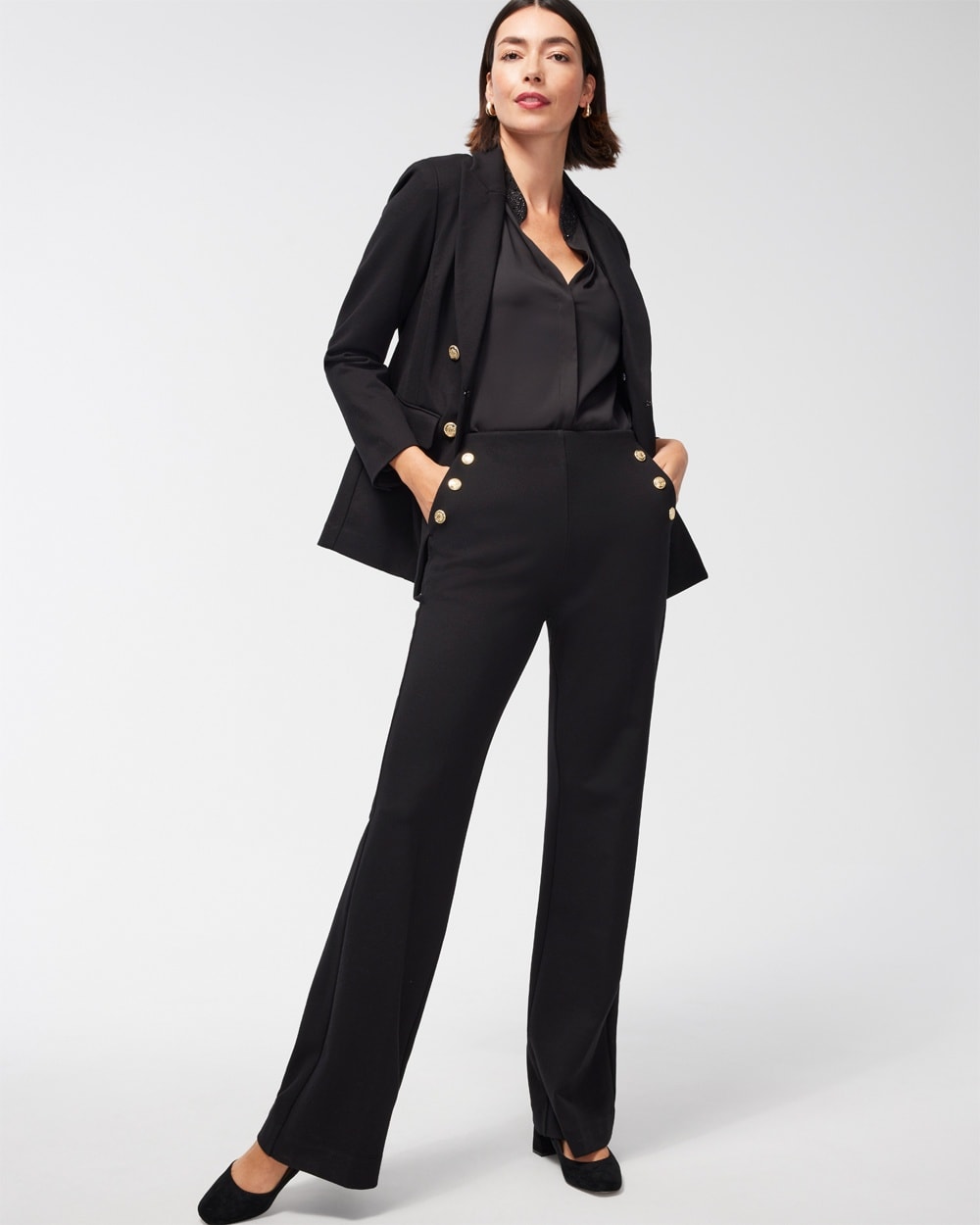 What Are the Benefits of Wearing Ponte Fabric?
Why wear ponte fabric as opposed to other fabric types? Ponte provides unique benefits that keep you looking and feeling your best, no matter the occasion. Some of the main benefits of wearing ponte fabric include:
Soft and stretchy: Ponte fabric is exceptionally soft on the skin for a comfortable wearing experience all day long. Its inherent stretchiness allows the garment to move with your body so you can confidently tackle the day.
Travels well: You can take clothing made from ponte fabric wherever you go. Because ponte is made of tightly woven yarn, you can easily pack ponte clothing without worrying about wrinkles or creases. When you arrive at your location, just pull out your items and throw them on for a polished and refined look any place, any time.
Doesn't fade easily: Ponte fabric typically retains its color and vibrancy over time. Even after multiple washes, your ponte clothing won't fade or dull. The longevity of this fabric is important for those looking for timeless, high-quality pieces to add to their collection.
Rarely wrinkles: The wrinkle-resistant nature of this fabric helps you maintain a neat and put-together appearance no matter what the day throws at you. Stay polished and wrinkle-free, whether at the office or running important errands. Plus, wearing ponte clothing saves you the time and hassle of frequent ironing and steaming.
Versatile and stylish: Ponte is one of the most versatile fabrics. You can use it to create a wide range of clothing items, such as ponte dresses or tops, helping you build a wardrobe that can easily transition between various occasions.
Confidence boost: Clothing that is comfortable and soft will keep you feeling your best for that added boost of confidence you need to conquer the day.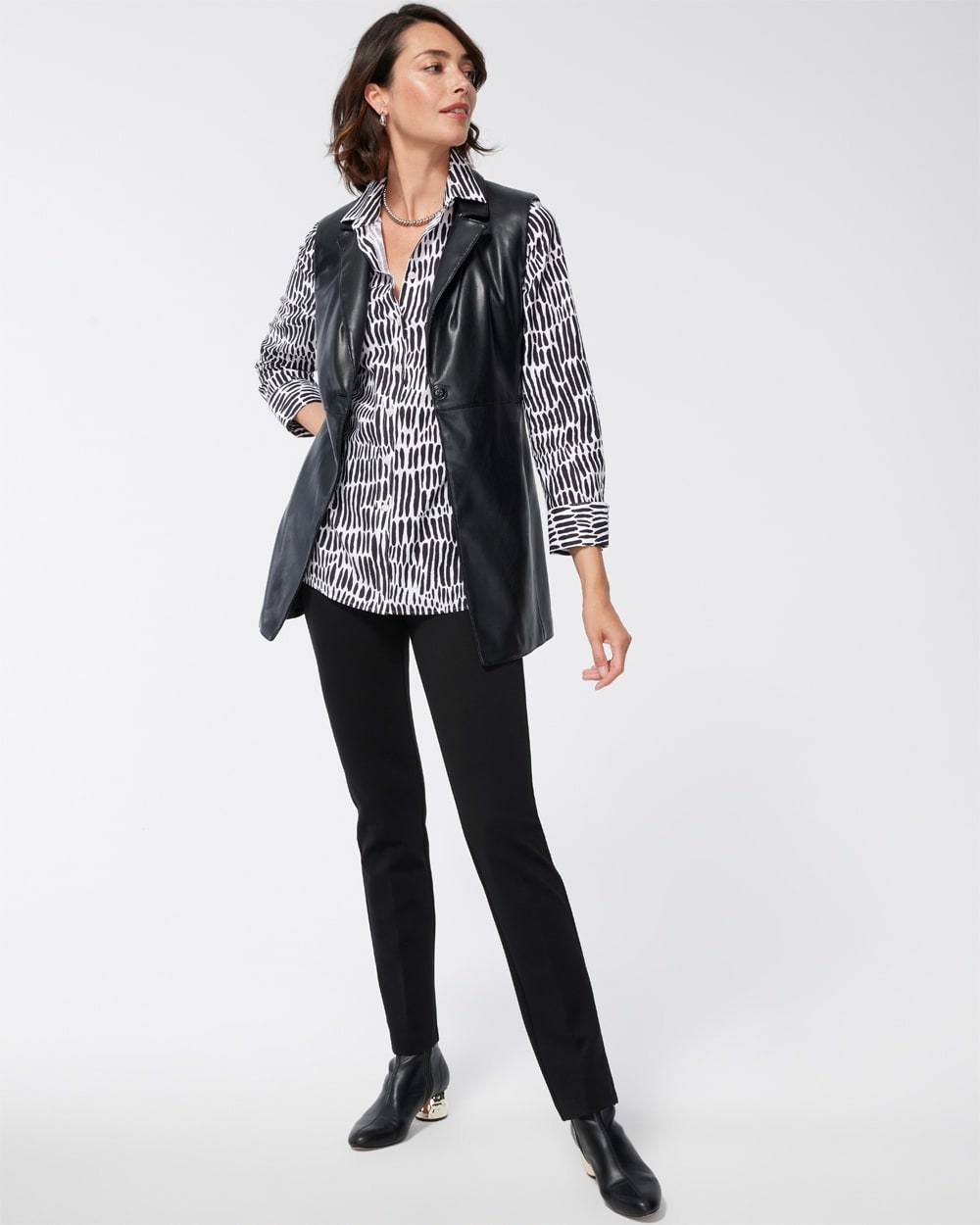 How to Style Ponte Clothing
Now, let's explore the endless styling possibilities for ponte clothing. Pieces made from ponte fabric are incredibly versatile because the material is cling-free, so it will always look flattering. Let's take a look at how to style different types of ponte clothing:
Ponte Pants
Pair your women's ponte pants with a chic blouse or sweater for a sophisticated look. The fitted bottom of Chico's ponte pants makes them easy to pair with sleek heels or boots. With ponte fabric, styling wide-leg pants is a cinch.
For an easy yet elegant ensemble, slip into our Ponte Wide Leg Pintuck Pants—that combine elevated style with total comfort. The Ponte Pintuck Wide Leg Ankle Pants are versatile and can be dressed up or down, depending on what's on your agenda for the day. In rich shades like chocolate fondant, you can simply slip on a pullover and block heels in a complementary hue to create a standout look in seconds.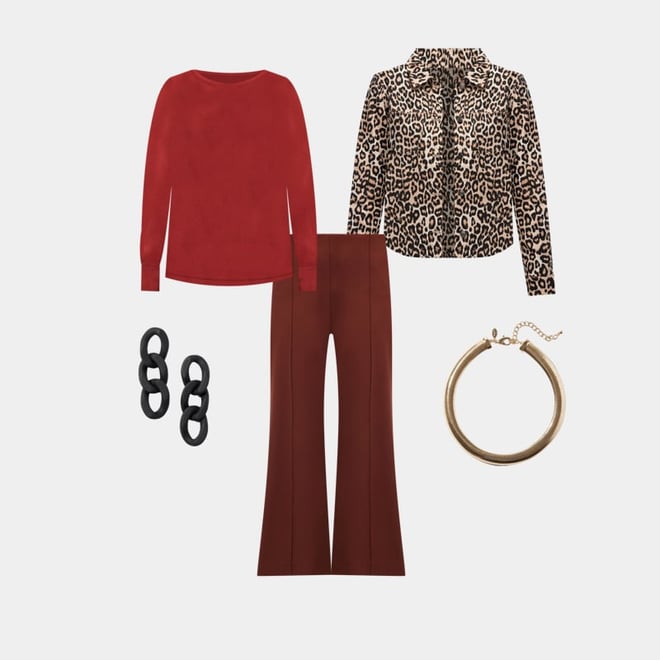 Ponte Dresses
A midi ponte dress can seamlessly transition from summer to fall. Just add an elevated faux leather jacket for the perfect late October look.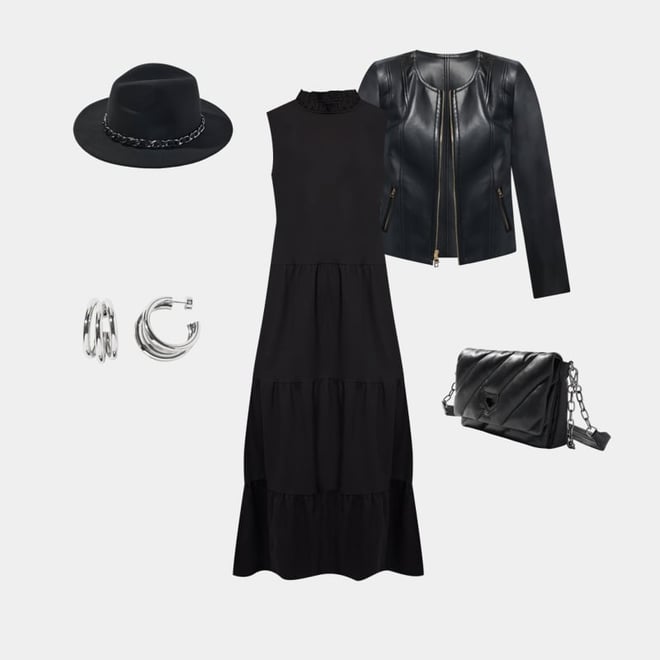 Ponte Vests
Layering can take your style to new heights. Pair a ponte vest—like the Ponte Knit Stitch Detail Vest—over a crisp button-up shirt for a polished look, or layer it on top of a long-sleeve mock neck for a casual and cozy ensemble.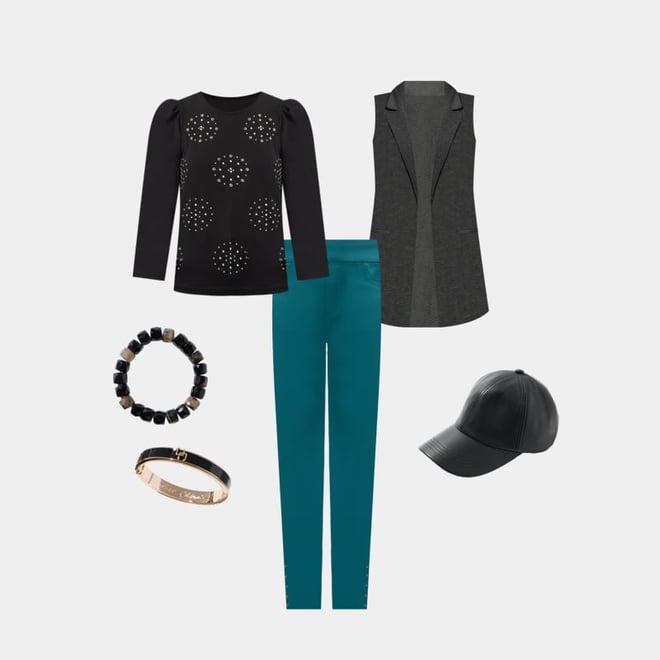 Ponte Skirts
Choose a ponte skirt for your next date night outfit. Dress it up with a delicate blouse and embellished flats for a striking, feminine outfit.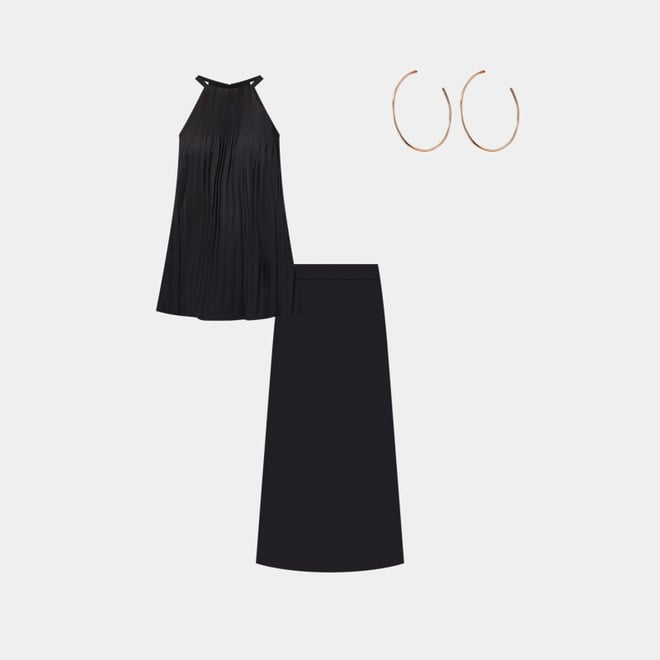 Ponte Tops and Tunics
Experience the joy of wrinkle-free tops by purchasing a beautiful ponte tunic. Wear a pair of slimming leggings or skinny jeans alongside your ponte tunic for a comfortable, smart look.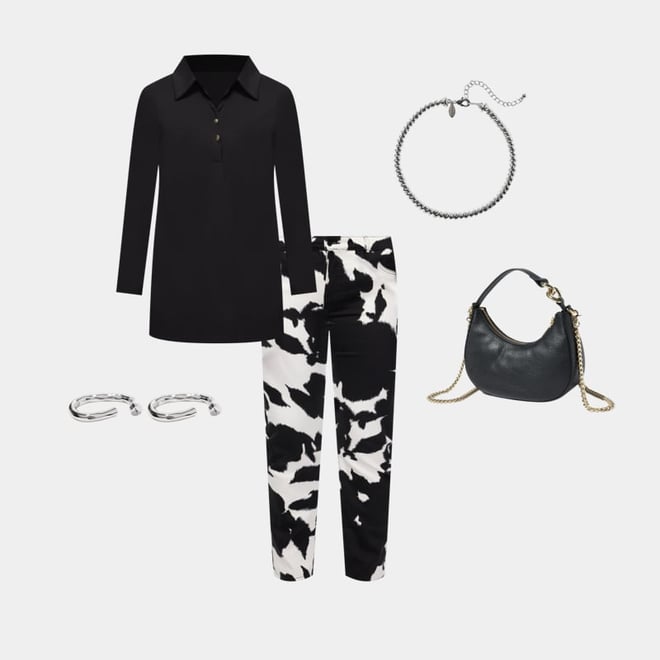 Find Essential Ponte Pieces for Your Wardrobe
Embrace the allure of our full range of ponte pieces for a perfect blend of grace and ease. Our ponte collection extends beyond versatile ponte pants for women, introducing you to a world of stylish possibilities.
Picture yourself in our charming ponte maxi dresses, where flowy and playful designs transform everyday looks into whimsical fashion statements. Elevate your outfit with a printed ponte tunic, where unique patterns and designs meet the comfort of this unique fabric.
Each piece in our ponte selection is crafted to enhance your personal style, giving you the confidence to step out in style. Unlock the benefits of ponte material by exploring our full range of ponte pants, tunics, dresses, skirts, and more! Start shopping to find the must-have pieces to add to your wardrobe.