Your outfit tells others who you are. Whether you're going on a first date, celebrating an anniversary, or just spending time with your loved one, your date night outfit can help you feel more confident. When you feel your best, you're guaranteed to have a good time.
For candlelit dinners, cozy movie nights, outdoor adventures, and everything in between, we've curated a collection of the best women's date night outfits. Dress to impress on your next romantic outing with these date night outfit ideas.
What Should You Wear for a Date Night?

Your date night is an opportunity to have fun, connect, and enjoy your partner's company. However, there are a few considerations before choosing an outfit, such as location, activity, and personal style.
You don't want to be too dressed up to too dressed down. Instead, your date night outfit should strike a balance between comfort and chic, making you feel confident, relaxed, and ready for whatever the evening has in store.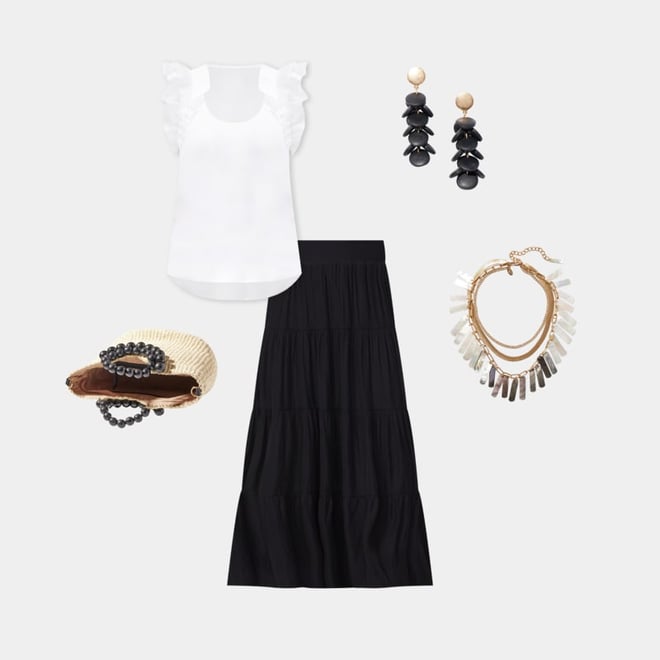 Location

The location sets the tone for your outfit and the evening. For instance, you want to think about things like whether you'll be spending time indoors or outdoors.
For indoor settings like a fancy restaurant, you can wear a dress or nice pants and a blouse. However, you probably wouldn't want to wear the same type of dress if your date was on the beach.
Activity

Always consider what you're going to be doing on the date. What's appropriate for dinner is likely not appropriate for a physical activity like going on a romantic bike ride together. If you're going to dinner, classy dresses and skirts are sophisticated, but easygoing pants and shorts might be more appropriate for a relaxed date like going hiking.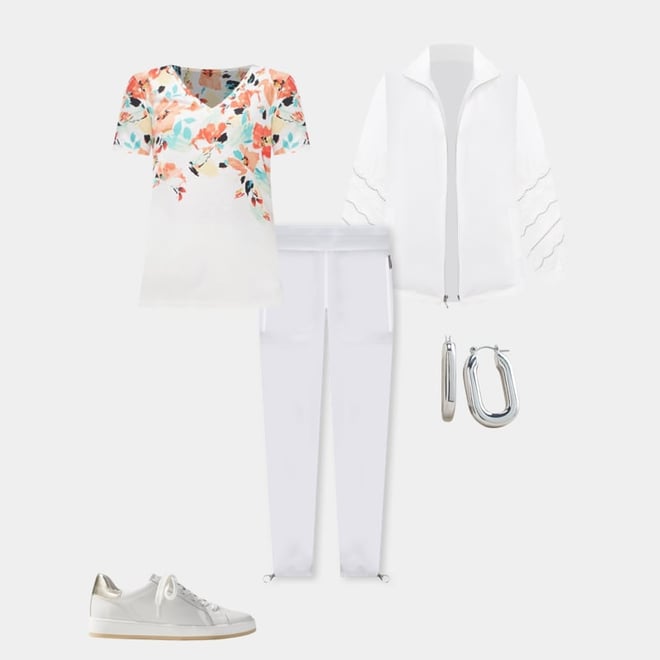 Personal style

As always, your personal style should play a role in your date night outfit. A cute date night outfit is different for everyone, but what's most important is letting your personality shine through.
Your clothing should make you feel confident and comfortable. If you're someone who doesn't feel your best when wearing a dress, don't. Instead, let your date see the real you in an outfit that makes you feel most confident.
10 Date Night Outfit Ideas

The best date night outfits for women combine style and comfort to help you exude confidence and express yourself. Taking the time to find the perfect date night outfit is always worthwhile. But if you're feeling the pressure, let us make it easier! Here are some ideas to help inspire you:
Fashion Top with a Maxi Skirt

For a dash of femininity and charm, pair a fashion top with a maxi skirt. This cute date night outfit is comfortable yet whimsical, making it ideal for a picnic in the park or an evening stroll.
Flirty women's tops can have delicate ruffles, lace, or a sweetheart neckline to add a playful touch to your outfit. When paired with a maxi skirt, the outfit becomes more elegant, adding sophistication while maintaining a sense of comfort.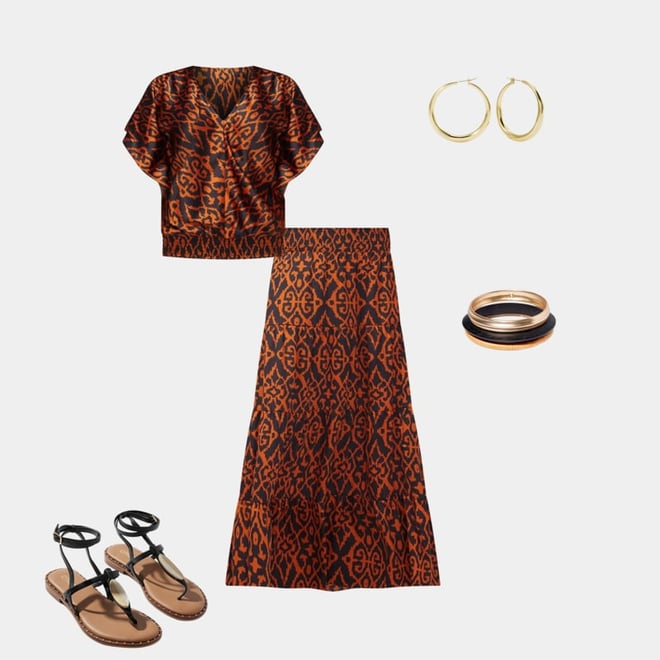 Flowy Floral Maxi Dress

The ethereal grace of a flowy floral maxi dress allows you to move with effortless elegance, creating a captivating aura that complements the natural surroundings.
With its lightweight fabric and gentle sway, a midi or maxi dress is visually stunning and offers comfort and freedom of movement, allowing you to fully immerse yourself in the experience.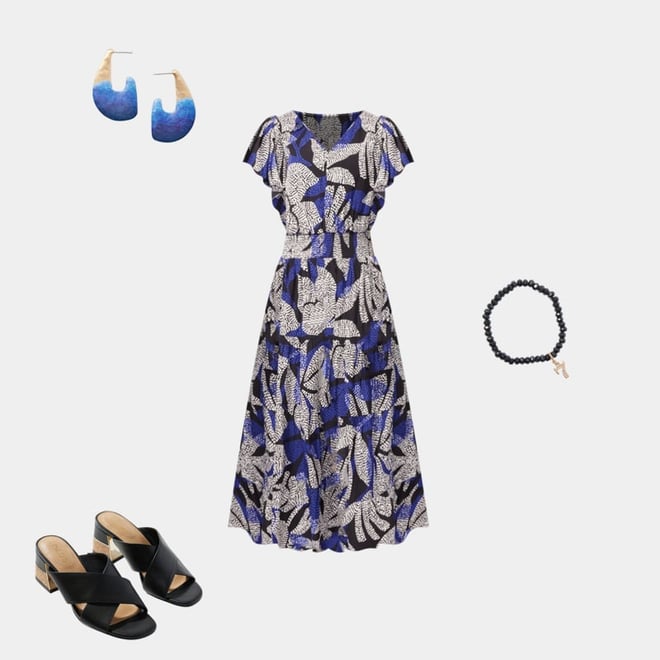 Little Black Dress

The little black dress (LBD) is a versatile date night outfit suitable for just about any occasion, whether you're going out for a romantic dinner, a cocktail event, or a night on the town.
The simplicity of the little black dress is easy to accessorize and personalize to cater to your style. Check the latest Black Label by Chico's™ design for the modern classic approach to the LBD.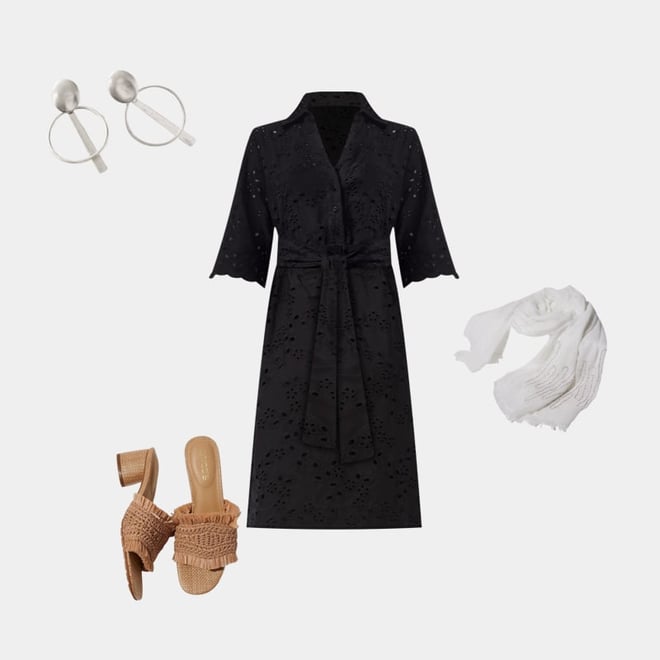 Denim with a Faux Leather Jacket

You can never go wrong with a good pair of jeans. Faux leather pairs perfectly with denim to create a bold date night outfit that's ideal for more casual occasions like light dinners, movie nights, and concerts.
Denim is sleek and versatile, allowing you to dress it up or down with the right accessories. You can also try wide-leg pants for modern, effortless style. Adding a faux leather jacket adds flair that creates an effortless chicness. Combined, they allow you to showcase your edgy style.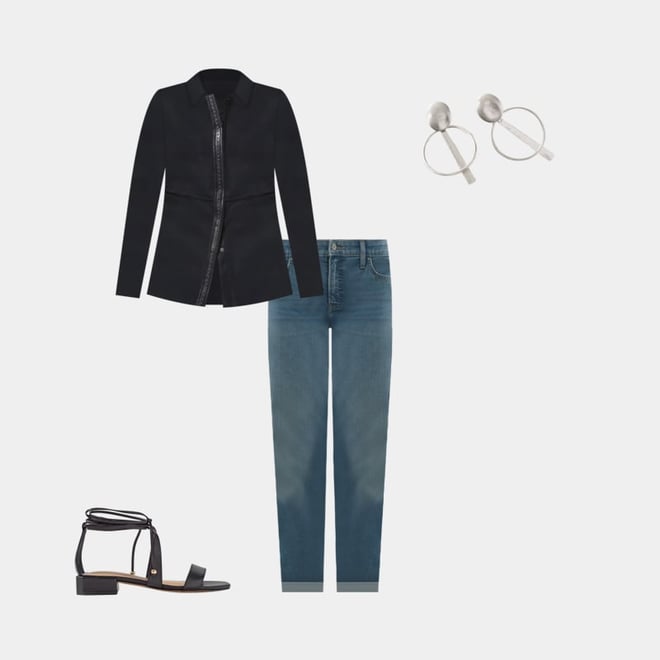 Sophisticated Jumpsuit

A sophisticated jumpsuit offers a modern take on date night outfits. This ensemble is ideal for dates at fancy restaurants, cocktail parties, and even dancing. With a sleek silhouette, it's sophisticated yet fun, providing an elevated alternative to dresses while still allowing for ease of movement. Travelers™ has wrinkle-free jumpsuits, so you can go from standing to sitting all evening long and still look like you just arrived.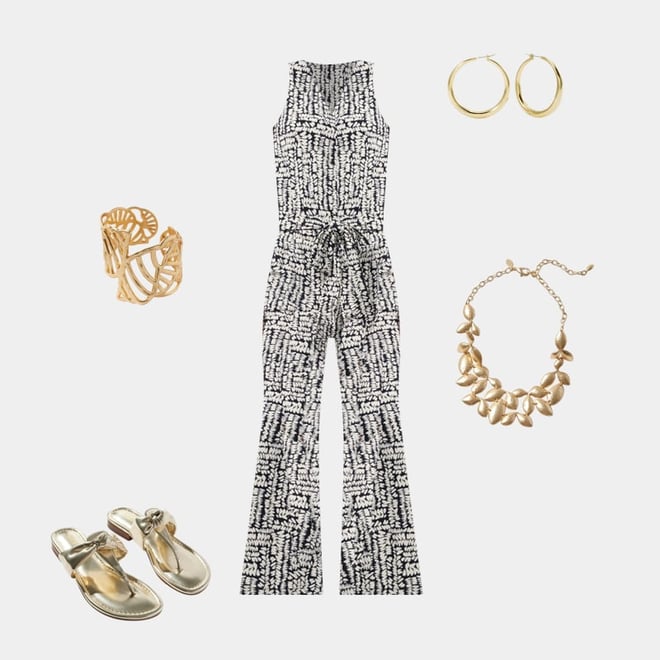 Jeans and a Tee

Keep it casual with flare jeans and a tee. This date night outfit can be elevated with your favorite boots or kept casual with fashion sandals, depending on the date night activity. Ideal for concerts, casual dinners, and simply hanging out, the laid-back outfit is always a win.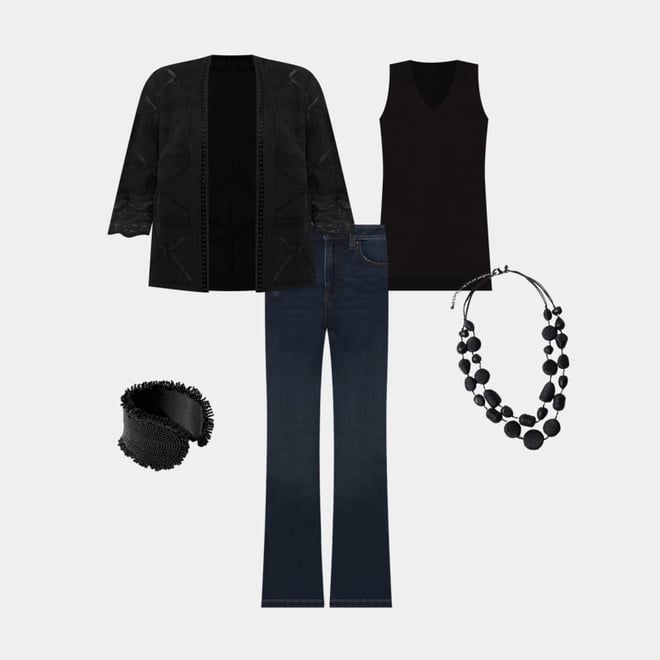 Feminine Skort with a Casual Top

Create a feminine and cozy outfit for colder nights by pairing your favorite skort with a casual top for date nights like casual coffee dates, sporting events, and luncheons.
Choose a midi skirt that has feminine details, like ruffles or scalloped hems. Then, the right shoes for the season, like fashion sandals for the summer or boots for the winter. This outfit can also be dressed down with a pair of casual sneakers or tennis shoes.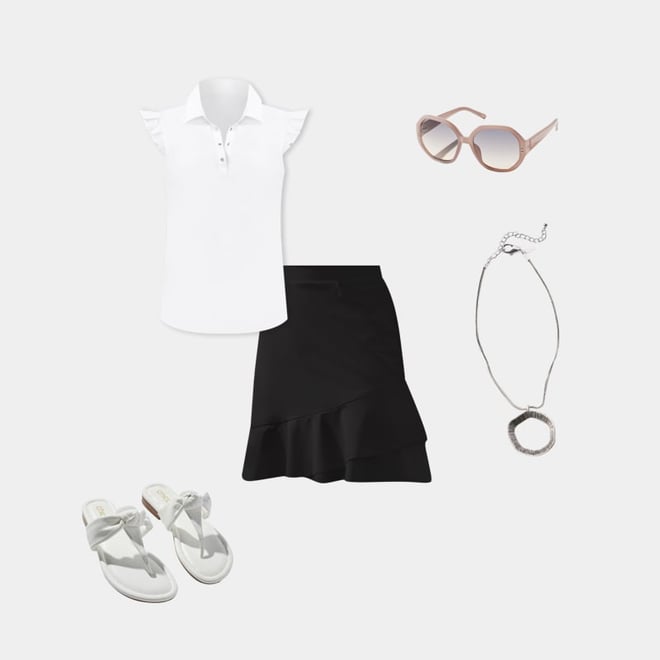 Print Pants and a Solid Top

Go for a bold look on the bottom by choosing print pants with a solid top for your romantic outing. Make a fashion statement with this chic date night outfit idea that's perfect for nighttime dates like dinners, cocktails, and more.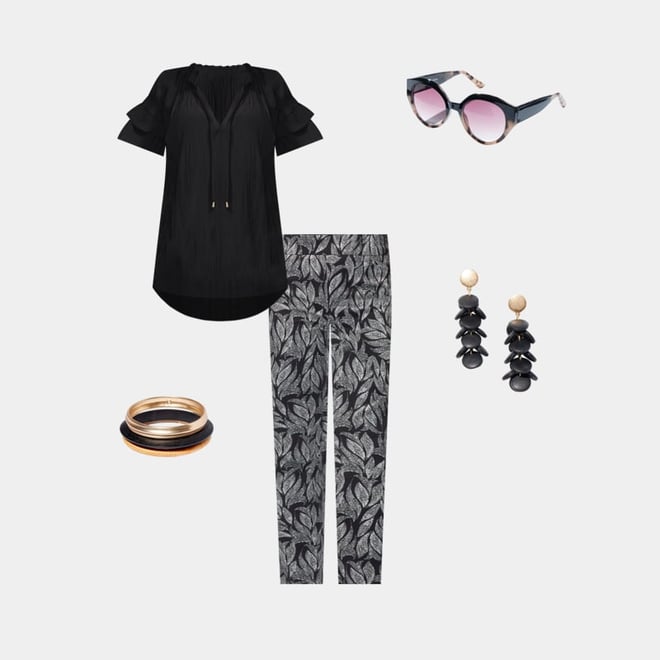 Dresses with Details

Choose dresses with flattering details in a playful print or solid color for any date night. Details like eyelets, ruffles, puff sleeves, and embroidery can elevate a simple A-line, straight line, or shirt dress. Whether midi, maxi, or knee length, dresses can be worn anywhere, from romantic dinners to casual daytime meetups.
That best part? There are cuts and styles for all body types, allowing you to customize the fit to your liking. Depending on the length of the dress and the time of year, pair dresses with ankle boots, flats, or heels, to make this look your own.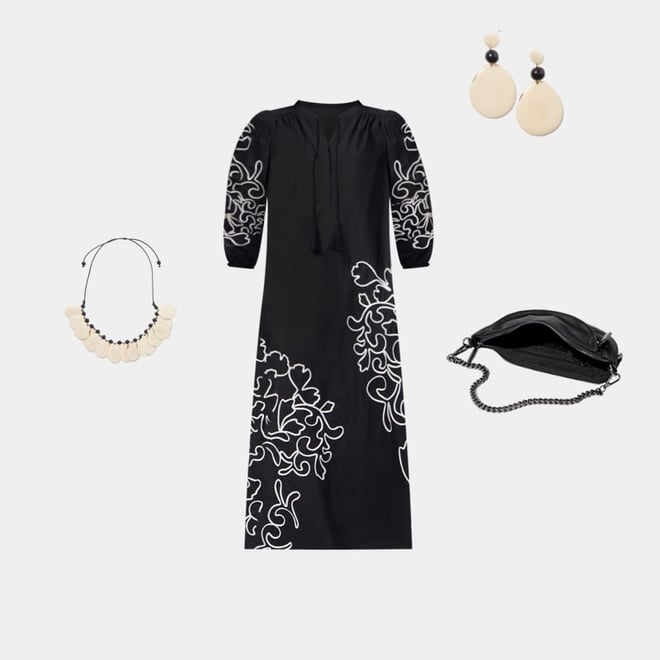 Jeggings and a Button Front Shirt

Believe it or not, jeggings can be date-night worthy, allowing you to fuse comfort with style for an effortlessly chic ensemble. Pull-on jeggings add comfort and versatility, while a button front shirt offers an effortlessly refined look. This outfit idea is best for casual activities like shopping and laidback dates like movie nights.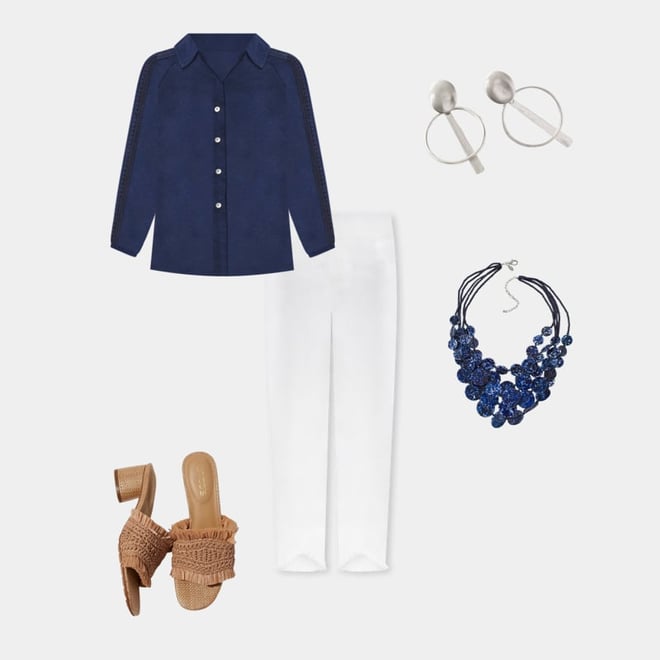 Dress to Impress on Your Next Date
Dressing to impress on your next date is all about finding the perfect balance between style, confidence, and comfort. With the right outfit, you can make a lasting impression and ensure you're able to enjoy your date without worrying about how you look.
Shop Chico's to find the perfect date night looks, from elegant dresses to trend-transcending tops and versatile bottoms. Our curated collection always allows you to put your best foot forward.