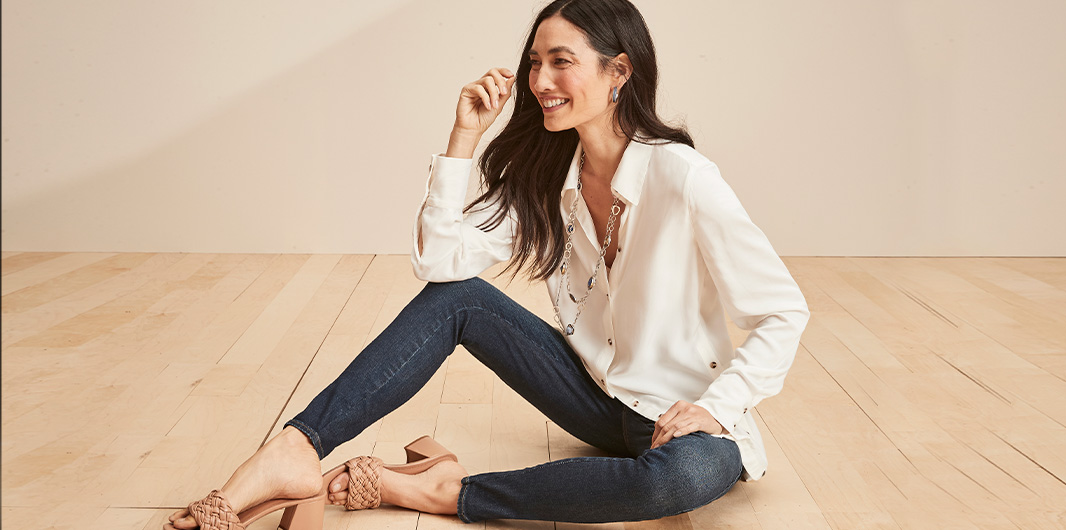 We ask a lot from our jeans. Not only do we expect them to be stylish and flattering, but we also want them to feel great and hold their shape all day. Unfortunately, very few jeans check all these boxes. In fact, a recent study found that even though the average woman owns around eight pairs of denim, 43% don't love their jeans due to fit issues.
That math is about to change, however. Using innovative technology, Chico's new DefineMe Denim does something other jeans simply haven't yet been able to accomplish: fitting and flattering bodies of all shapes and sizes…perfectly. In fact, this new line completely eliminates 3 of the most common jean fit problems women typically face: back gap, muffin top, and too much stretch in the rear.
Let's dive into each of these issues and discuss how you can avoid these wardrobe annoyances—with a few hacks, and by choosing the right denim.
1. How to Avoid "Back Gap"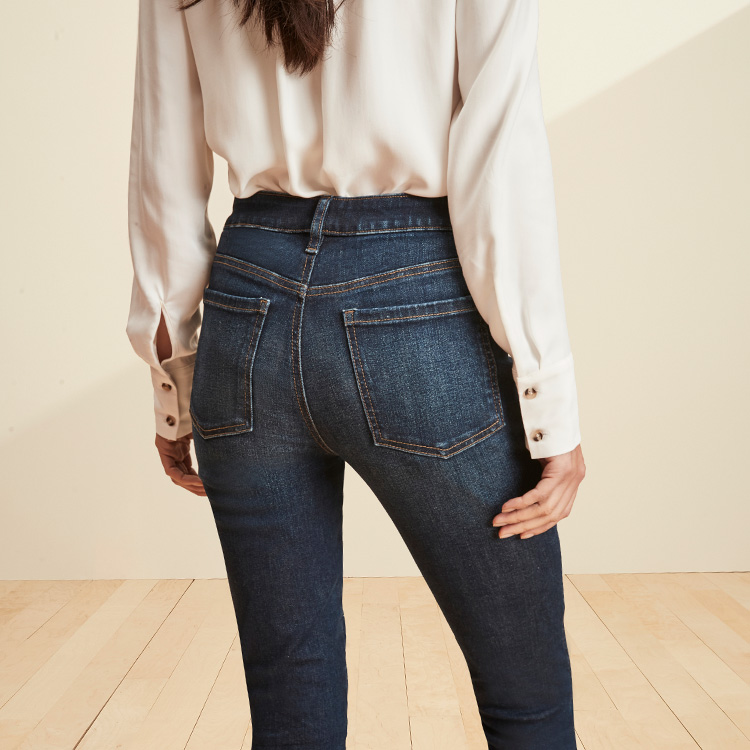 Back gap is a problem that occurs when jeans fit in the hip but are too loose in the waist. Any woman whose waist-to-hip ratio doesn't match a brand's size chart likely has experienced this phenomenon. (Curvy ladies, we feel your pain.) Back gap can make it difficult for you to achieve the polished look of a blouse tucked into denim; it likely will slip out of place when you move.
There are ways to fix a back gap, but all of them have their limitations:
You can wear a belt, but this can create unflattering bagginess at the hips that adds volume to your silhouette.
Tailoring the jeans by taking in the waist and adding darted seams is an option, but this isn't always practical–and if you're not a skilled seamstress, getting alterations adds an additional expense above the purchase price.
You can also try sewing a tiny bit of elastic into the waistline, but this can create a "bunchy" effect if your technique isn't perfect.
Sounds like a hassle, doesn't it? This is why DefineMe Denim is such a game changer. It cleverly avoids the issue of back gap with a few brilliant design moves. For one, contouring at the waistline positions the jeans slightly higher in the back and gently dips 1 ½ inches lower in the front center. Additionally, the waistband has enough stretch to stay comfortable and securely in place with every belly laugh, deep sigh, big meal, and impromptu nap. And finally, comfortable stretch fabric holds its shape and position, all day long.
2. How to Wear Jeans Without a "Muffin Top"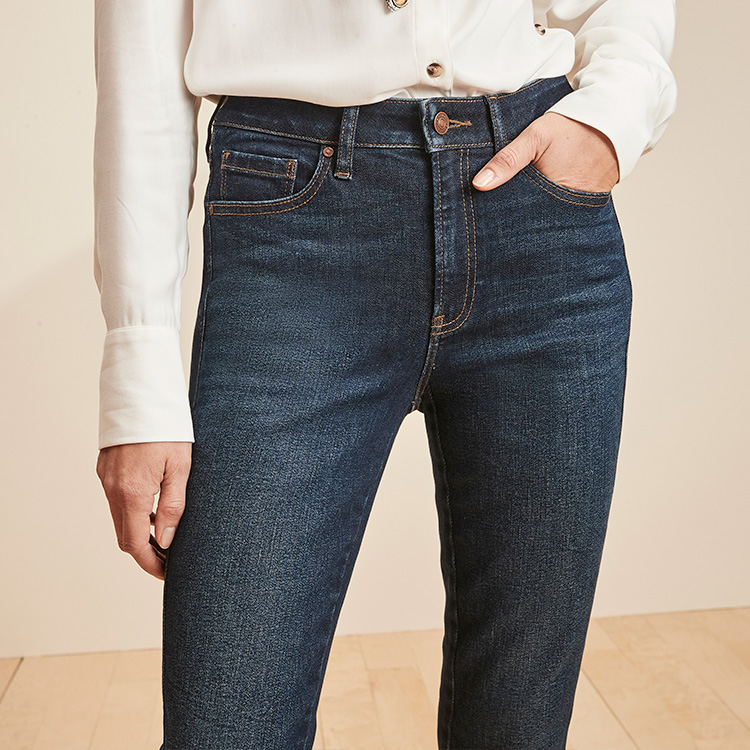 If your body shape is more elongated than curvy, you're probably less worried about jeans that are too loose in the waist and instead may have had to deal with the dreaded "muffin top," which is when the waist of the jeans is too tight. Unfortunately, sizing up will only replace this problem with jeans that are way too baggy. So what can you do to avoid muffin top?
There are a few hacks you can try with your existing wardrobe:
Only wear jeans that fully cover your stomach; avoid anything that buttons below your belly button. High rise denim is always a good choice.
Ask a seamstress to put in a new waistband or add elastic to your existing waistband—this is a good (although expensive) option if you have very slim legs and are fuller in the middle.
You can wear a tunic blouse to stylishly conceal a muffin top in jeans.
All that being said, your easiest course of action is to switch to DefineMe Denim jeans. The smoothing stretch fabric crumbles any possibility of a muffin top! In addition, forward side seams are slimming and amplify your curves in all the right places, contouring your body so that you look and feel great. You'll also love how the back pockets and back yoke are strategically placed to "lift" and emphasize your shape in all the right places.
3. How to Keep Stretch Jeans from Getting Too Stretched Out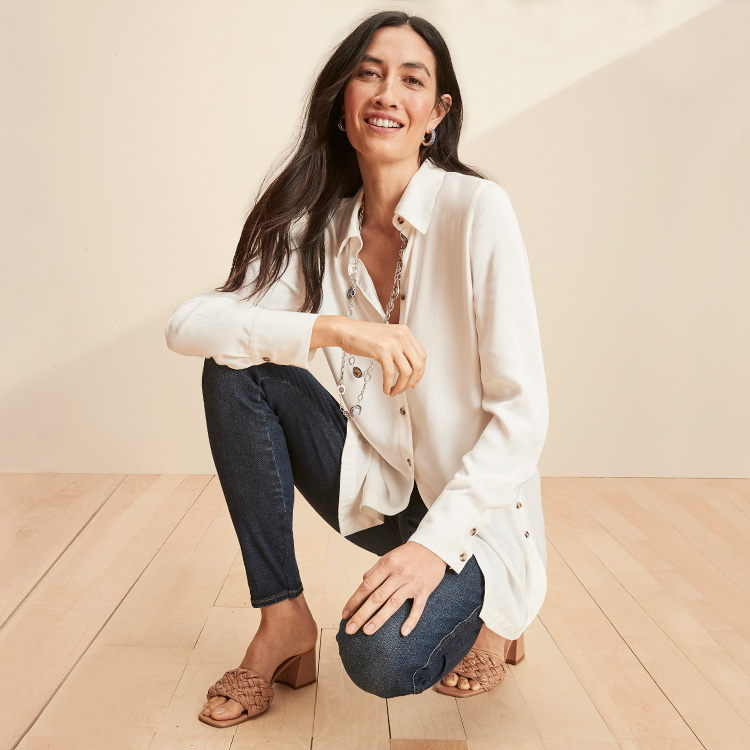 Don't you hate when you put on jeans that fit you perfectly well in the morning but are all stretched out in the rear and knees by the end of the day? This is a common predicament among buyers of some brands of stretch jeans (not Chico's!).
Fortunately, there are a few tricks for preventing overly stretched out jeans:
If you're wearing them at work, try to sit with your back straight all day, and don't cross your legs.
Keep your jeans folded rather than hanging them up (which will further stretch them out.)
Avoid washing them frequently; spot clean instead.
All that being said…wouldn't it be better to choose jeans that allow you to cross your legs, do the laundry, and live your life without losing their shape? According to Melly, Vice President, Design and Product Development for Chico's, DefineMe Denim is designed to do exactly that: "Our new form-flattering jean comes in superior stretch and recovery denim fabric," she explained. What does Melly mean by "recovery denim"? This term refers to the fabric's ability to hold its shape even after frequent, all-day wear. So the jeans that fit you perfectly when you put them on the morning will look just as good when you're ready to call it a night.
You can get DefineMe Denim in a slim fit and an ankle fit, and in a wide variety of colors. We recommend refreshing your closet with DefineMe Denim in a wide array of washes and shapes, so that you have a pair for every day of the week. That way, you'll feel amazing whenever you wear jeans…100% of the time.