Graduation day marks a significant milestone for your child or loved one. However, figuring out how to choose a graduation dress can be a difficult task.
Is what you want to wear too dressy? Too simple? Do you need something new for the event?
If you're wondering how to dress for a graduation ceremony and struggling to find a look for the big day, we're here to help. Keep reading our tips for how to pick a graduation dress, so you can find something that's just right.
Are There Rules for How to Dress at a Graduation Ceremony?
There are no hard and fast rules for how to dress at a graduation ceremony, but many parents and guests wear clothing that's a bit more formal for the special day.
There are also some factors that you'll want to consider when choosing what to wear–for instance, the venue and weather. You may need to layer your graduation ceremony dress with a cardigan or jacket.
Convenience might also be something to think about ahead of time. If seating space will be tight, you might want to opt for a dress with pockets so you can leave your bag at home.
Although you don't want to take away from the graduate's limelight, there's nothing wrong with looking great and feeling confident. After all, it's a big day for you, too.
10 Tips to Help You with Graduation Dress Ideas
Let's take the pressure off with ten tips for choosing a graduation dress and ideas for making our recommendations a reality.
Prioritize your comfort.
Depending on the class size, the ceremony might last for hours. So, our number-one tip is to prioritize comfort.
You want to choose a dress that won't itch or trap heat while you sit there. Instead, find a dress made of cotton or another breathable fabric that will allow airflow. Dresses made from soft, stretch fabrics are always a good choice for long days.
Additionally, most graduations involve a lot of standing, making comfortable shoes a necessity. You don't want blisters to take away from the fun of this exciting day.
Graduation dress idea #1:
Our Poplin Ruched Sleeve Dress achieves an effortlessly chic for graduation day. Made from cotton-blend stretch fabric, it meets our comfort-first criteria. The collared design and ruched sleeves add visual interest without being over the top, and this dress pairs beautifully with sandals or flats.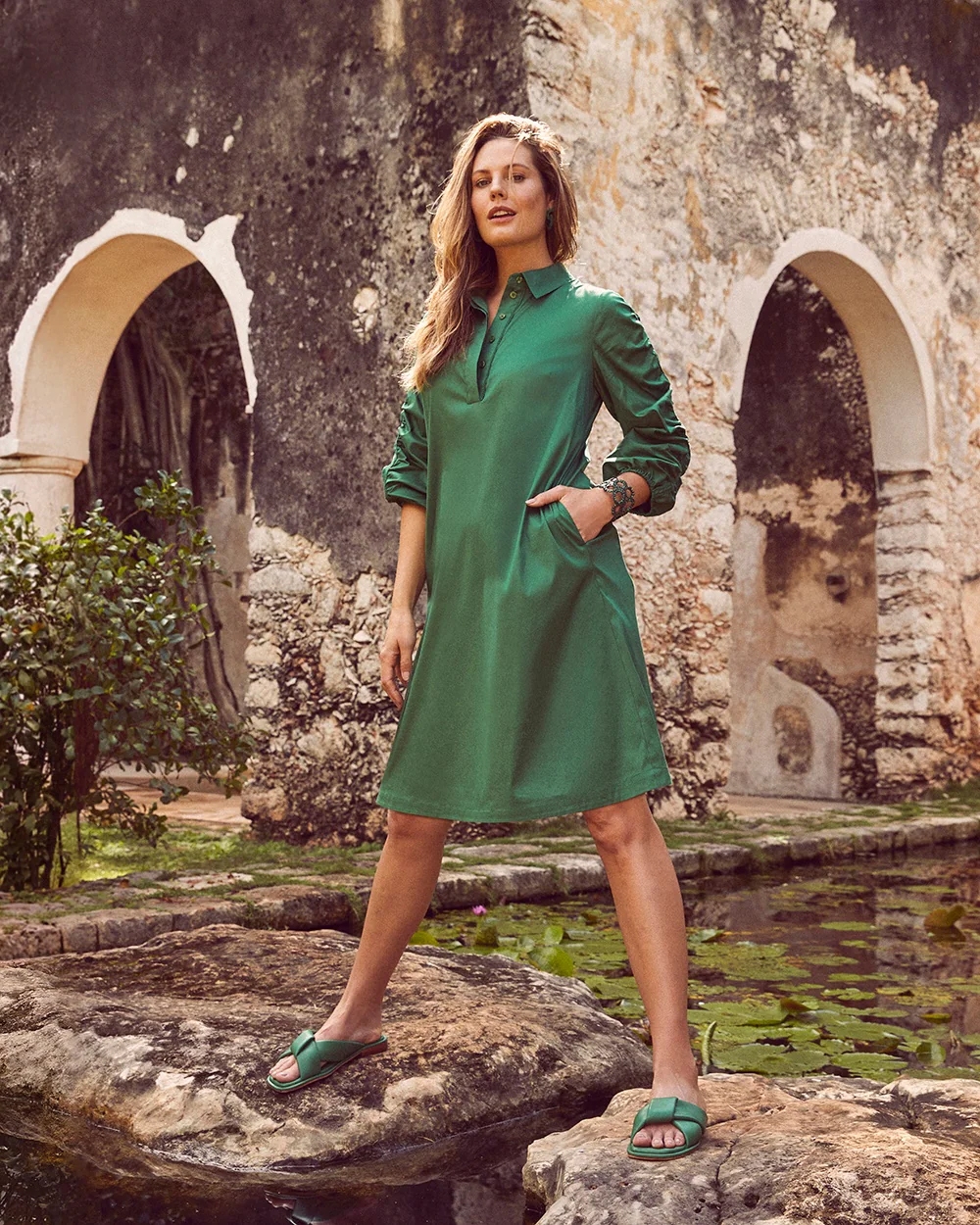 Color coordinate.
Although wearing the school colors may narrow dress options, it's an obvious choice when it comes to taking photos with your graduate.
Perhaps you're wondering how to find a graduation dress in the exact shade of blue, gold, purple, green, or other school colors. Fortunately, many of our dresses come in multiple hues, and you can choose a flattering shade.
It doesn't have to be an exact match, something in the same color family will still achieve that coordinated look that's aesthetically pleasing.
Graduation dress idea #2:
Make a memorable statement in our Chiffon Ruffle Midi Dress. The simple A-line profile and sleeveless design offset the flowing ruffles along the skirt and shoulder. It comes in blue or black, which may match your school colors.
If not, we have maxi and midi dresses in a rainbow of colors to help you show your school spirit.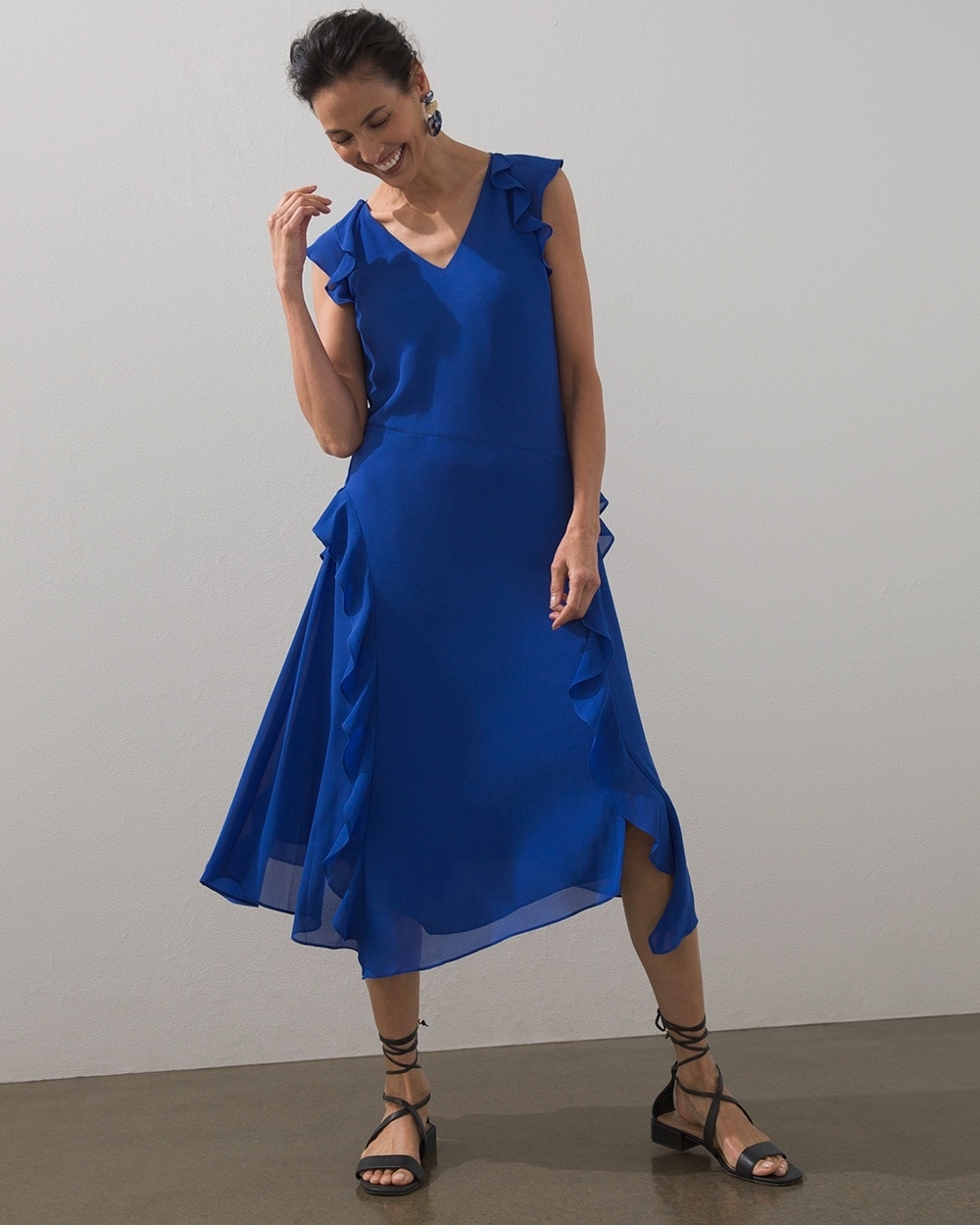 Read the room.
Familiarize yourself with the venue before choosing a dress. For example, casual dresses in shorter lengths work well for outdoor graduations, during warm months, or for more laidback venues.
If the ceremony takes place at night or the tone of the event is more upscale, semi-formal or business dresses may suit the occasion better. Some institutions may even have dress codes, so checking with the graduate or school beforehand can help ensure you meet the moment in style.
Graduation dress idea #3:
Our stunning Black Label™ Embellished Bow Dress features tone-on-tone sequins and an understated bow motif around a sophisticated split neckline. Dress to impress when you wear it to formal venues and take your graduate out for a celebratory dinner.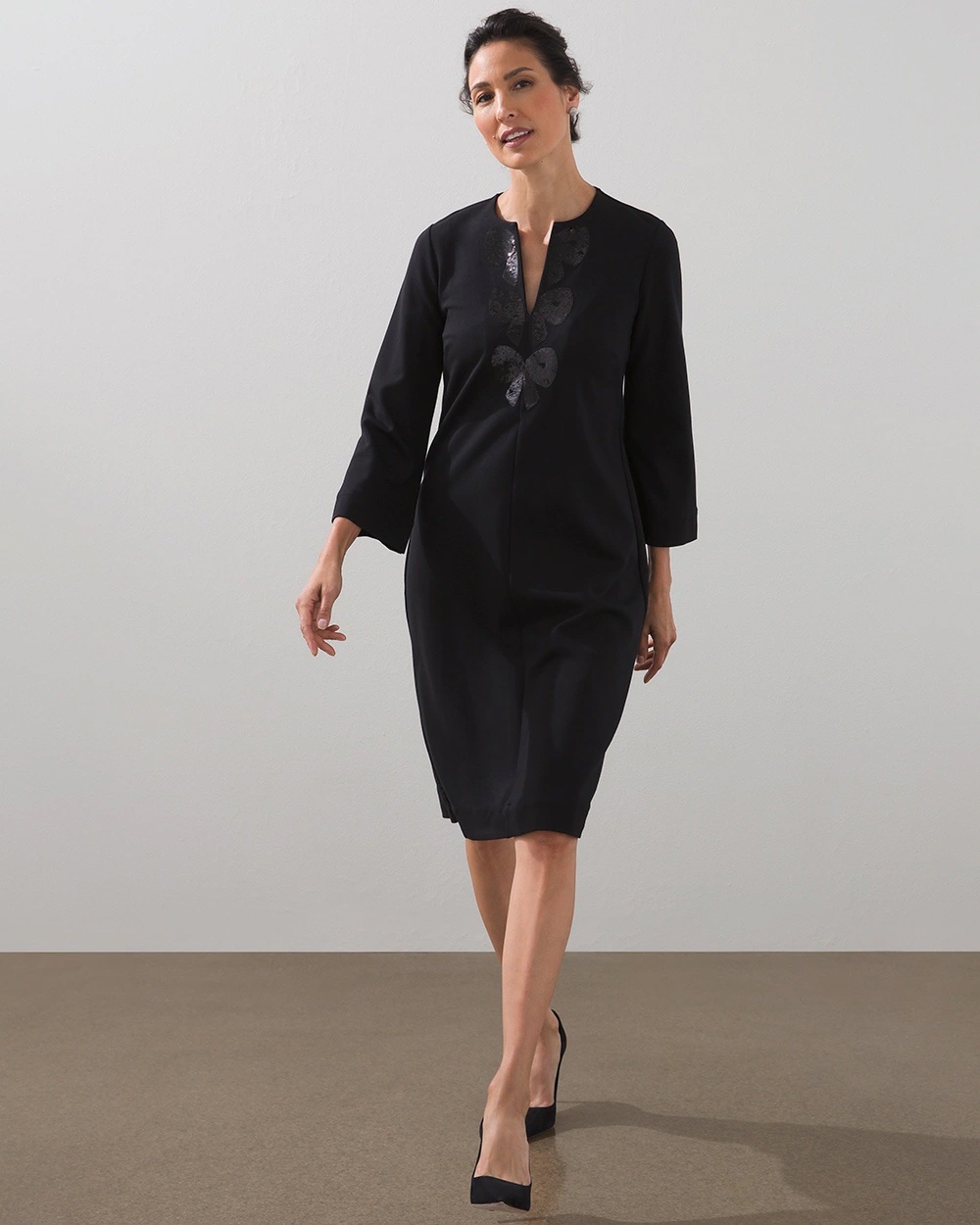 Think about your shoes.
Choose your shoes based on the season, time, and place of the ceremony. Most graduations occur in the spring or summer when low heels, sandals, and wedges match formal or semi-formal events that involve a lot of walking, standing, and sitting.
If the event is outdoors, it's especially important to keep in mind since many types of heels will sink into the grass or dirt.
Graduation dress idea #4:
Choose ballet flats to dress up a casual style and comfortable pumps to elevate semi-formal attire. Our Poplin Faux Pearl Dress features a cotton blend and pearl embellishments and pairs well with braided sandals or ballet flats to complete the outfit.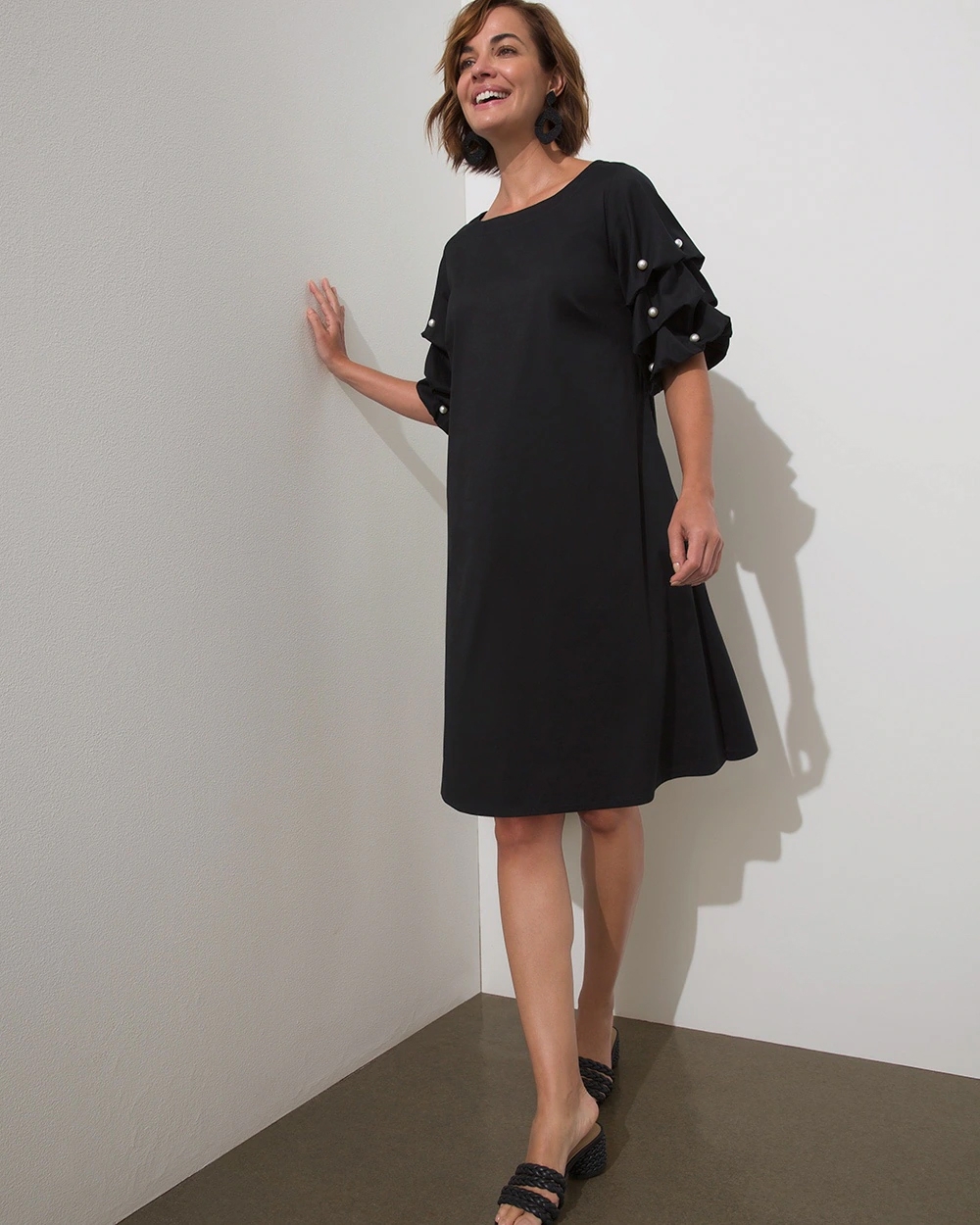 Consider layering.
From cool weather to hardworking air conditioning, layering may be something you want to prioritize for graduation day. There's nothing worse than trying to ignore shivering and chattering teeth while trying to take in a special moment.
If you plan ahead, you can choose a dress that lends itself to layering. For example, this might mean that the sleeves aren't bulky, there isn't ruching that will create lumps under your coat, or that the style is simple enough that it won't clash with the outerwear you have in mind.
Coats, cardigans, and shawls are all elegant layering options for graduation ceremonies. Choose an appropriate style and length depending on the tone you're looking to set with your ensemble.
Graduation dress idea #5:
Our Travelers™ Classic Dress in black is simple and elegant and can easily be dressed up or down with the right outerwear. Pair it with a colorful jacket for a pop of color and excitement, or add a blazer for a more formal look.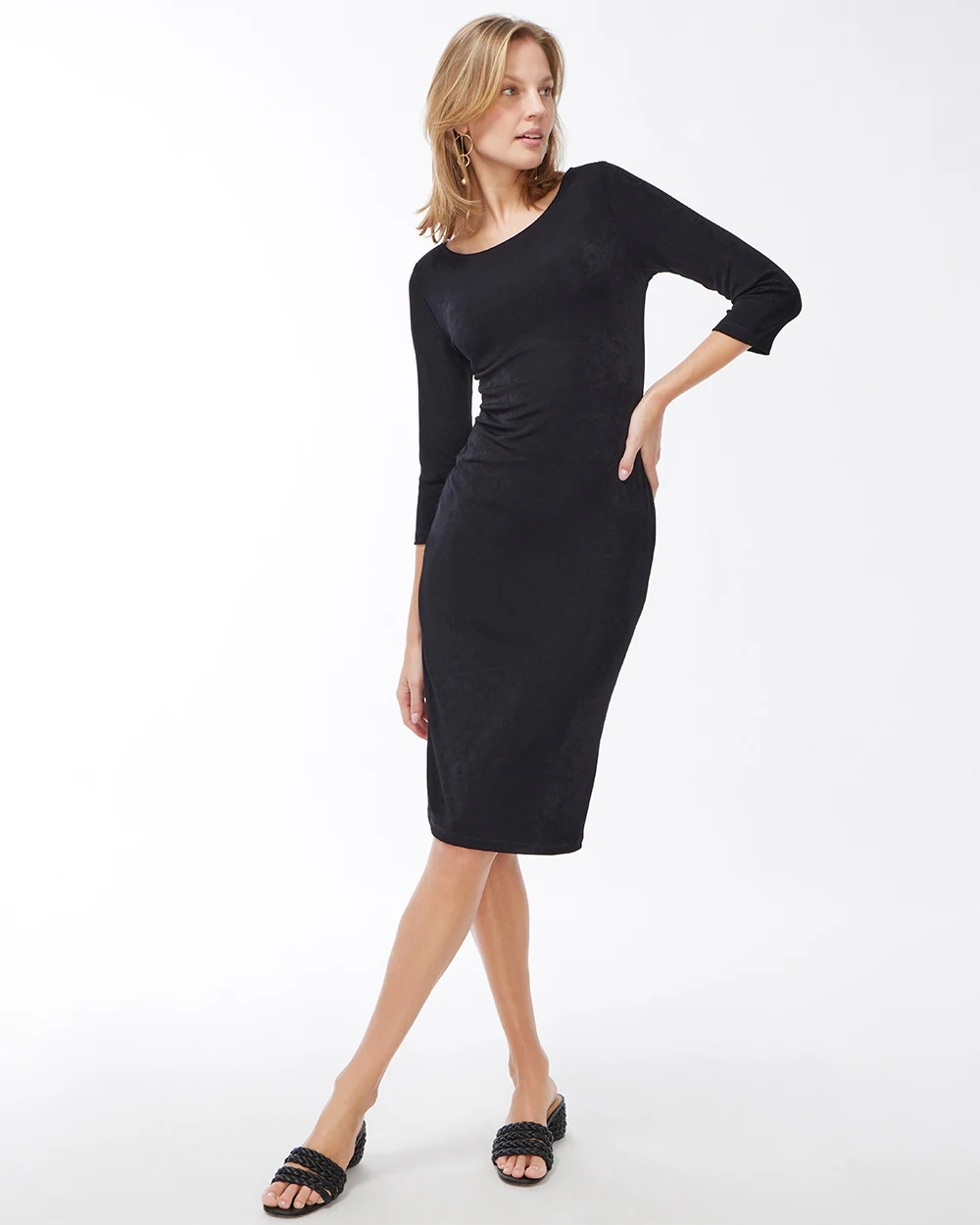 Plan ahead.
Is there a graduation dinner or an after-party? Find a dress that transitions easily to the different events on graduation day. Consider dresses that go from day to night to ensure you're ready for everything on the day's itinerary.
Graduation dress idea #6:
Our Travelers™ Short Sleeve Maxi Dress is versatile and an excellent option for graduation ceremony attire, dinner, drinks, and more. This short-sleeved maxi dress is made from a wrinkle-resistant fabric that looks gorgeous in photos, can be accessorized to suit your personality, and is easy to layer with other items in your wardrobe.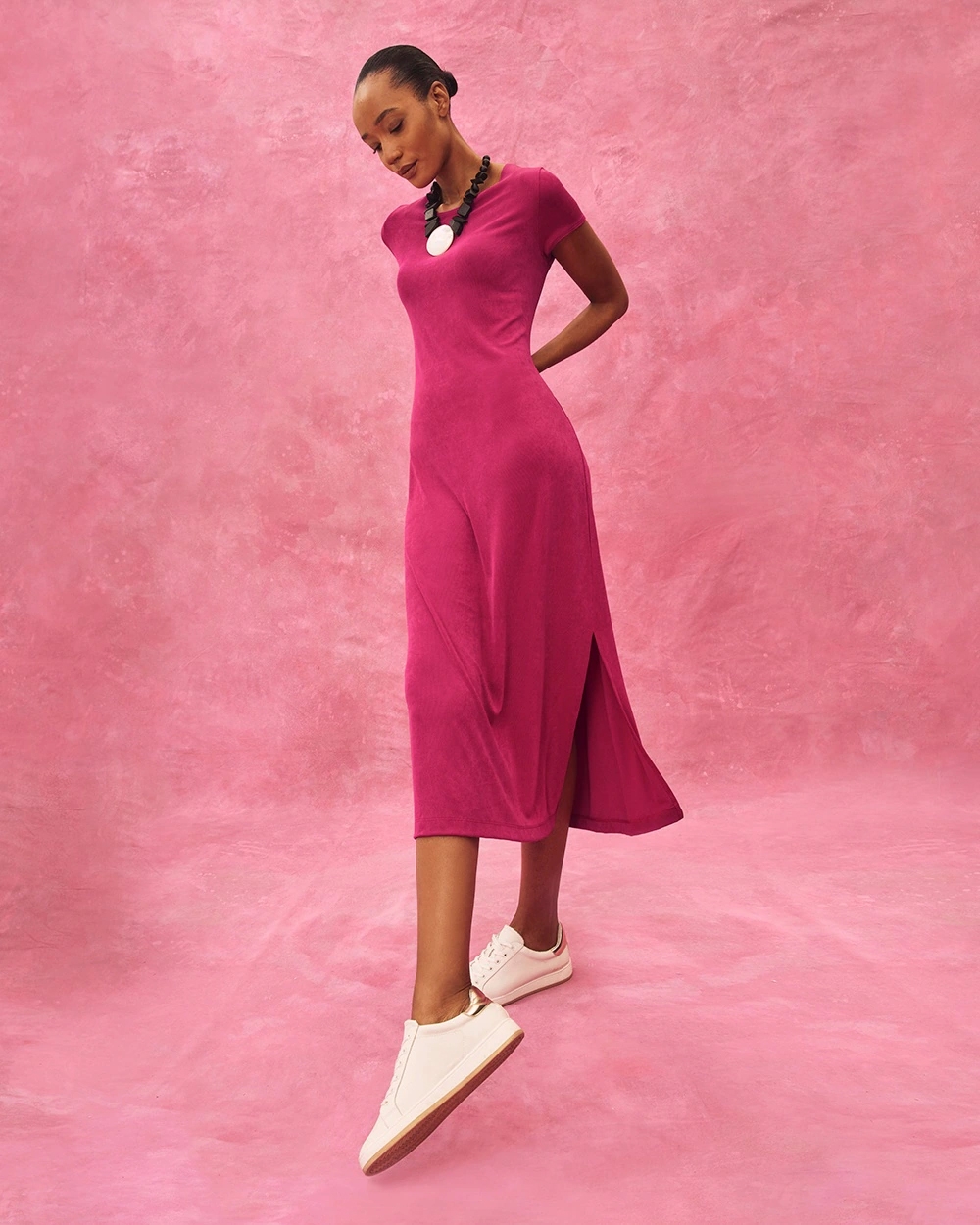 Stick to your style.
This is a major life event, and you'll probably pose for a lot of pictures. Now isn't the time to take fashion risks, like trying something out of your comfort zone.
Choose a dress style you can wear confidently, not one you'll regret wearing. Even though you're just an attendee, you want to make a lasting impression with a look you'll love year after year.
Graduation dress idea #7:
The Floral Clip Dot Maxi Dress is a long sleeve, V-neck dress with a feminine floral print and, the real star of the show, convenient front pockets. The soft, flowing design transcends trends for an enduring look you'll proudly display in picture frames for years to come.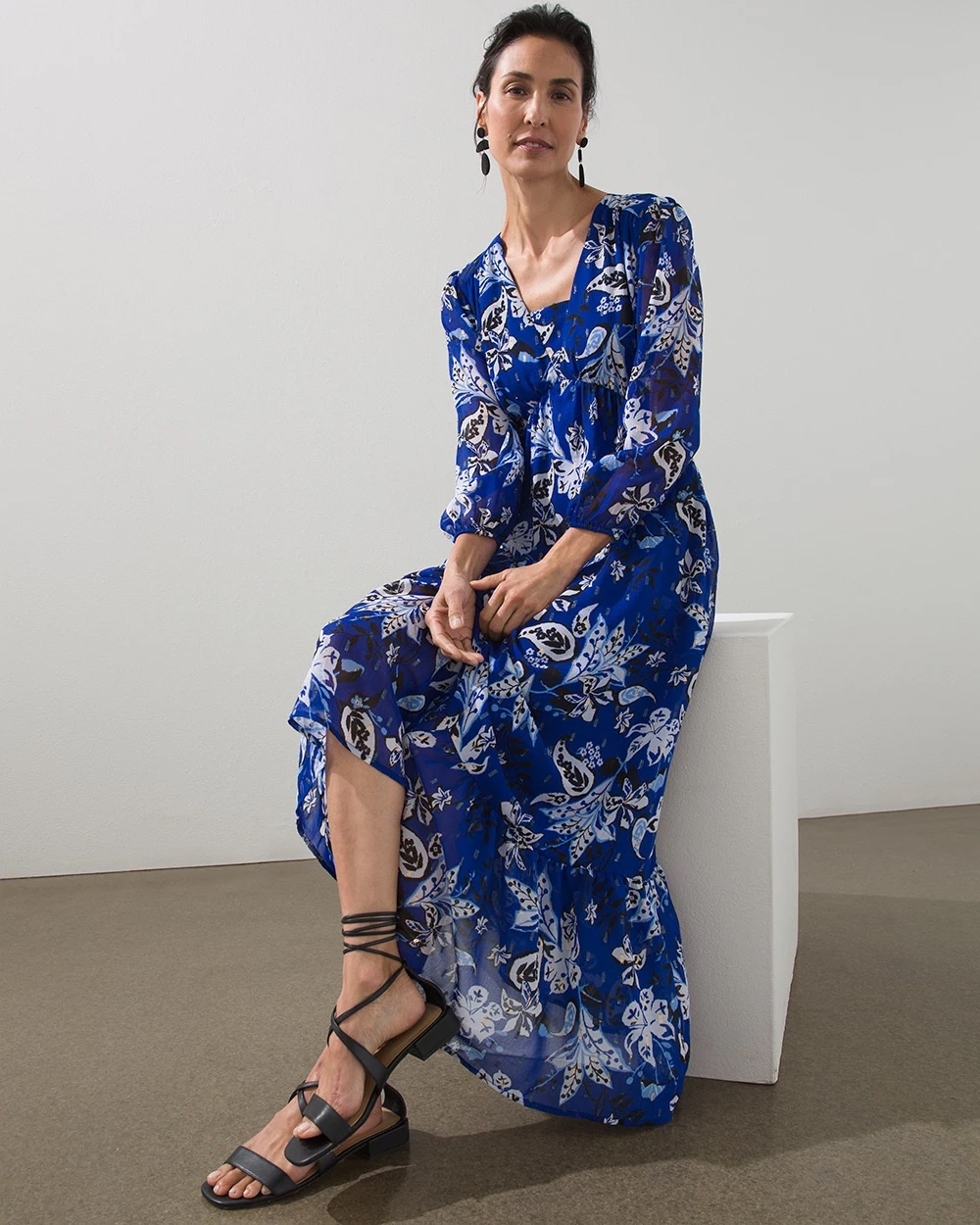 Aim for re-wearability.
Choosing a graduation dress doesn't mean you can only wear the garment for this special occasion. Select something you can re-wear again and again.
For optimal re-wearability, consider something with a simple design in a neutral color that emphasizes your best attributes. You can opt for classic styles and colors that will have a place in your wardrobe for many years, such as casual or semi-formal maxi dresses.
Even more formal pieces can be repurposed for work events, celebrations, and other special occasions.
Graduation dress idea #8:
Expand your wardrobe with our Black Label™ Go Beaded Dress. Made of lightweight fabric, this knee-length dress in classic black has cuffed sleeves, a feminine silhouette, and a versatile style that can match many moods and events.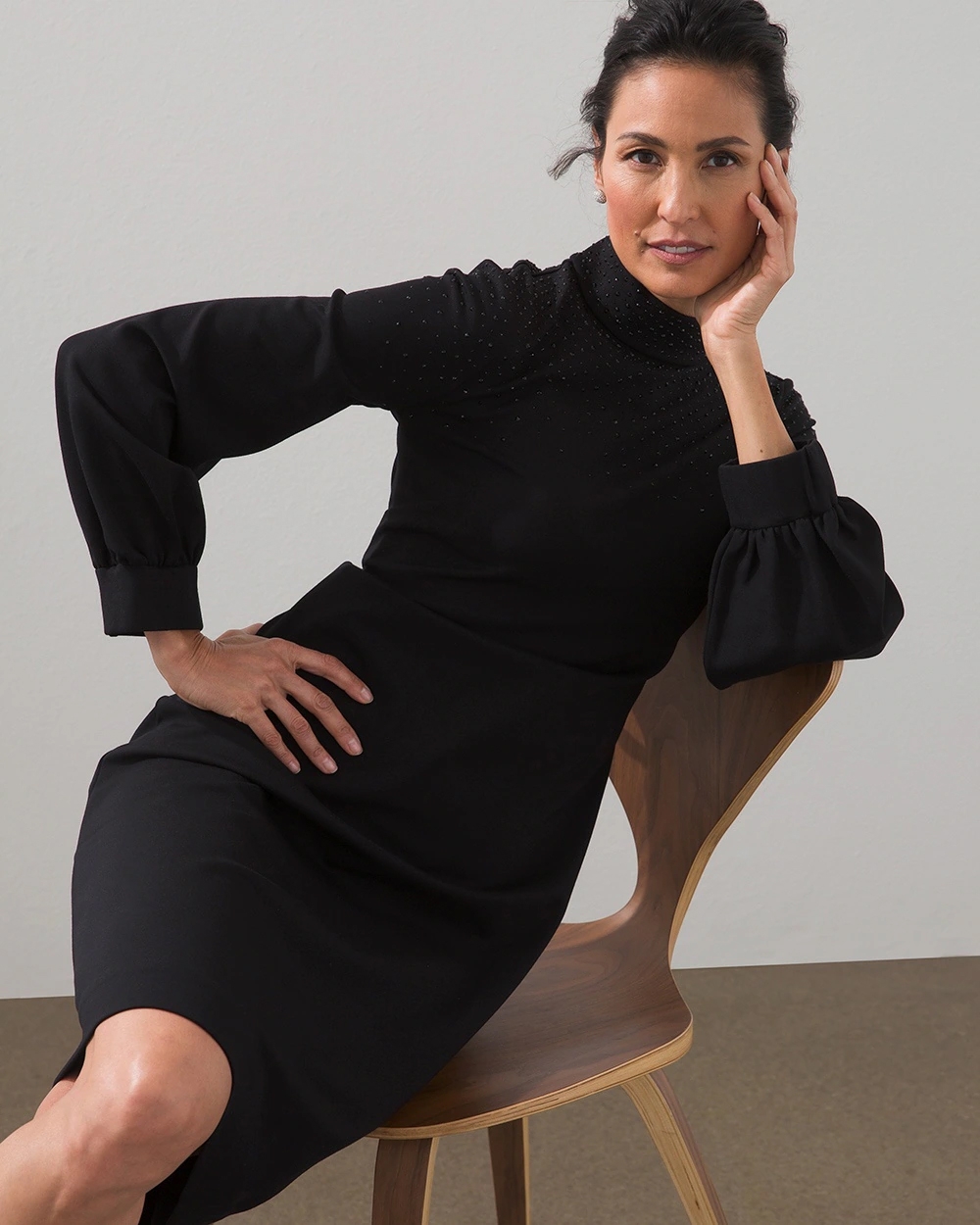 Transcend trends.
Trends come and go, and you can experiment with them as you like. However, they can also date your outfit. You'll want to choose a style, color, and length that has a timeless appeal so you can look back on photos and videos fondly.
Graduation dress idea #9:
Check out our Fit and Flare Lace Dress. This contemporary design features classic lace accents, a flared skirt, and a cinched waist for a flattering silhouette.
Own your look.
Pick a dress you love, then make it your own. Personalize our diverse selection of formal and casual dresses with the right accessories to cater to your style. Customize your dress by adding a scarf or pairing it with eye-catching jewelry like a statement necklace.
Curating your perfect graduation ceremony ensemble can go above and beyond the small details. Think about your outerwear, too. For example, a moto jacket can add a bold touch to your dress if you want to look cool and collected.
Don't be afraid to play with pieces in your closet to create an outfit that captures your style, and you'll feel confident.
Graduation dress idea #10:
The Zenergy® Ruffle Neck Dress is easy to accessorize. You can slip a sweater over it for a pop of color or wear a pendant necklace to dress it up. It should pair effortlessly with most of the shoes in your closet, giving you license to set a casual to formal tone that's all your own.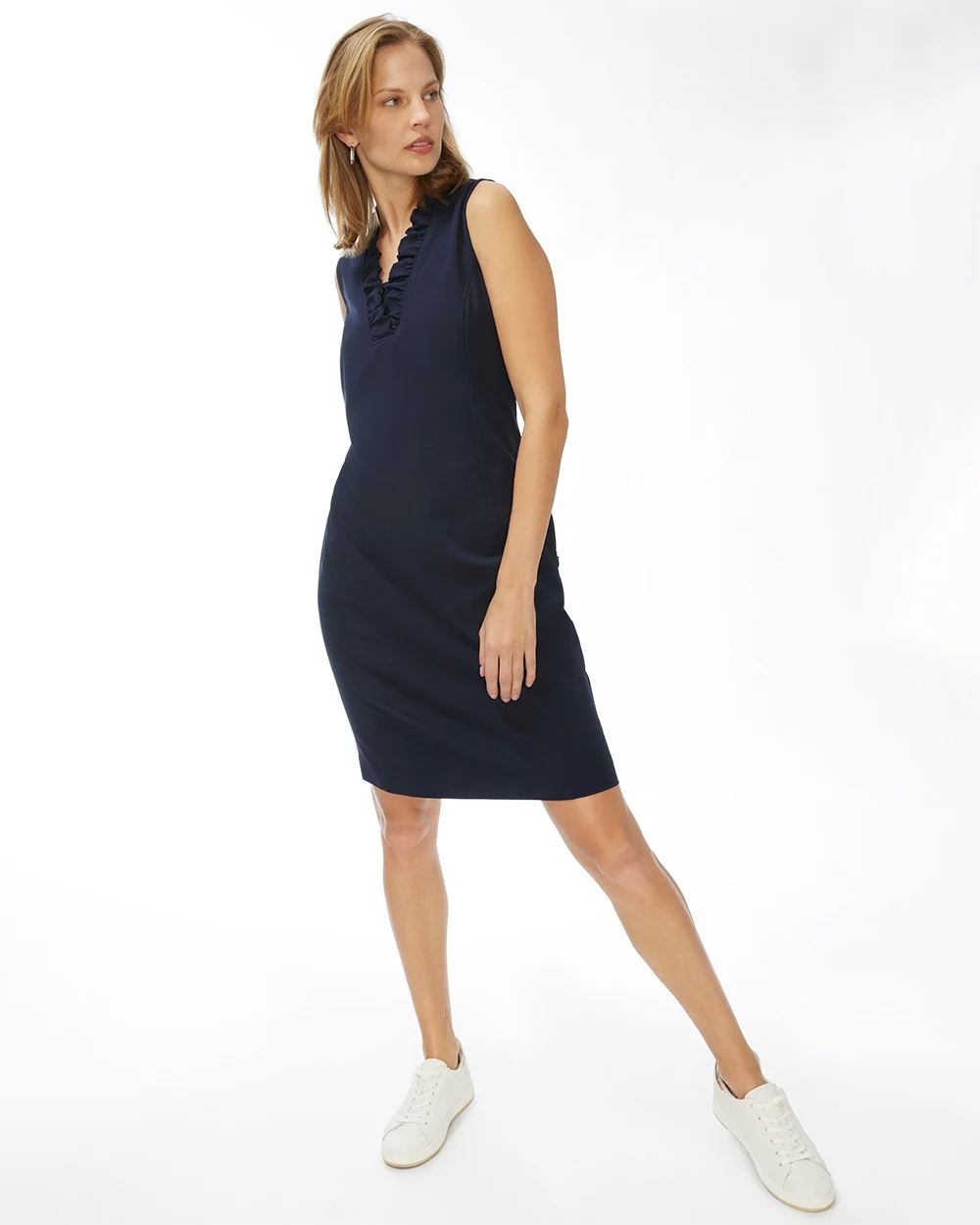 Celebrate This Milestone in Style
Choosing the right graduation dress takes time and consideration, but it's well worth the effort. Make sure to give yourself plenty of time to accessorize and solidify your outfit, using the ideas above as a guide.
If you're still looking for that perfect dress, our selection makes it easy to find a graduation ceremony outfit you'll look forward to wearing.
Shop our latest dress styles, like our versatile women's maxi dresses, for a flattering silhouette that transitions easily from the ceremony to a celebratory dinner with the family. Off-the-shoulder styles offer effortless style, ruffled dresses let you lean into your femininity, and classic dresses in simple colors and structured silhouettes can be easily personalized to suit you.
No matter what you choose, you're sure to dress to impress.