"I'm just getting started in so many aspects of my life." –Karen Williams
The secret is out: life after 40 can be exciting, empowering, and beautiful. As Chico's celebrates our 40th anniversary, model Karen Williams shares why she loves life after 40, how she embraces aging, and what makes our 40th anniversary collection embody timeless fashion.
Look Forward to Newness At Chico's we love to say that life after 40 means you're just getting started. There's so much to look forward to! This time of life is about growth, renewal, and rejuvenation. Turning 40 can feel like a second coming of age. "I came back to modeling after 30 years, to help representation for women of color and over 50. I'm just getting started in so many aspects of my life. The opportunities give me energy," Karen says.

"Just getting started means so many things," Karen continues. "This is a refrain so many women are echoing. Just getting started on new careers, new chapters, exploring different things."
Live for Now All stages of life can be thrilling and engaging. These days, we're led to believe that there are no benefits to aging, when that couldn't be further from the truth. Age often comes with wisdom, understanding, and peace.

As Karen says, "When I was younger, womanhood was more of an aspiration—perfectionist, hard working.The woman I am now, I am just easy with myself, comfortable in my skin. I know I am enough for me."

Life after 40 holds a different level of self-knowledge, one where you can acknowledge strengths and own up to challenges. Living for now means taking that knowledge and living by your values. Or as Karen puts it, "Owning your enoughness makes you enough. Let your life be the example."
Dress for Yourself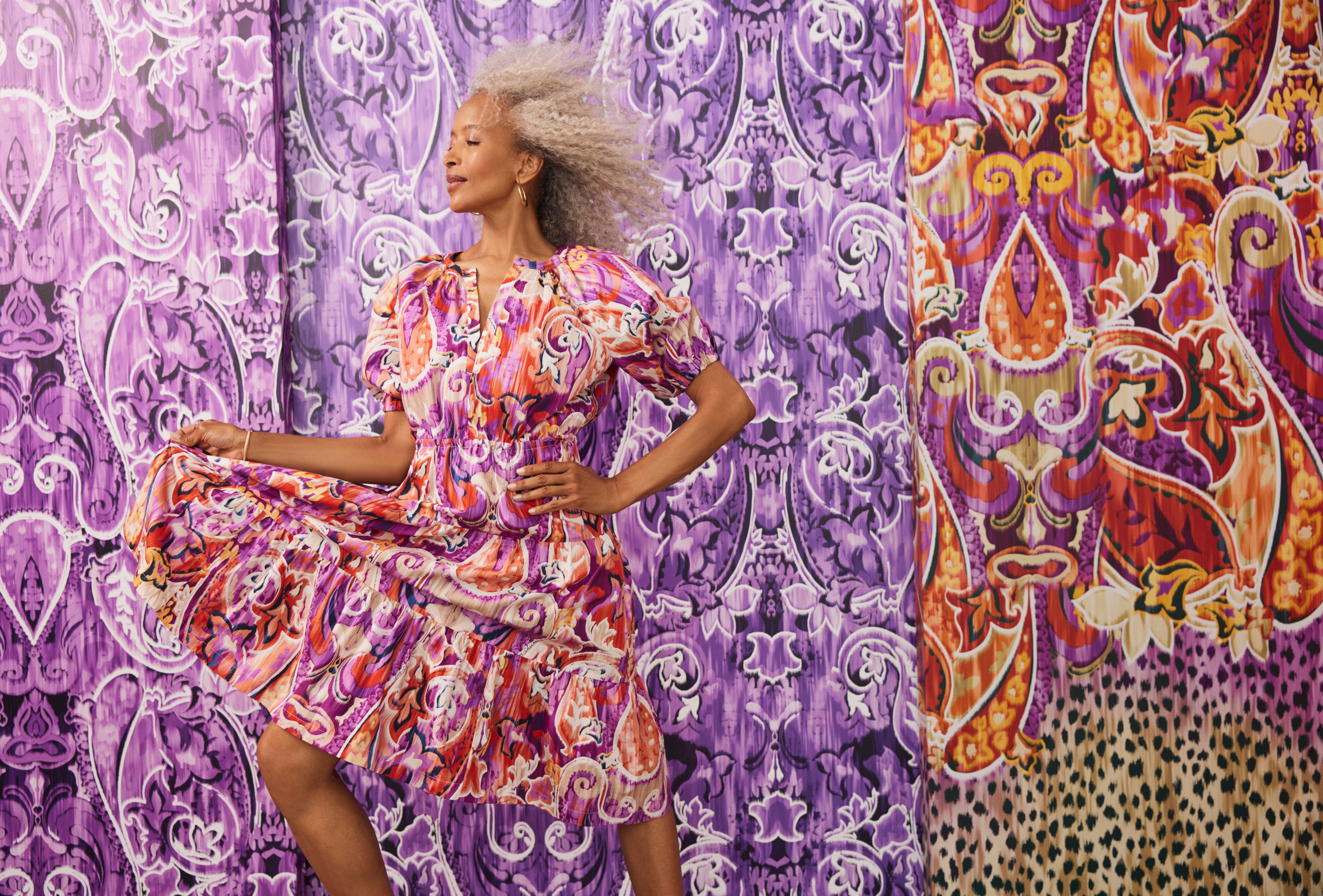 Being true to your style is what makes a fashion icon. Regardless of trends, the true fashionista knows what looks good and what brings joy. As Karen says, "You are the one who wears fashion, fashion never wears you. Be you."

Fashion over 40 comes with all these caveats—don't wear this, be sure to wear that—but the truth is iconic style has no era. Karen agrees that "fashion is timeless, ageless." Plus, it's all about your look and your comfort.

Chico's knows that modern classics like midi dresses are appropriate at any age, and that's partly why Karen loves our looks so much. "I'm really happy Chico's is embracing this quite ageless fashion," she says.
Enjoy Life, Leisure, & Vitality Life after 40 can have different priorities. Wellness, community, and relationships can all take on new meaning and be given new life. Often, the way someone shows up in the world changes for the better now that years of experience have given perspective to what's important. Karen agrees, "It became a liberating thing, a sense of ownership of where I've been. There's the internal sense that I am enough."
Karen continues, "I ask myself how can I best serve and show up? My purpose has to be filled, not just serving me; there have to be other people in the equation, my family, friends. Whatever I'm doing something, it has to be connected to others, so I'm not just taking up space on the planet."
Making time for friends, family, hobbies, and fitness helps build connection to yourself and others. Multiply that connection by bringing family and friends together for a game of pickle ball or a round of golf. Karen explains, "I can't tell you how empowering that is." Celebrating 40 Years—And Many More
"Aging is living. It's a privilege, the gift of life.There is a sense of renewed vigor, energy, and curiosity," Karen says.

We agree: the best is yet to come! Help us celebrate our 40 years (and counting!) of quintessential style. Explore Chico's 40thAnniversary Summer Collection. It's time to embrace a new era of life, love, and fashion.