Every season, Chico's recommends a bestselling book that connects with your lifestyle, expands your horizons, and excites the senses. The winter selection is The Golden Spoon by Jessa Maxwell.
Only Murders in the Building meets The Maid in this darkly beguiling locked-room mystery where someone turns up dead on the set of TV's hottest baking competition—perfect for fans of Nita Prose, Richard Osman, and Anthony Horowitz.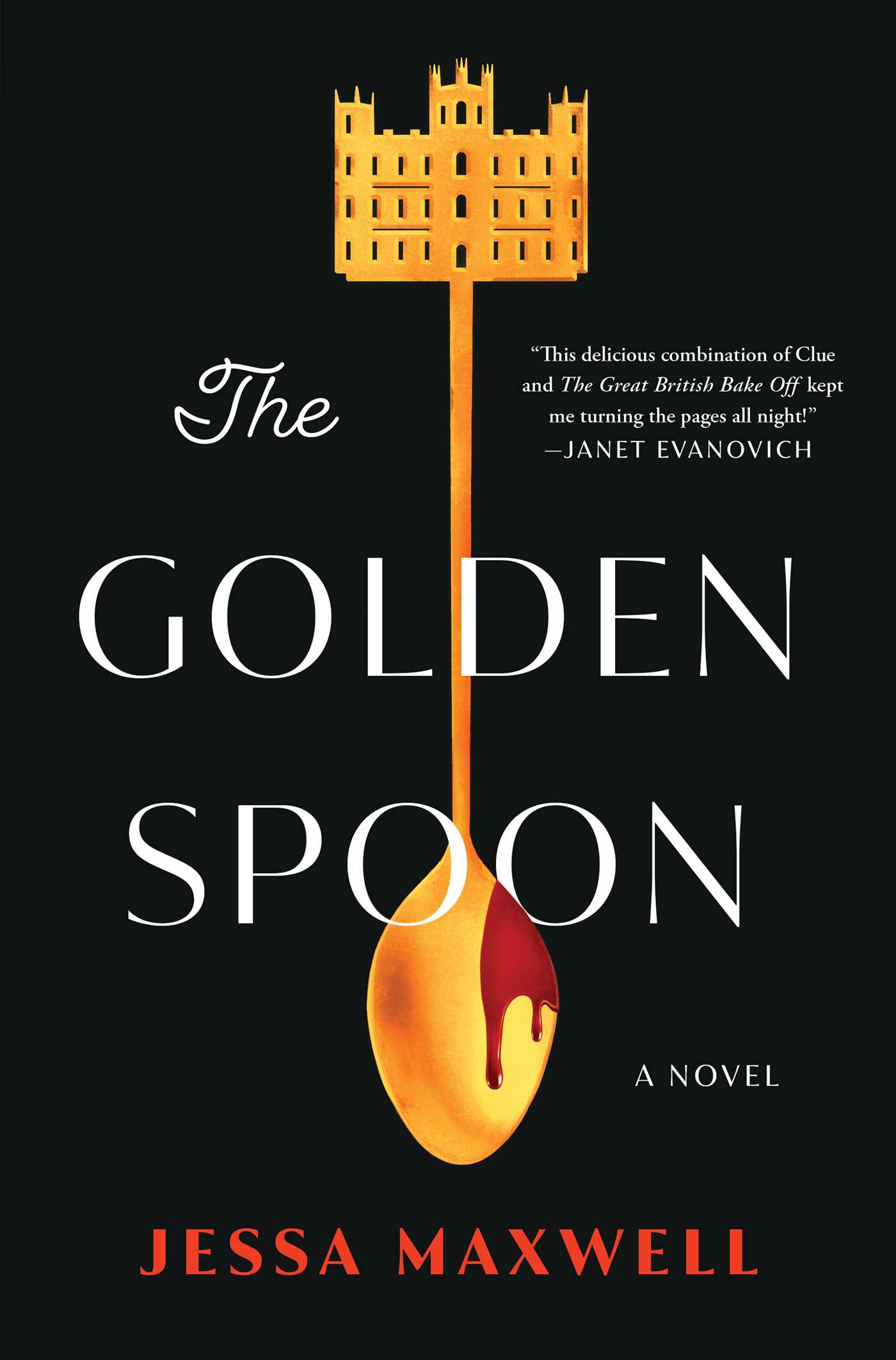 About The Golden Spoon
Every summer for the past ten years, six awe-struck bakers have descended on the grounds of Grafton, the leafy and imposing Vermont estate that is not only the filming site for "Bake Week" but also the childhood home of the show's famous host, celebrated baker Betsy Martin.

The author of numerous bestselling cookbooks and hailed as "America's Grandmother," Betsy Martin isn't as warm off-screen as on, though no one needs to know that but her. She has always demanded perfection, and gotten it with a smile, but this year something is off. As the baking competition commences, things begin to go awry. At first, it's merely sabotage—sugar replaced with salt, a burner turned to high—but when a body is discovered, everyone is a suspect.

A sharp and suspenseful thriller for mystery buffs and avid bakers alike, The Golden Spoon is a brilliant puzzle filled with shocking twists and turns that will keep you reading late into the night until you turn the very last page of this incredible debut.
About the Author: Jessa Maxwell
Jessa Maxwell is the author of The Golden Spoon and I Need You to Read This. She is also the author and illustrator of five picture books for children. Her comics and cartoons have been published in The New Yorker and The New York Times and her writing has been published in Slate, Marie Claire, and many others. She now lives in Jamestown, Rhode Island with her husband, two cats and three-legged dog.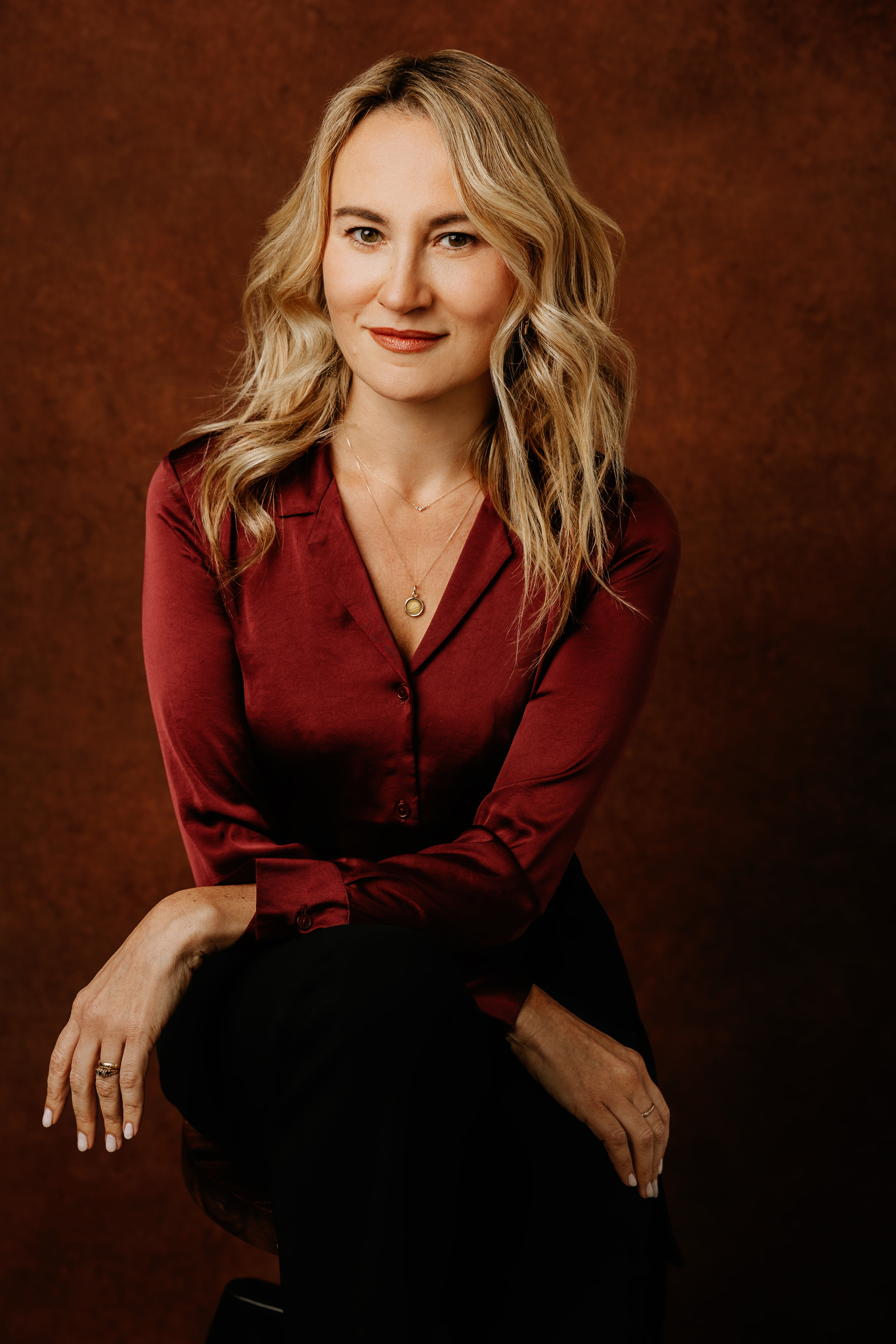 Praise for The Golden Spoon and Jessa Maxwell
"A delectable tour de force of baking and mayhem, Maxwell's debut mystery is one to savor." —Library Journal (starred review)
"A delicious concoction: two shakes Agatha Christie and a cup of Great British Bake Off." —Kirkus (starred review)
"Two things I love are great food and a great mystery—and The Golden Spoon has both. This delicious combination of CLUE and The Great British Bakeoff kept me turning the pages all night!" —JANET EVANOVICH, #1 New York Times bestselling author of The Recovery Agent
"Clever, atmospheric, and creepy, with a spooky mansion, the kind of quirky, reality-TV-ready ensemble you can't help but adore, and storylines as expertly interwoven as a blue-ribbon challah. I can't wait for whatever Maxwell bakes up next." —ANDREA BARTZ, New York Times bestselling author of We Were Never Here
Chico's Book Club
Look for updates on Chico's Book Club virtual events on our Instagram, Twitter, and Facebook, and the Chico's blog. Plus, check, back each season for a new book club pick. Happy reading!
How to Start Your Own Book Club Chapter
The best part of Chico's Book Club is discussing each pick with your friends and family! If you want to start your own book club chapter—whetherin-personorvirtual —follow the tips below.
In-Person
In-Person meet ups are the traditional way to enjoy a book club. They're still fun and popular as ever!
The first step is the easiest: pick your book! Thankfully, we've helped out with this one. Grab your copy of The Golden Spoon!
Next, choose a location. Some of the best places for book club meets ups are some of the most familiar places, like your living room. Otherwise, think about some public settings that would also work, like public library meeting rooms or quiet coffee houses.
Now it's time to gather some members! It's said that the best number for a book club is about 8, but you can push it to about 15. A good way to recruit members is to in to invite 3 – 5 people, and then ask each person to invite a couple of friends. Remember, too few members could stunt the conversation and too many members may make meetups too long.
At this point, you can arrange your first meeting. In this first meetup, set up some basics, like the permanent meeting time, date and location, how the book club will run, and maybe even some goals for the book club.If you need help getting started with discussion topics, try theMrs. Porter CallingReading Guide from the publisher below.
You're all set! Send out meeting date reminders to all the members, a purchase link to the book club pick, and get reading
Virtual
Virtual meetups have become more common, especially with the advent of digital tools that make it easier to connect. Plus, most of the in-person methods still apply, like choosing a book and inviting members.
Once you have your book club pick and your members, start a Facebook group and invite all your members. Here, members can post the reading schedule, establish topics, and discuss the book.
Next, decide on which members will moderate the Facebook group. A moderator has certain administrative privileges on the Facebook group that can help make things run more smoothly. For example, moderators can post pre-written questions to get the conversation started, as well as make sure the discussion stays on track—and that everyone is being respectful. One suggestion is to have book club members take turns moderating, that way everyone has a chance at the role.
At this point, try to create some timelines for when discussions will take place. In traditional in-person meetups, everyone would know when to meet and what should bereadto participate in the discussion. The same should be true about a virtual meeting. Decide when discussion topics will be posted, what they'll be, and what should be read. That way, everyone stays on the same page—literally!
If you'd like to go the extra mile, try setting up virtual video discussions. Tools like Google Hangout offer about 1 hour of free video chats with a small group. As a supplement to online discussions, consider hosting a few video call meetings to help the group get to know each other. Pro tip: create some icebreaker games for each video call to help folks get comfortable.
If you're still looking for some additional help getting your chapter of the Chico's Book Club started, use this checklist from Random House. Plus, check out these fun ideas for your book club! Make the companion recipe to the Golden Spoon, the Layered Blueberry Buckle.
Layered Blueberry Buckle
The Golden Spoon Companion Recipe
Similar to a coffee cake, a buckle includes fruit in the batter and a streusel topping. The term "buckle" refers to how this dish bakes. As the batter rises, the weight of the fruit and streusel topping causes the cake to appear indented and buckled.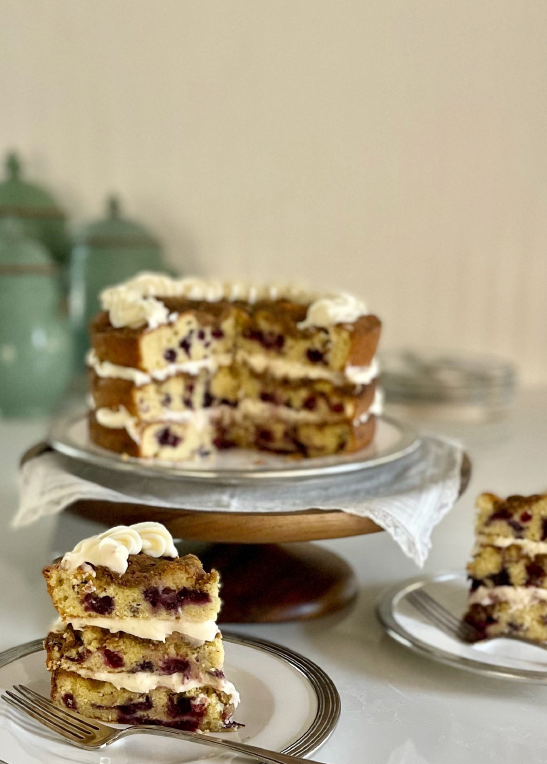 Buckle Batter
3 cups all-purpose flour
plus more for pans
2 teaspoons baking powder
½ teaspoon fine sea salt
1 ¼ cups granulated sugar
½ cup unsalted butter,
softened plus more for pans
2 large eggs
2 teaspoons vanilla extract
1 cup whole milk
3 cups blueberries, fresh or
frozen and unthawed
Streusel Topping
1 cup all-purpose flour
1 cup lightly packed light or dark brown sugar
1 ½ teaspoon ground
cinnamon
¼ teaspoons fine sea salt
½ cup (8 tablespoons or 1 stick) unsalted butter
Cream Cheese Icing
8 ounces cream cheese, softened
½ cup unsalted butter, softened
3 ¼ cup confectioners' sugar, sifted
1 teaspoon vanilla extract
Directions
Preheat the oven to 350°F. Place a round of parchment paper in the bottom of three (8-inch) cake pans; butter and flour the bottom and sides of the pans. Prepare the streusel topping; set aside. Beat together the butter, sugar, eggs, and vanilla until smooth and well blended. Combine the flour, baking powder, and salt in a bowl. Beat the flour mixture into the butter mixture alternating with the milk. Gently fold in the blueberries.
Divide the batter among the three prepared pans, smoothing the top. Sprinkle evenly with the streusel topping. Bake the cakes for 30 to 35 minutes or until a toothpick inserted into the center comes out clean.
Remove from the oven and cool in the pans for 10 minutes. Place a plate on top of each cake layer and invert, removing the pan. Peel off the parchment from the bottom. Turn the cake right-side-up onto a cooling rack. Cool to room temperature.
Spoon ½ cup of Cream Cheese Icing into a piping bag or plastic storage bag. Cut the end, and pipe swirls around the top outside edge of one of the cake layers using a star or fluted piping top (this will be the top). Spread remaining icing on the remaining two cake layers and stack.
Streusel Topping: In a small bowl, stir together the flour, brown sugar, cinnamon, and salt. Cut the butter into the dry ingredients with a pastry blend or fork until the mixture has a crumb-like texture. Makes about 2 cups.
Cream Cheese Icing: Beat the cream cheese and butter at medium speed with an electric mixer until fluffy; gradually beat in the sugar until the mixture is smooth. Beat in the vanilla. Makes about 2 cups.