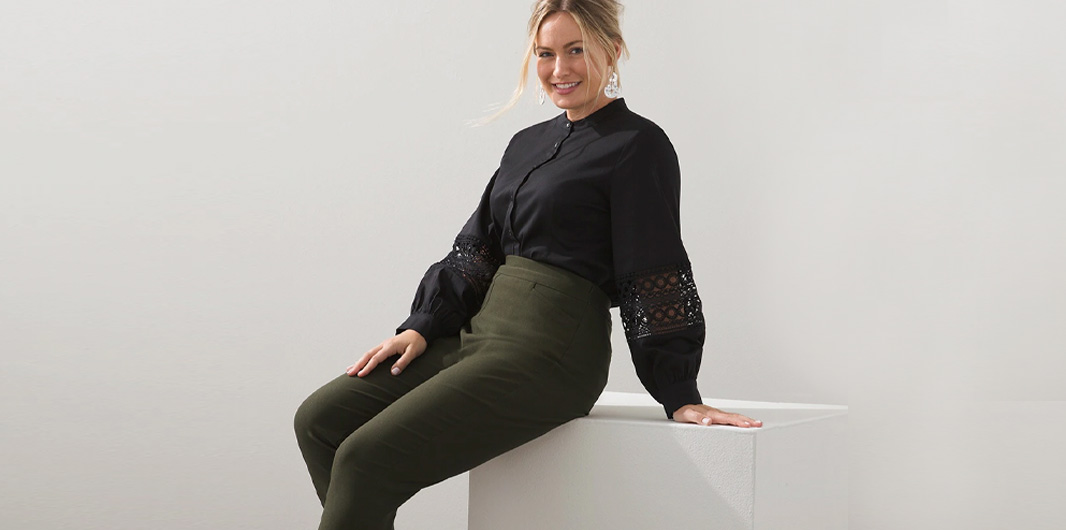 Pants for Curvy Women
Finding the right pants for your body shape doesn't have to be difficult. Pants for curvy women are comfortable, form-fitting, and can help you feel your best. But what should you look for when shopping for the right curvy pant? It's all about the fit.
Choosing the right curvy pants for women is key to ensuring you look and feel your best, so let's discuss how to choose curvy pants for your unique body shape. We've even included some curvy pant styling tips so you can make your wardrobe work for you.
We'll also introduce you to Chico's Brigitte Curvy fit for those who want to look and feel their best in a pair of curvy pants. This pant style is made with Slimming® 360 technology with extra room in the hips and thighs to help you style your silhouette your way.
Keep reading to your questions answered about how to find and style the perfect curvy pants, like:
Who Are Curvy Pants Made for?
What Is the Difference Between Curvy Fit & Regular Fit?
What Pants Are the Best for Curvy Women?
Find the Best Pants for Your Body Type
The Brigitte Curvy Pants
Styling Curvy Pants
Other Styling Tips for Curvy Women
Who Are Curvy Pants Made for?
The most important thing to note is that curvy pants are designed for your body shape, not your size. Women with small waists relative to their hips and thighs are considered curvy because they have a beautiful curve from the waist down. Any size can be curvy, but curvy pants for women fit those with small waists and wider hips and thighs to improve their comfort and offer more coverage.
What Is the Difference Between Curvy Fit & Regular Fit?
Curvy pants are designed for those with a smaller waist compared to their hips and thighs, while regular fit pants are designed for those with smaller hips that are straighter, with a smaller difference between the size of your waist and hips. Pants for curvy hips help women with these body shapes feel more comfortable in their clothing. Anyone can be curvy, whether they have a pear-shaped or hourglass figure if their waist is much smaller than the width of their hips.
What Pants Are the Best for Curvy Women?
The best pants for curvy women depend on your unique shape, but you'll want to find those with a mid-to-high rise waist for ultimate comfort whether you're sitting or standing. Additionally, you'll want to look for pants that stretch for extra room in the hips and thighs. Many women prefer pants that use stretch fabric for comfort.
Additionally, the waist should taper and be narrower than the hips and thighs. If you're looking for dress pants for curvy women, consider black or dark bottoms that are slimming and look great on all types of figures.
Find the Best Pants for Your Body Type
Finding the best pants for your body shape can be difficult, especially if you're unsure what to look for. Here are a few of the most common body types and how to dress them.
Pear: The pear-shaped figure is when you have hips and thighs wider than your shoulders and bust. Many pear-shaped women look great in curvy bottoms because they offer the bit of extra room they need in the hips and thighs for comfort. Those with a pear-shaped body also have a defined waist, and curvy pants are designed to accentuate it to help you look your best.
Hourglass: The hourglass figure is one of the most talked about figures because it means your shoulder and hip measurements are similar and have a defined waist. Since you have a defined waist that's narrower than your hips and thighs, you'll likely look great in curvy bottoms with a high waist. In addition, hourglass figures can wear almost any style of pants, including a straight leg and wide leg.
Apple: The apple figure is defined by having measurements that are similar to each other. Your shoulders, waist, and hips might be within just a few inches of one another. Individuals with an apple-shaped body don't have as defined a waist, so they'll need to dress to create the curves they don't have naturally. Apple bodies look great in straight fits and wide boot cuts to accentuate their legs. However, you can give the illusion of a more defined waist with high-rise pants to elongate the legs.
Rectangle: A rectangle body shape has a straight or athletic body type in which the shape is straight with shoulders, bust, and hip measurements all in line. Rectangles differ from apple shapes in the straightness of their shape. Those with an athletic body type can create curves with pants by wearing a slim-straight fit. Rectangle shapes can also accentuate their waistline with high-rise pants.
Inverted triangle: The inverted triangle body shape means your shoulders are wider than your hips and thighs. Ultimately, it's the opposite of a pear shape. By creating the illusion of fuller legs with a cropped, flared, or straight fit, you can also give your body more balance. Inverted triangle shapes also typically look great in bold colors and patterns.
Meet the Brigitte Curvy Pants
The So Slimming® Women's Brigitte Collection are designed with every body shape in mind. With stretch fabric designed with exclusive Hidden Fit technology, the Brigitte slims and smooths your frame, allowing you to wear pants that finally make you feel as beautiful as you are. The So Slimming® collection is one of our customer favorites—and for good reason—so we've expanded the line to serve our curvier customers.
Our new Brigitte Curvy pant has a smaller waist with more room in the hips and thighs, plus the So Slimming® technology you love. Additionally, these curvy pants are made from lightweight, soft fabric with added stretch, so you can accentuate your curves and still be comfy. The sizing is also cut a little larger than the average pant—consistent with the rest of Chico's sizing. Additionally, there is a wide range of sizes to choose from, from XS to XXL.
Styling Curvy Pants
The Brigitte Curvy Slim Ankle Pants are developed using our So Slimming® fabric with full-length design features to trim your figure and keep you comfortable all day long. Style them with your favorite heels or strappy sandals, and balance out your slim bottoms with the right top.
For example, a dress shirt from our No Iron collection or a casual pullover can take your look from the boardroom to the dining room. Choose from three colors to find your next favorite dress pants for curvy women or buy all three to create versatile looks.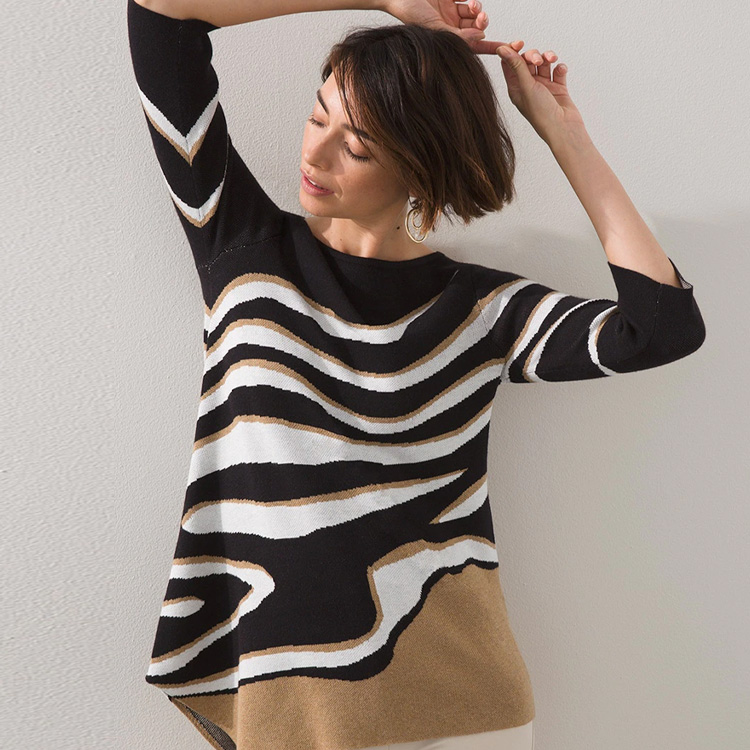 Speaking of versatility, we've put together a few styling suggestions for our new curvy pants, whether you're spending the day at the office, enjoying brunch with friends, or going out for a special occasion.
At Work
Black pants are a classic option for office dressing. Thankfully, our Brigitte curvy pants come in black, and are simple enough that you can pull off an over-the-top top, like our Poplin Billow Sleeve Shirt. Tuck this top in to accentuate your natural shape.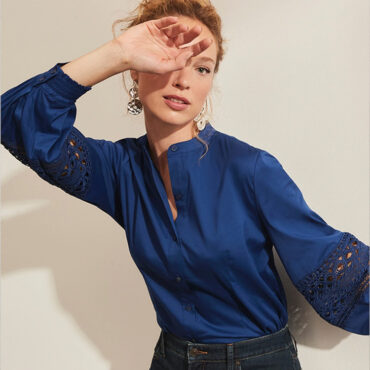 Out for Brunch
Brunch calls for lighter fare, and our Cotton Blend Smocked Sleeve Top lets you lighten your look. Given the dark hues of the Brigitte curvy pants, either the Bright Ochre or the Alabaster are great options. Plus, this drama top has elastic back sleeves and the soft, casual feel of our cotton slub material.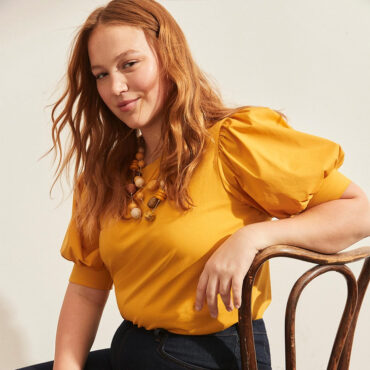 Other Styling Tips for Curvy Women
Every woman is different, and how you style your clothing depends on your unique body shape. Since any woman–no matter their size–can be curvy, you should consider what features you want to accentuate.
To help you get started, here are a few general styling tips for curvy women:
Know the look you're going for: The first rule of buying pants for curvy hips or your body shape is to consider the features you want to accentuate.
Accentuate the waist: Pear and hourglass shapes can accentuate their curves by wearing high-waisted bottoms and tucking in their shirts.
Don't hide your curves: Your curves are beautiful, so there's no reason to hide them behind your clothing. Instead, accentuate your curves tastefully by highlighting your waist and balancing your tops with your bottoms.
Wear comfortable stretch fabrics: Stretch fabrics ensure you're comfortable in your clothing, no matter what you're doing.
Find clothes that flatter your shape: Curvy women can have any body shape, so not only do you want to dress for your curves, but you must also consider your shape. For example, women with shorter legs may want to look for high-waisted curvy pants that give the illusion of an elongated bottom half.
Find the Perfect Curvy Pant for Your Style
Your search for the perfect curvy pant is over. Chico's Brigitte curvy pant styles make it easy for you to find your next favorite pair of pants. With more room for the hips and thighs, you can highlight your favorite features. Style your body your way by shopping at Chico's.