A Simple Guide for What to Wear on Mother's Day
It's almost mom's special day! With Mother's Day right around the corner, it's time to think about what you're wearing. Whether you're a mom celebrating your special day with your family or a daughter who wants to make Mother's Day special, your look should complement your plans.
That's why we've created a shortlist of styles that work for both mom and daughter. We based our suggestions off some of the most popular ways to spend the holiday. If you're looking for just the right pieces for your plans, check out our finds for what to wear on Mother's Day.
Sunday Funday Attire for Mother's Day!
Mother's Day is always on a Sunday, so what better way to celebrate than to make it a full day of fun? Sunday Funday can lead to lots of adventures filled with activities, food, and drinks, so your look should be ready for anything.
Depending on your locale, it could be the perfect time of year to celebrate outdoors. If you're going on a picnic with the family, visiting a fruit orchard, or going to a winery, light dresses or flowy pants are perfect.
A lightweight maxi dress for mom or daughter is breezy and breathable, which is exactly what you want for a warm spring day outdoors. On the other hand, flowy pants can offer the same ease and comfort as a lightweight dress, but with some different perks. For example, you can pair lightweight pants with a cardigan if a warm day turns into a cool night.
Plus, maxi dresses and full-length pants can go from day to night with ease. So, the festivities can start outdoors in the late morning or early afternoon and end up at a nice restaurant in the evening without ever going home to change. Brunch with the Family
If you're like most families, you love a one-of-a-kind Mother's Day brunch. Whether you're staying in or going out, you still probably still want to look your best. Besides, what's more fun than getting dressed to the nines?
Of course, looking elegant doesn't mean sacrificing comfort. Casual dresses are always a great place to start, especially styles made from lightweight, summery fabrics. Poplin is a favorite for its upscale look and lightweight, cotton-stretch fabrication. In general, cotton is one of the best fabrics for warm weather dresses, especially if you're having brunch al fresco.
If you're dining indoors, you might want to wear something with a bit more coverage. Ankle pants with a button front shirt can be a simple, stylish approach to what to wear on Mother's Day. Be sure to make getting dressed super simple—go with something from the No Iron Collection. That way you can look great without the hassle of ironing. Shopping Trip For Mom
The mall is a fun place to go on Mother's Day. First of all, there are tons of sales! Also, it might be a little less stressful than getting everyone together for brunch or a party.
If you're planning to spend the day shopping, consider going with a classic look that's always in style: denim and a tee. Denim comes in so many cuts and styles that there's something for everyone. Even if you're not a big fan of jeans, you might love jean jackets. You can always trade in the denim bottoms for a stretchy skort, and still finish off your look with a tee and denim jacket.
Other the other hand, if you love everything denim, there are so many bottoms to choose from. Straight leg, wide leg, slim fit, crops, ankle, and capri—the choice is yours! Plus, tees are always an easy match for denim, whether print or solid. For the most classic look, go for a white tee designed with your favorite sleeve length, neckline, and fabric. Girls Getaway
Spending quality time with your loved ones is one of the perks of Mother's Day. If you're making a weekend of it this year, easy looks are the way to go.
From sightseeing to casual dining, crops and capris are your best friend. For the comfiest fit, pull-on crops are the top pick, while wide leg fit is a great option for something more elevated. Top off crops or capris with a linen button front shirt—especially something low maintenance—like a lightweight top, whether its button front linen or a soft knit tee.
Also, when packing for a long weekend, crops and capris make it easy to abide by the 4-to-1 rule. This rule says you should be able to match 4 tops to every 1 bottom in your suitcase. That's why adding fashion-basic bottoms like denim crops or capris to your getaway wardrobe is a must, so you don't end up overpacking.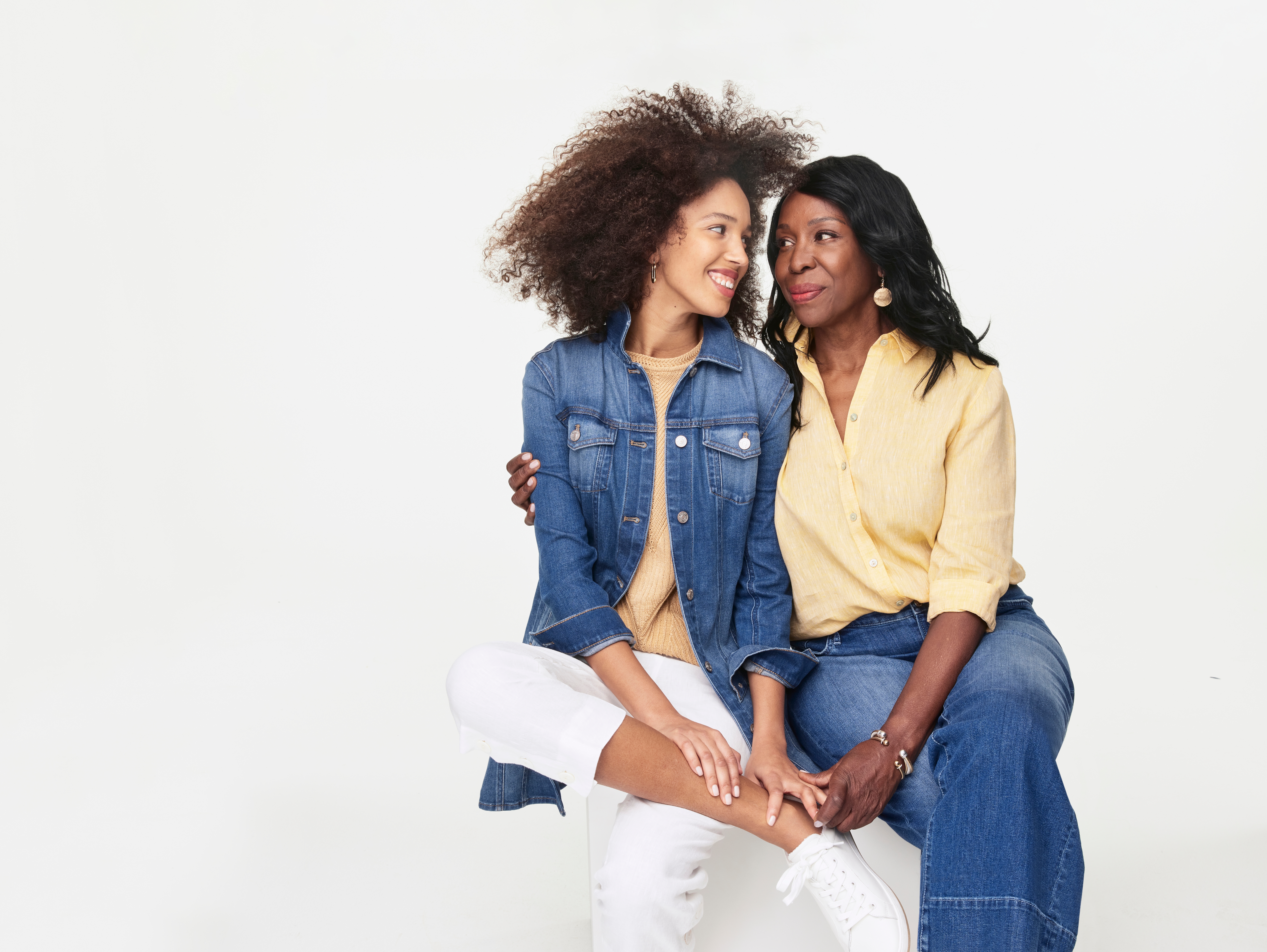 Stylish Looks for Mother's Day
Picking out your look for Mother's Day can be just as enjoyable as celebrating with loved ones. See the complete list of Mother's Day outfitting suggestions if you want more inspiration for what to wear on Mother's Day.