Top December Outfits 2023: Our Fashion Picks
It's the most wonderful time of the year – especially for fashion! This season offers so many opportunities for putting together trendsetting winter outfits, from parties to potlucks.
This year, get ready for a resurgence of in person celebrations. The last few years have seen a rise in virtual holiday events, but this season, there's likely to be more in-person office parties, holiday dinners, and New Year's Eve celebrations. That's why it's the perfect time to update your cold weather outfits!
With so many events to attend and winter fashion pieces to buy, it might be hard to figure what holiday essentials should make your shortlist. No need to stress – here are our picks for winter wardrobe must-haves to help you plan your looks for the season.
Holiday Dresses
Dresses are always a top pick for the holidays. They're a staple for good reason: you can generally find looks that work for each type of seasonal gathering. To make things simple, break down holiday dresses into three categories: holiday party dress, New Year's Eve dress, and office party dress.
Holiday party dresses are usually worn for Christmas or Hannukah gatherings. This is the perfect occasion for seasonal colors like red and green. Make sure to pick something you can move in, especially if you're doing a lot mingling or eating.
New Year's Eve dresses

should have pizazz. They should be eye-catching. They should set the tone for the coming year. This is when you shouldn't be afraid to wear something fun.

Pick something that's within your comfort zone, but stretches the boundaries a little, like a knee length

sequin dress.

Office party dresses are the most conservative of the group. In this case, keep things simple and understated. This is also a good opportunity to show your spirit with traditional holiday colors.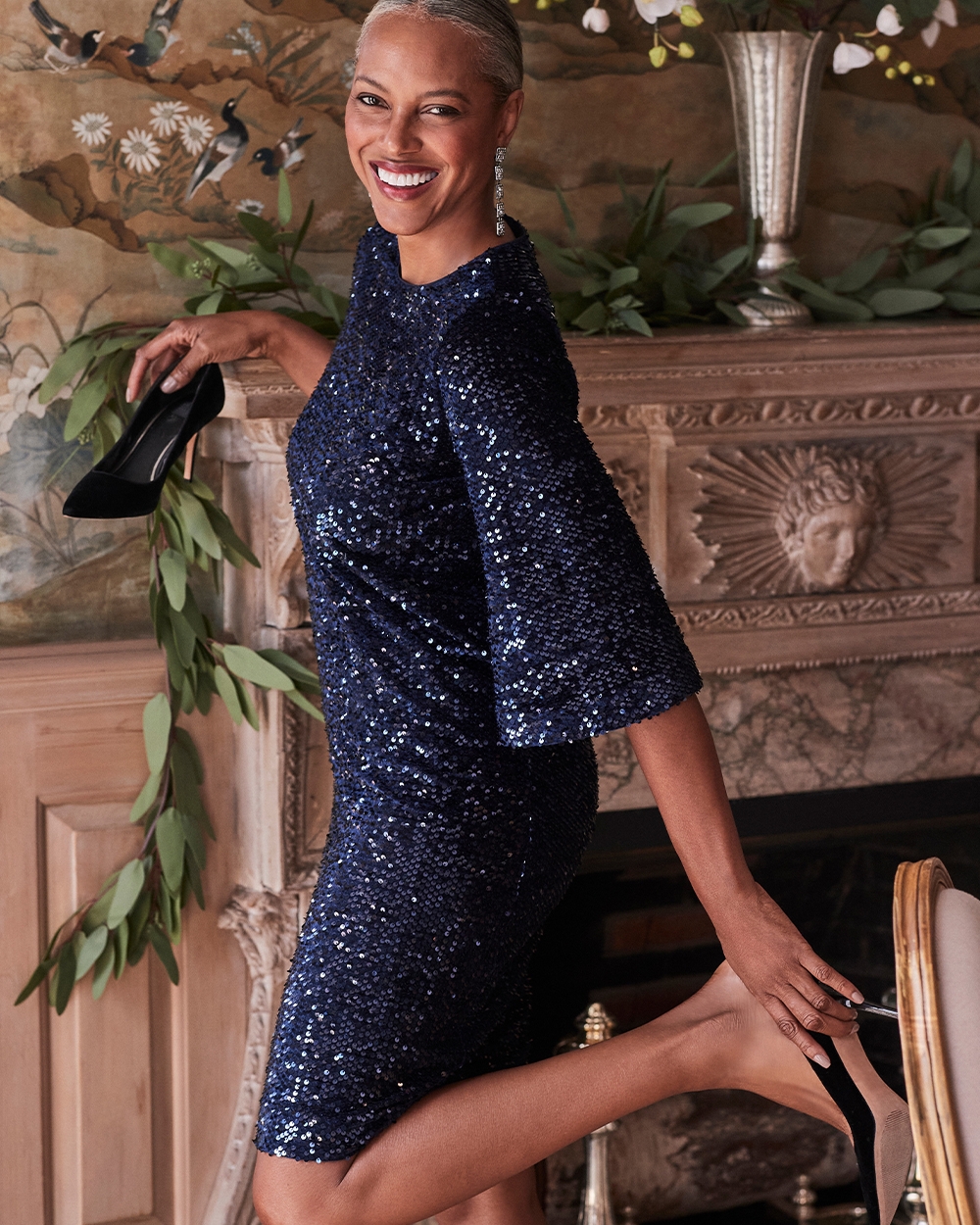 Jackets and Coats
It's pretty much impossible to complete winter outfits without the right jackets and coats. When picking the right outerwear pieces for your winter wardrobe, the goal should always be completing outfits. The final top layer should tie together what's underneath.
A well-rounded winter wardrobe has five styles of jackets and coats:
If you have one of each in your winter collection, you'll likely be set for the season, whether dressing for work, casual affairs, or upscale events.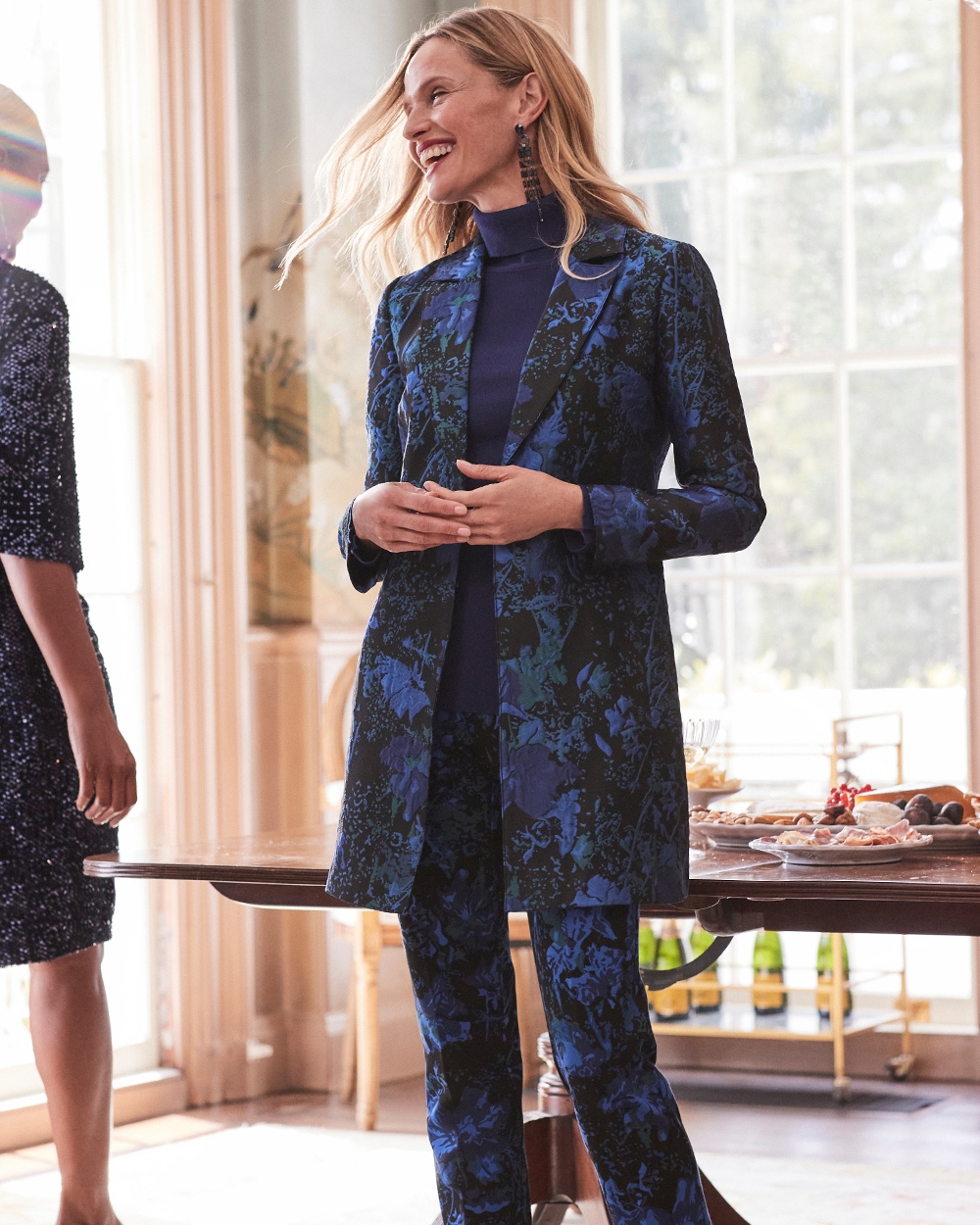 Sweaters
Picking out sweaters for the winter should be easy, right? Well, sort of. There are a few things to consider when trying to refine your sweater collection. One thing is for sure though: wearing a sweater doesn't have to mean super casual, bulky pieces!
With these simple tips, you'll have an easier time shopping for sweaters:
Pick a flattering neckline. Turtlenecks might be in, but are they right for you? Consider all your options. Just like tops, sweaters come in all variety of necklines.
Start at the bottoms. Waist-length sweaters work for mid-rise bottoms; cropped lengths work for high rise bottoms; and tunic lengths work with fitted bottoms.
Adjust the volume. Sweaters range in volume, from baggy to fitted. Relaxed looks call for more volume, and structured looks call for less. Always be sure to pick a volume that's flattering for your frame.
Know your fabrics.

Fabric is usually a good indicator of knit, and therefore the volume. Loose knits usually have more volume, and tight knits usually have less.

When in doubt go with a classic, like a

cashmere sweater.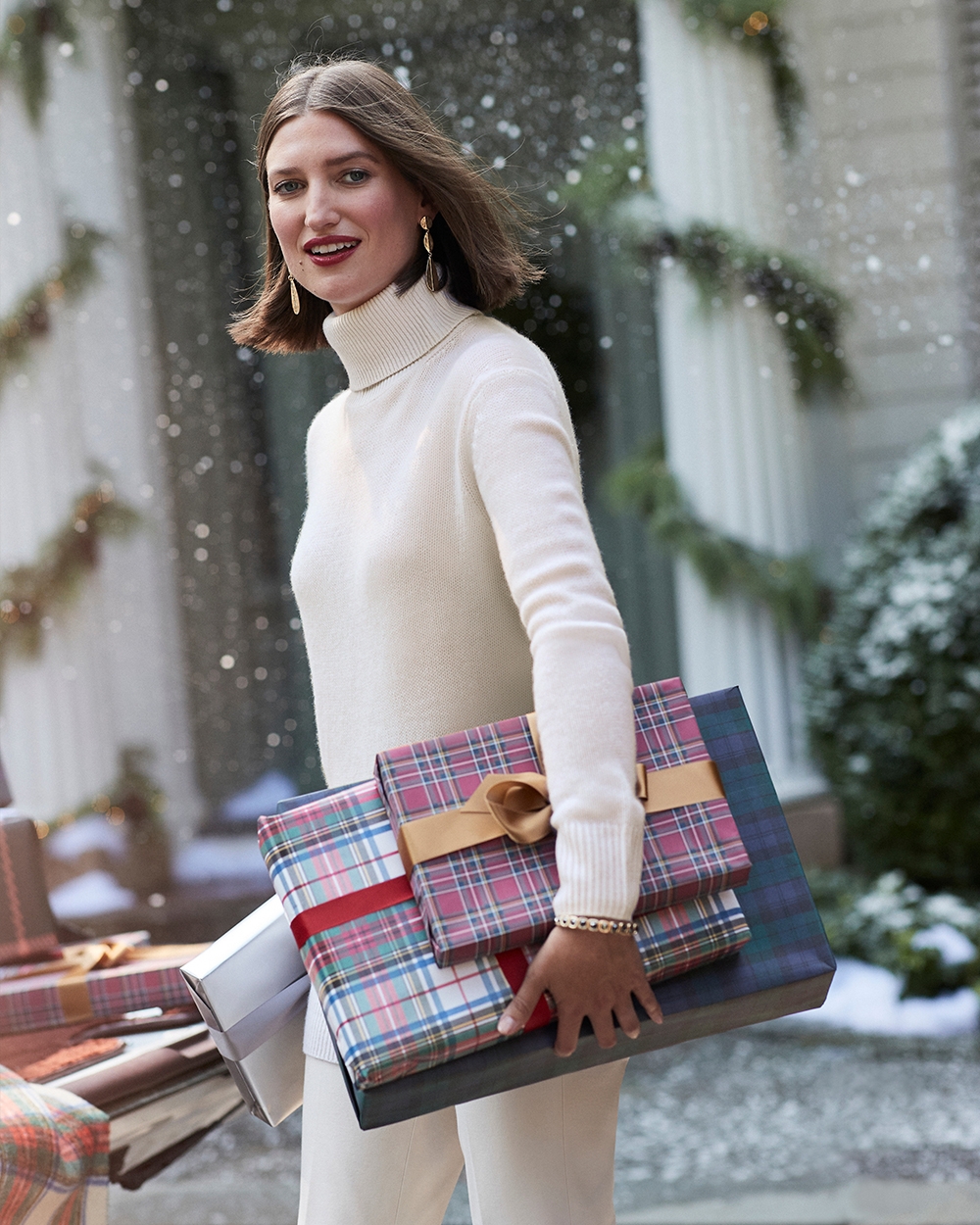 Fashion Tops
While there can be a simplicity to cold weather looks, winter fashion tops can be a considerable part of the wardrobe. It can be a little trickier to pick out women's winter tops, mostly because the trends tend to change more frequently than sweaters or coats.
To give you a head start on this season's trends, we've chosen our favorites:
Mixing knit and woven fabric in the same garment offers more styling options. For example, styles that combines a knit body and woven sleeves have the best of both worlds: comfort and structure.
Button front blouses never really go out of style, making them a one of the few fashion tops that can be worn year over year.

Unique necklines

like an

off-the-shoulder top

are fashionable and face flattering.
Embellished details like all-over sequins are making a big entrance this year, especially for New Year's Eve.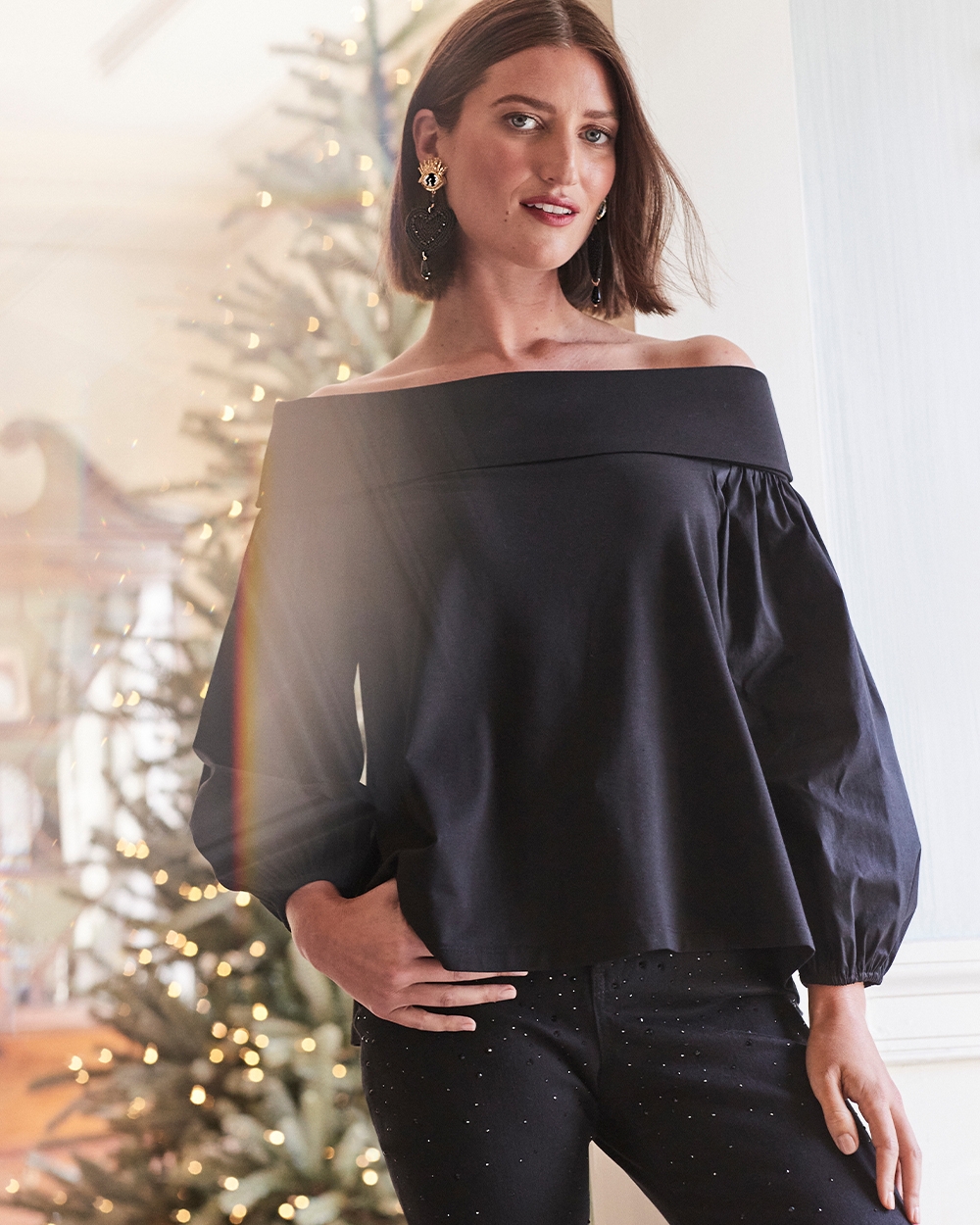 Pants
Women's winter fashion relies heavily on pants, especially for work attire and special occasion looks. It's a good idea to have a few consistent styles that can be worn every year. In addition, it's important to update your wardrobe annually with a couple new styles to make sure your winter outfits don't become fashion faux pas.
Is it time to update your winter pants collection? Here are few essentials that are topping the list of fabrics, fits, and details for winter 2023 pants:
Ponte fabric can be just right for the winter months. It's versatile enough for most seasons, but it really shines in the cold weather, with stretch knit construction that looks upscale but feels casual.
Wide leg pants are back in a big way. That's not to say you can't wear slim leg pants this season, but definitely buy at least one wide leg pair to pepper into your rotation.
Fashion details like pintuck stitching, embroidery, sequins work well for the holidays since they show your enthusiasm for the season.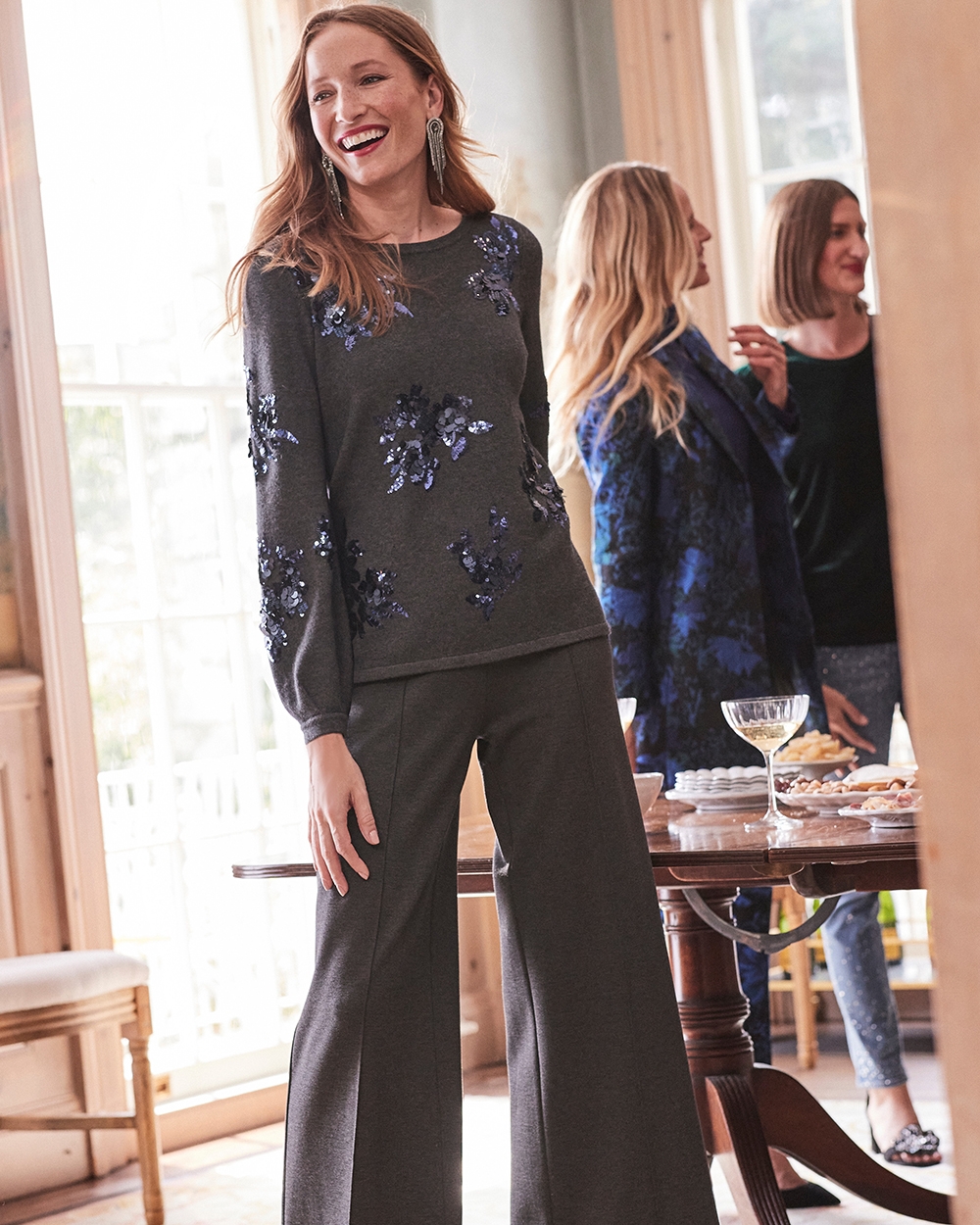 Denim
A robust winter wardrobe also includes both classic and trending denim styles. Like pants, it's best to update your jeans annually so styling doesn't get stale. However, when you find a classic fit, there's no shame in buying the same flattering cut in an updated style every season.
Can you wear jeans to a holiday party? Yes – if they have the right look for the occasion. Here are some of the best ways to perk up denim party looks this season:
Stone embellished denim

adds shimmer to holiday outfits, especially a Christmas brunch look.
Coated denim is sleek with a subtle shine, giving your jeans a refined look for more upscale holiday events.
Embroidery details are an easy way to elevate denim, especially paired with a flowy blouse.
Winter Fashion Accessories
Cold weather accessories are the best part of winter outfits. In what other season do you get to complete your look with hats, scarves, and gloves? A good way to embrace winter accessories is picking pieces that are more than just functional. Make sure additions to your look always add dimension with fabric, details, prints, or embellishments, like a sequin scarf.
Here's a shortlist of what to look for when you need accessories that add a fashionable finishing touch to your look:
Shimmery details like lurex thread, sequins, or rhinestones. Perfect for completing holiday party outfits.
Warm, plush fabrics like cashmere, wool, and velvet. These three fabrics are the trifecta of always-in-style cold weather outerwear.
Leather gloves with detailing like basketweave or quilt stitching can go from sporty to elegant.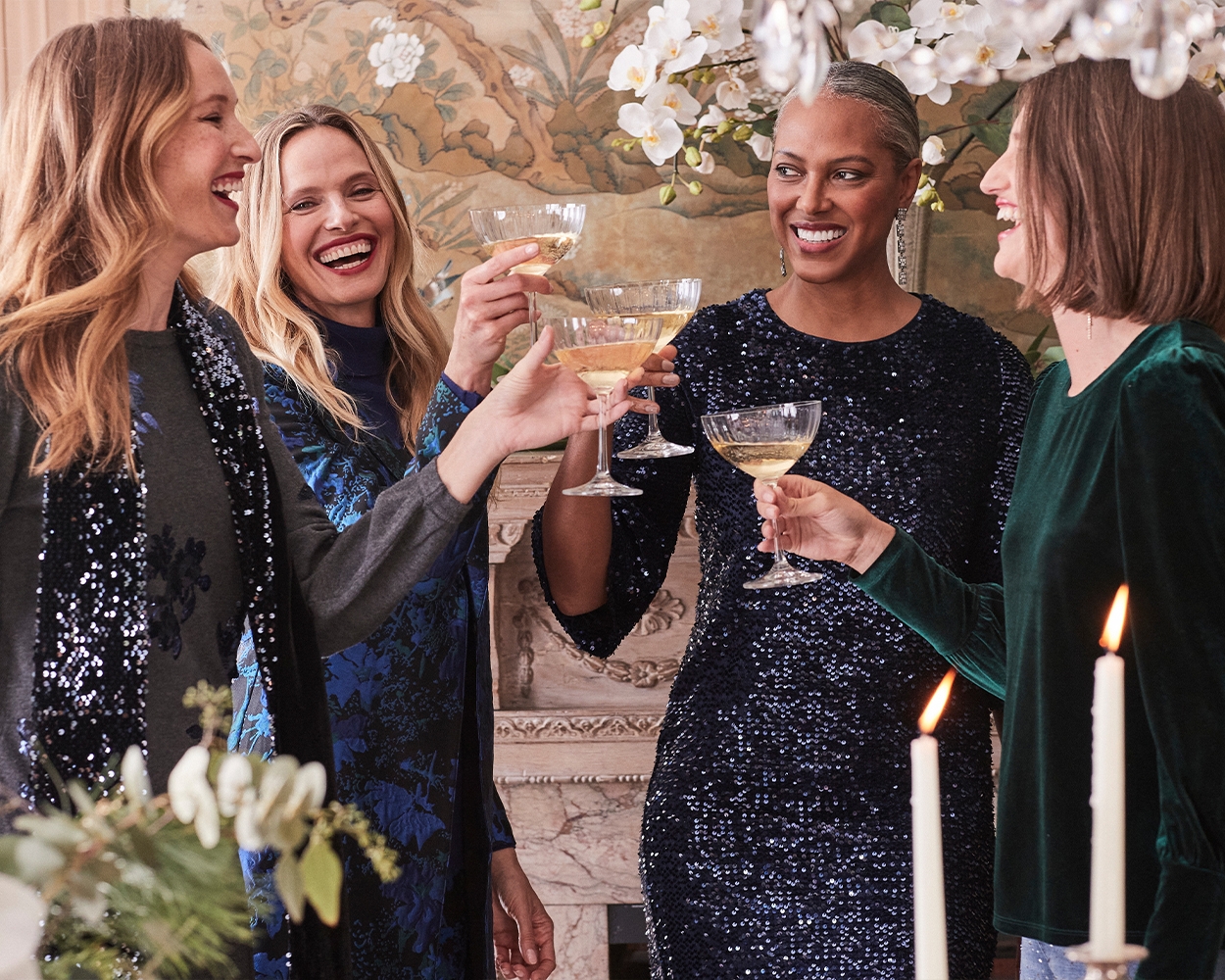 Chico's Winter 2023 Collection
Have you seen Chico's winter 2023 collection? There are so many pieces to love, from jackets to jewelry. Check out our most celebrated styles and get more info about the collection!
Winter 2023 Color Palette and Color Trends
What are the color trends for winter 2023? Holiday colors are likely to make an appearance; red and green are always in the rotation this time of year.
If you want to be festive, try adding pops of red rather than a full ensemble. On the other hand, if red's your color, there's no better time of year to wear it head to toe.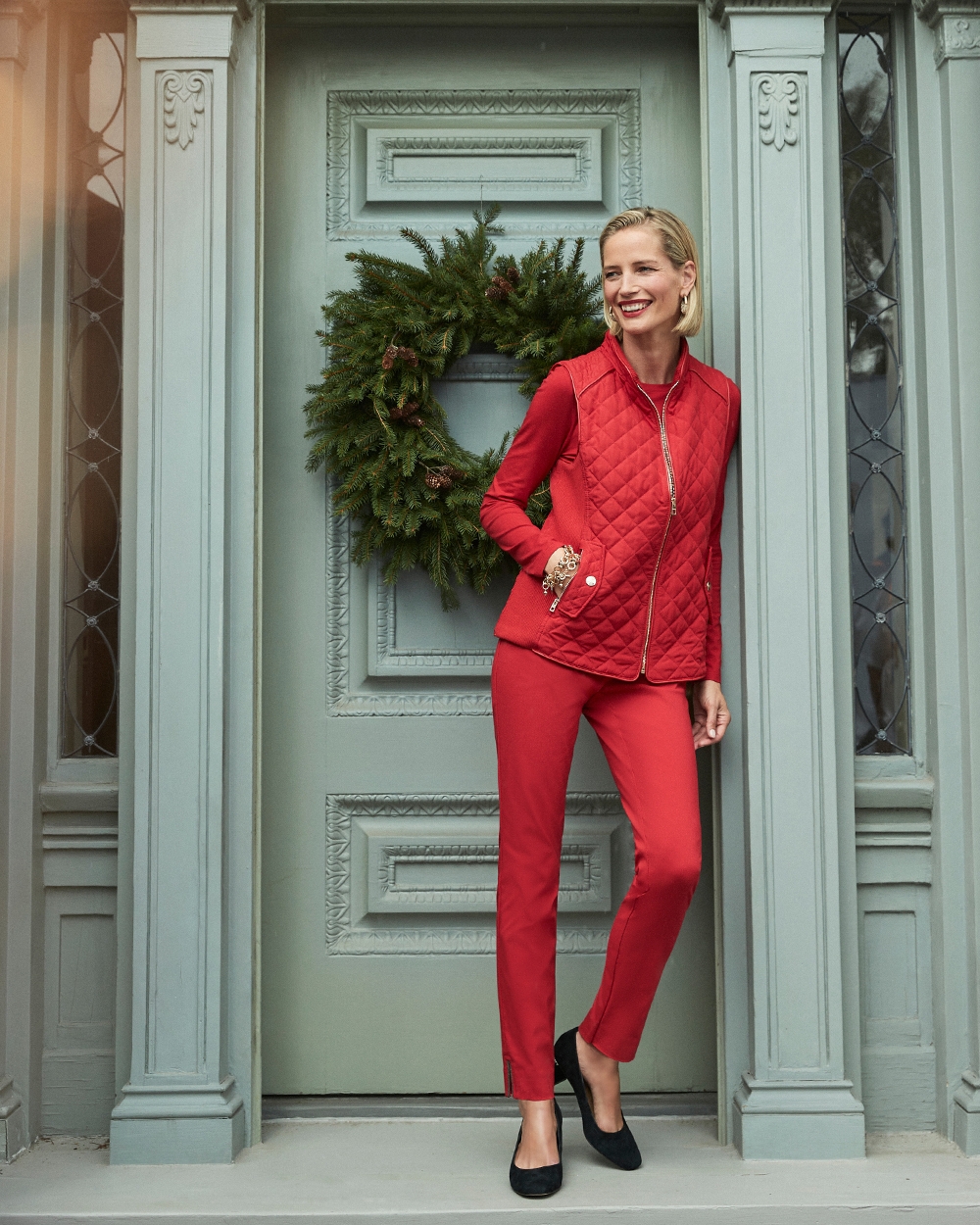 Beyond the traditional holiday colors, what can you wear that's in line with the season? Winter fashion is usually full of cool tones, like rich blues, deep purples, and bold greens. Chico's color crush picks for the season are cosmic cobalt and enchanted forest.
We love these two colors because they can take you through the holiday season and into the new year. Winter color trends should be appropriate for seasonal celebrations and everyday affairs.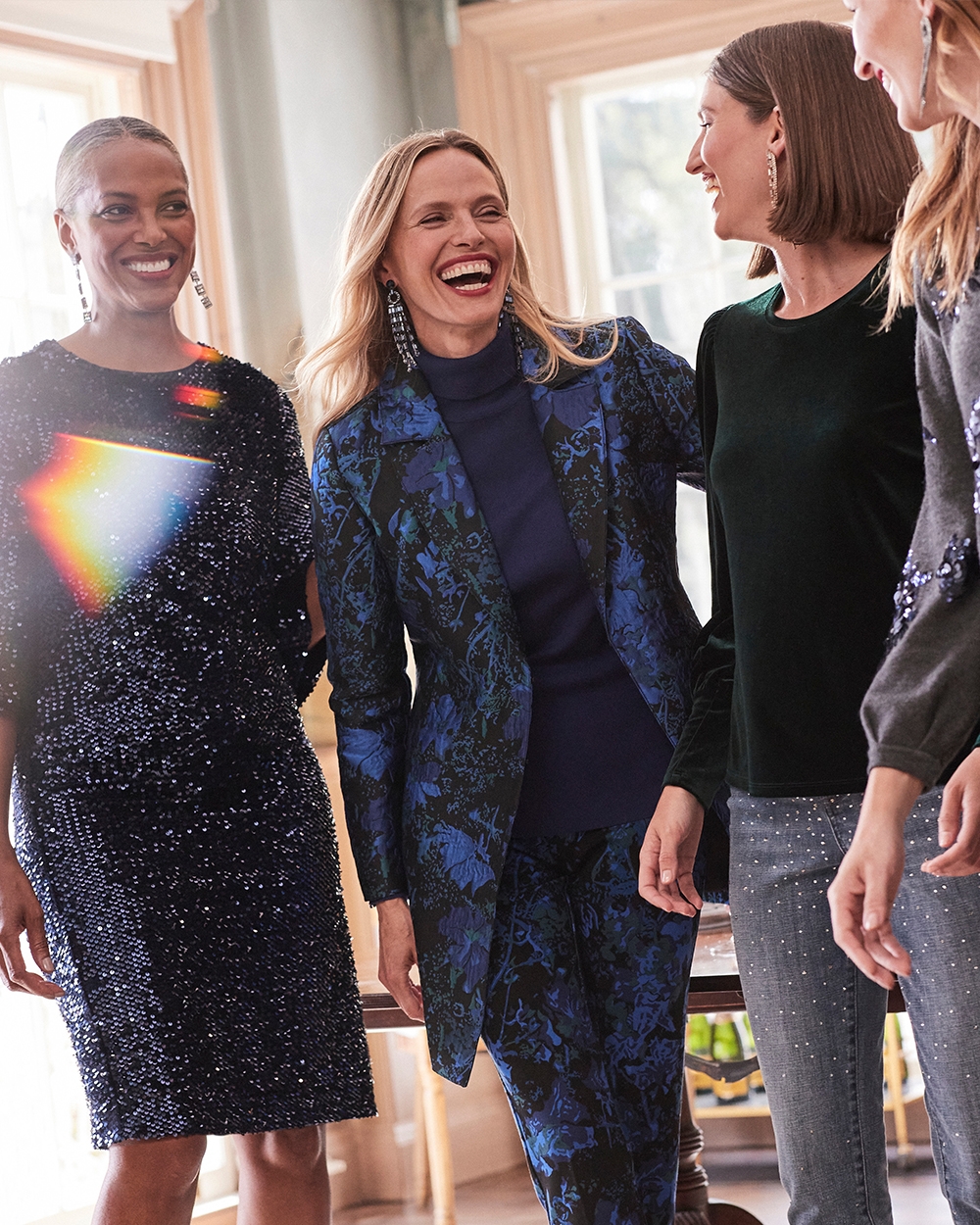 Classic Luxury
Simple, structured, stylish: that's what defines classic luxury. This year, women's winter fashion is all about creating looks that blend modern fits with classic styles, like a knit blazer paired with flare pants.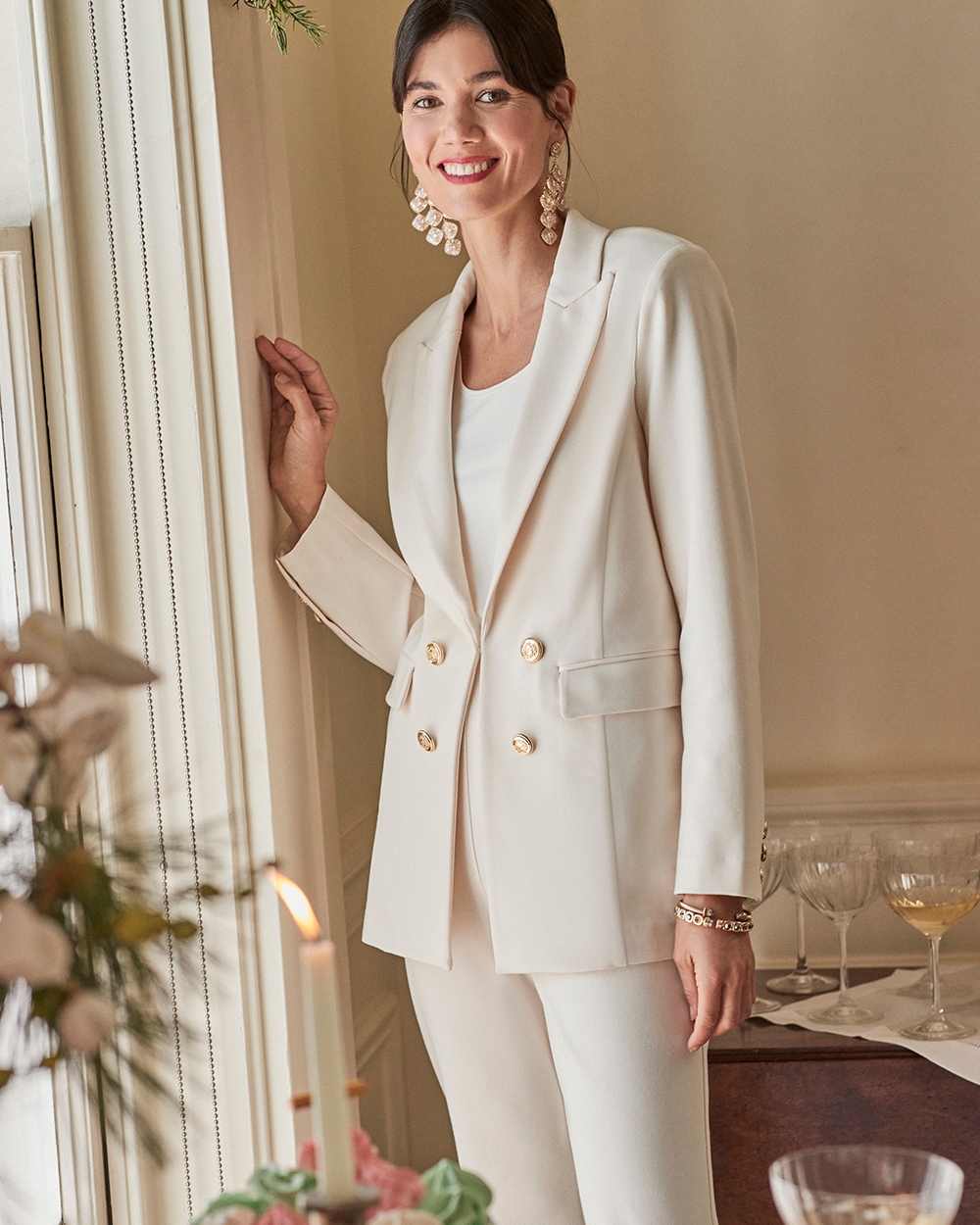 Matching Sets
If you love a look, why not wear it head to toe? That's the thinking behind this December fashion trend: matching sets. Back in a big way, matching sets are made up of a top (or top layer) and bottom that feature the same details, prints, or embellishments. We love them because you can mix and match them or wear them together, like this sequin embellished blouse and pants set.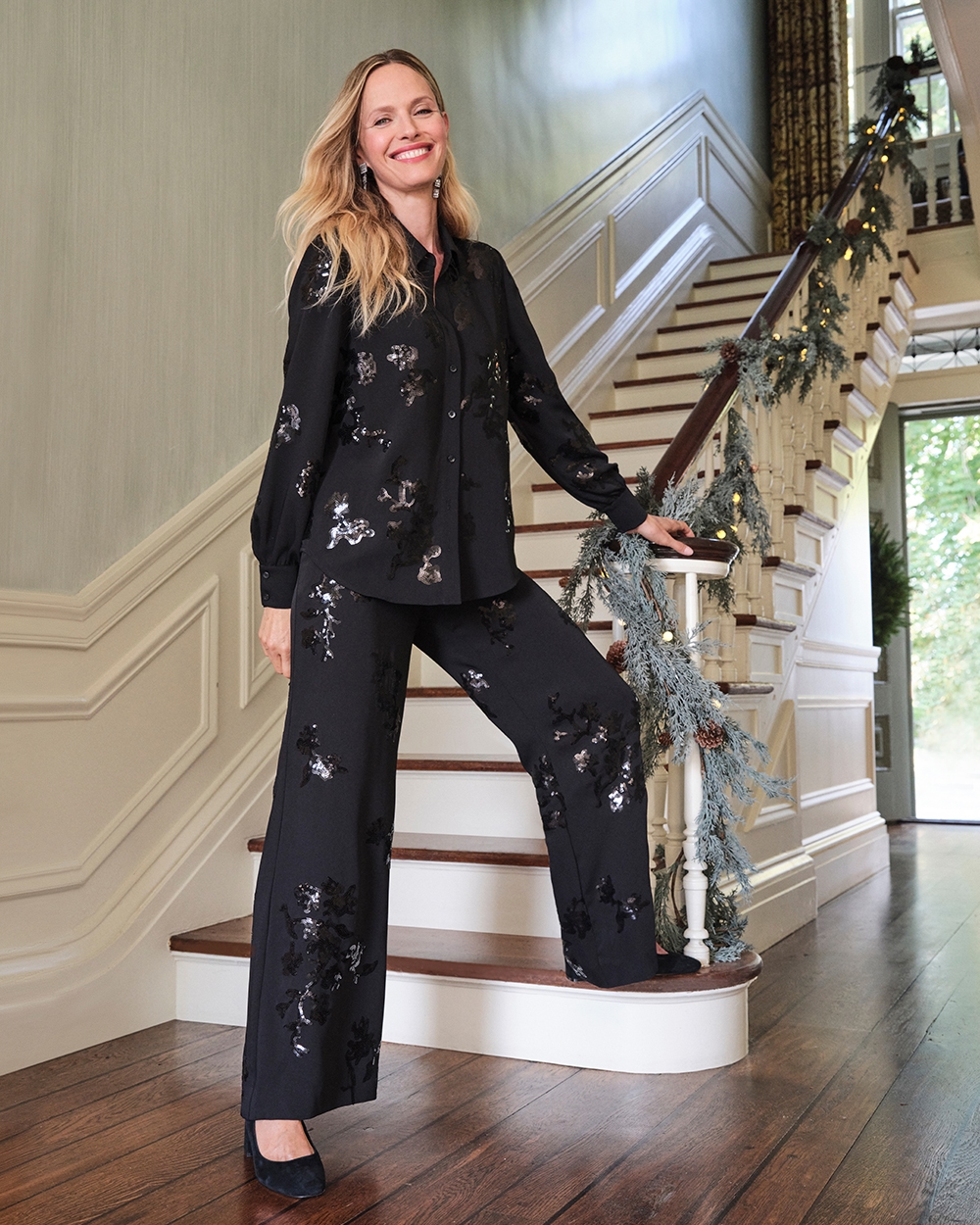 Athleisure Outfits with Zenergy™
Athleisurewear is a comfortable yet fashionable way to dress for the season. This trend blends fashion pieces with activewear pieces. It's the perfect look Christmas morning with the family or doing your holiday shopping. Think cashmere sweaters with quilted puffer vests. Chico's Zenergy™ athleisurewear collection features stylish details and elevated comfort – exactly what you need this time of year.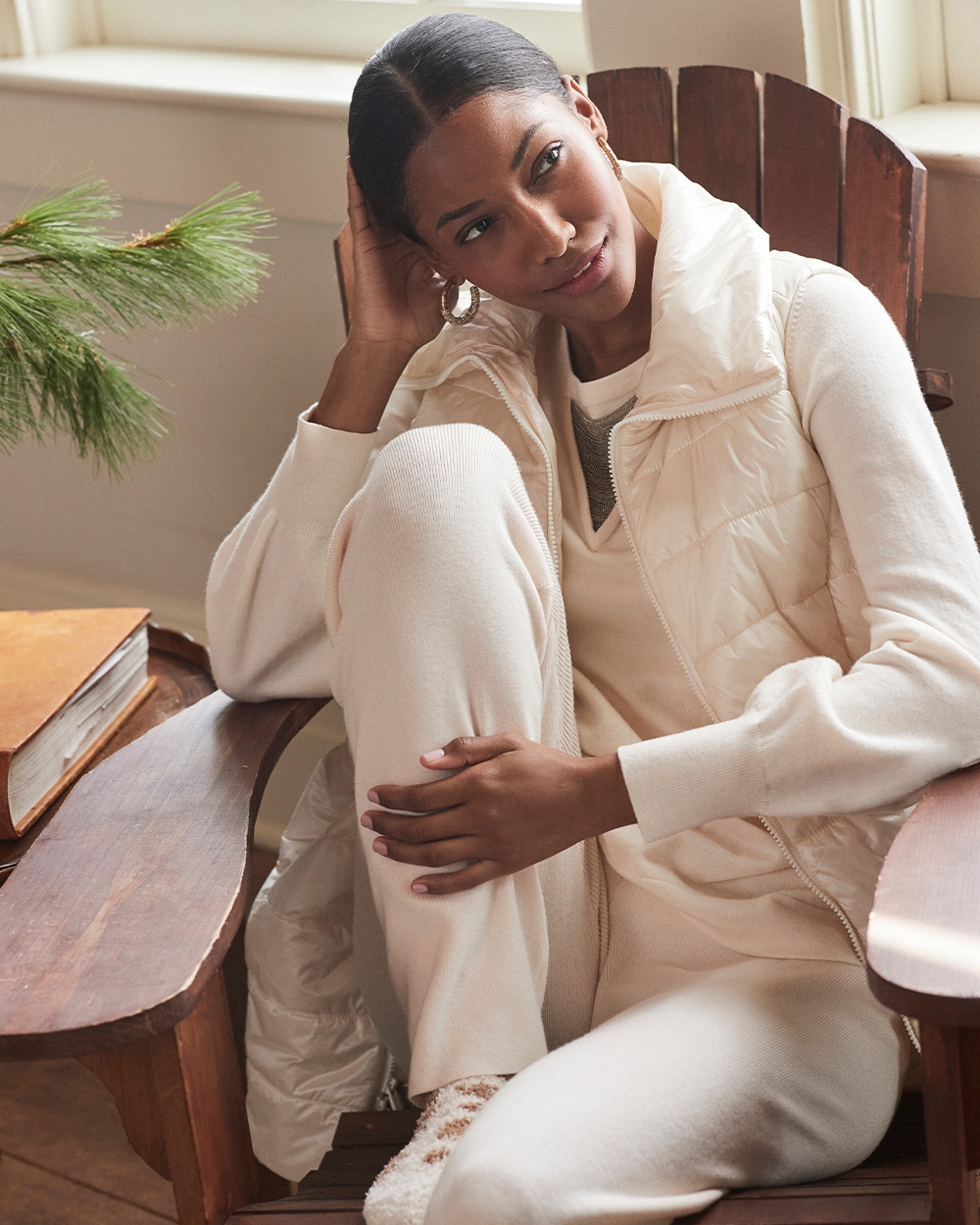 Black and White Outfits
Another women's winter fashion trend we love is black and white outfits. Pairing black and white for holiday parties is a classic year after year. Modernize this traditional pair with shimmery sequins on a black and white houndstooth top.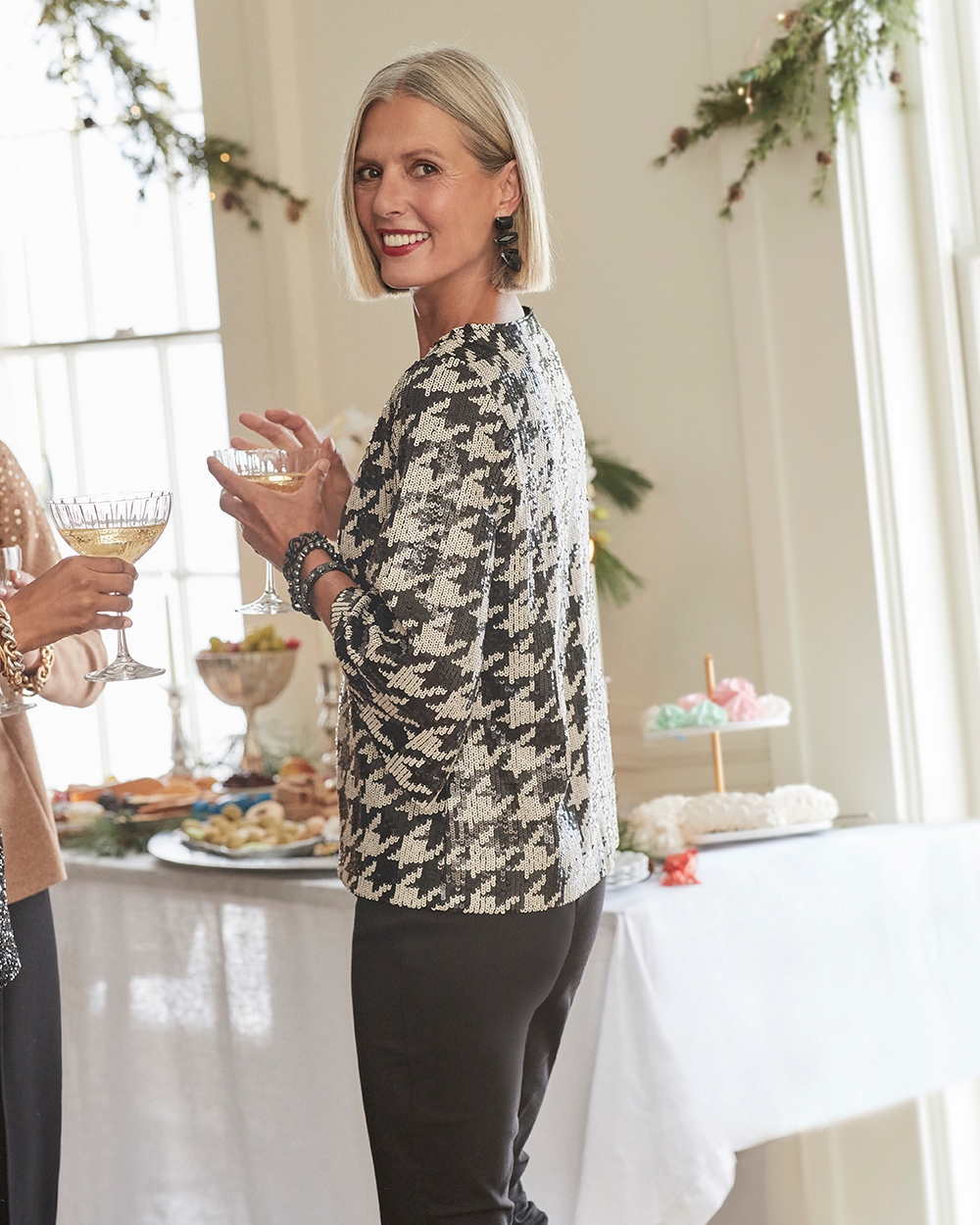 Juliet Pants for Fall & Winter
Chico's Juliet pants are perfect for any season. Made with stretch-and-recover fabric, they feature So Slimming® Hidden Fit technology that shapes the midsection – and they come in a range of colors. This customer favorite makes the most of holiday wear.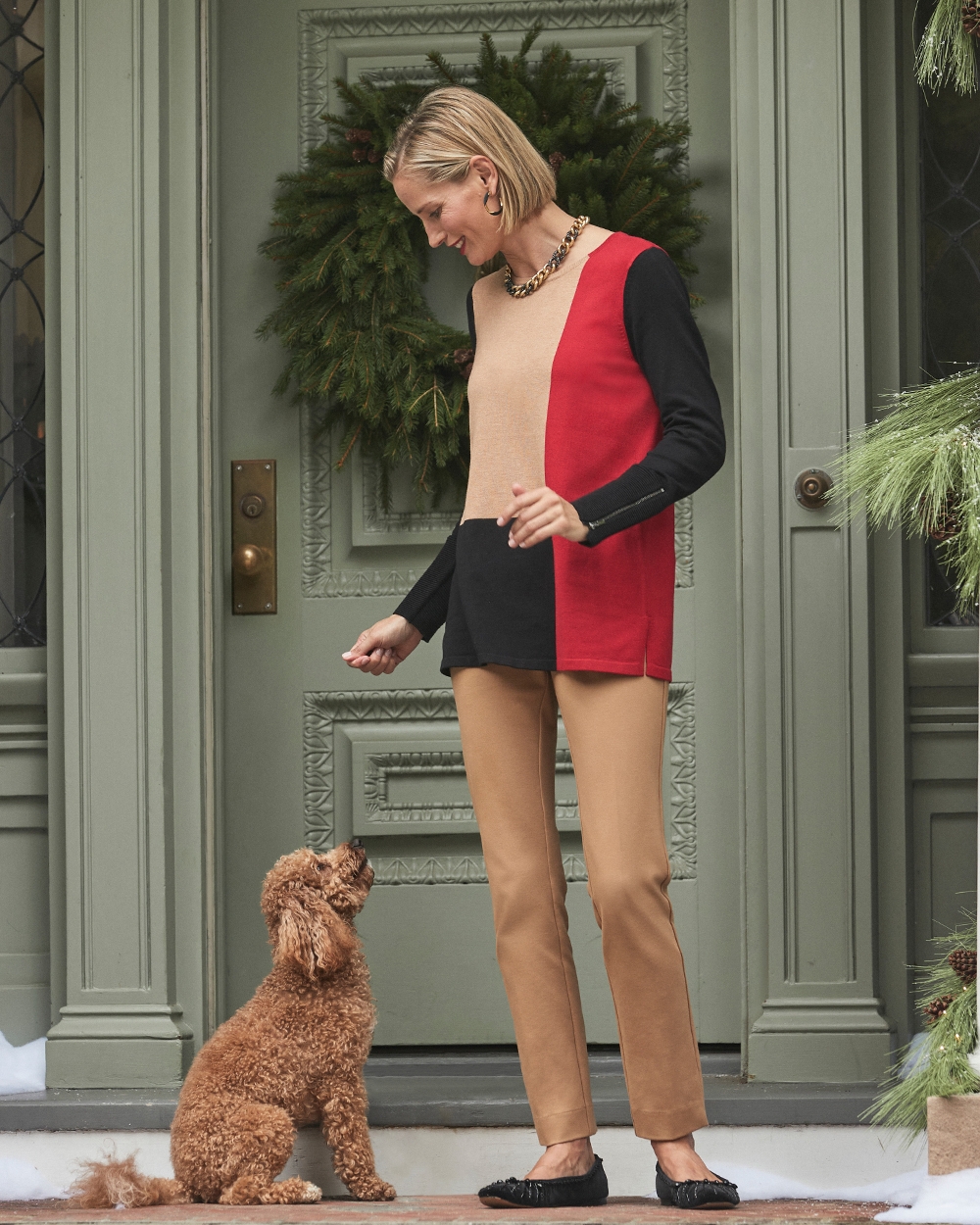 No Iron™ Shirts for the Holidays
A well-rounded winter wardrobe requires at least one button down shirt. You can dress it up easily with a structured jacket or dress it down with denim. Chico's No Iron™ collection gives you that crisp look and feel without the hassle. It's no wonder this wrinkle-free line is a customer favorite.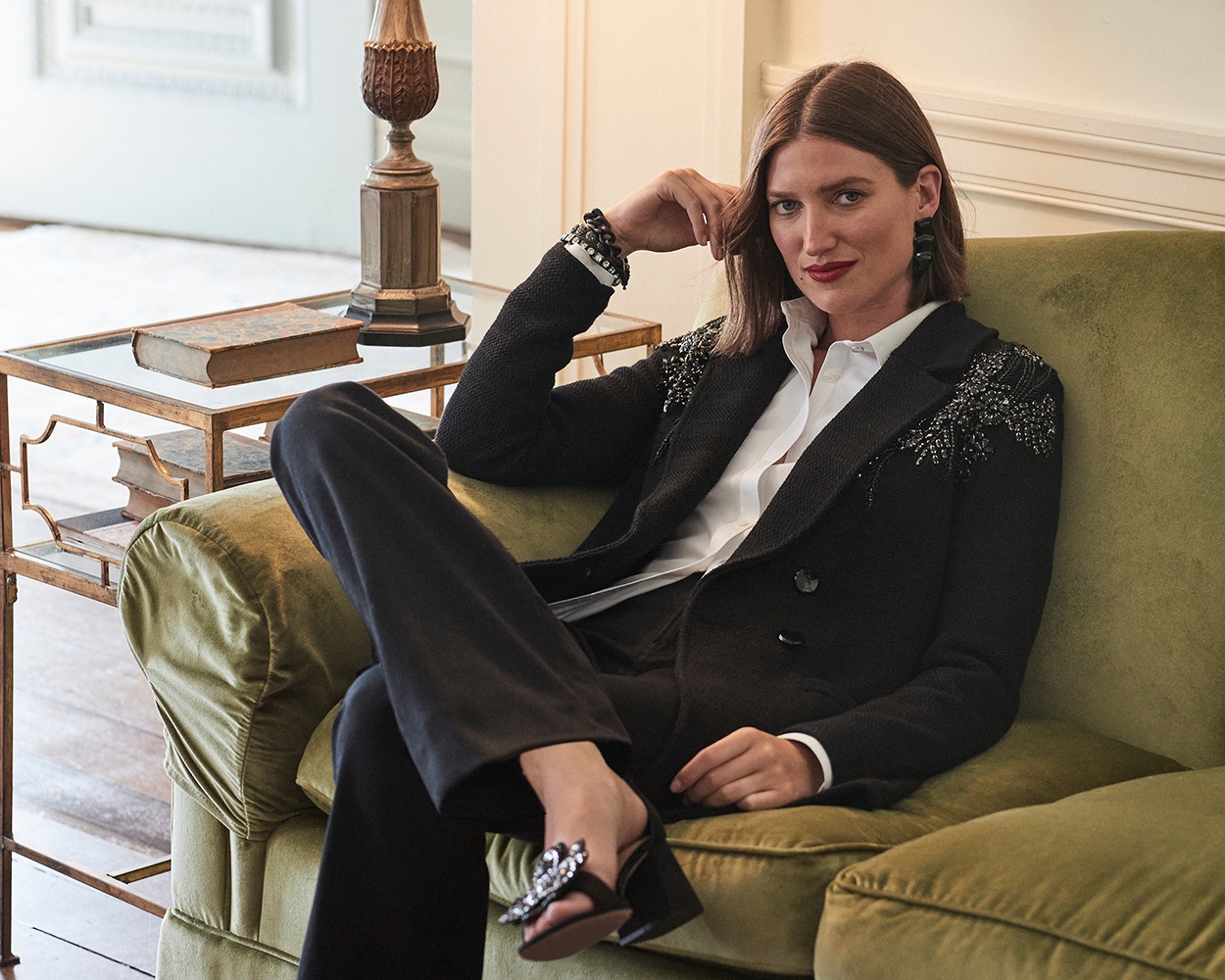 Holiday Jewelry Essentials
Shimmery pieces to complete your winter looks are a must. Adding that last touch of glam can make your holiday party outfits pop. This year, mixed metal jewelry is trending in a big way. These accessories blend silver tone and gold tone, so you can wear more of your collection together.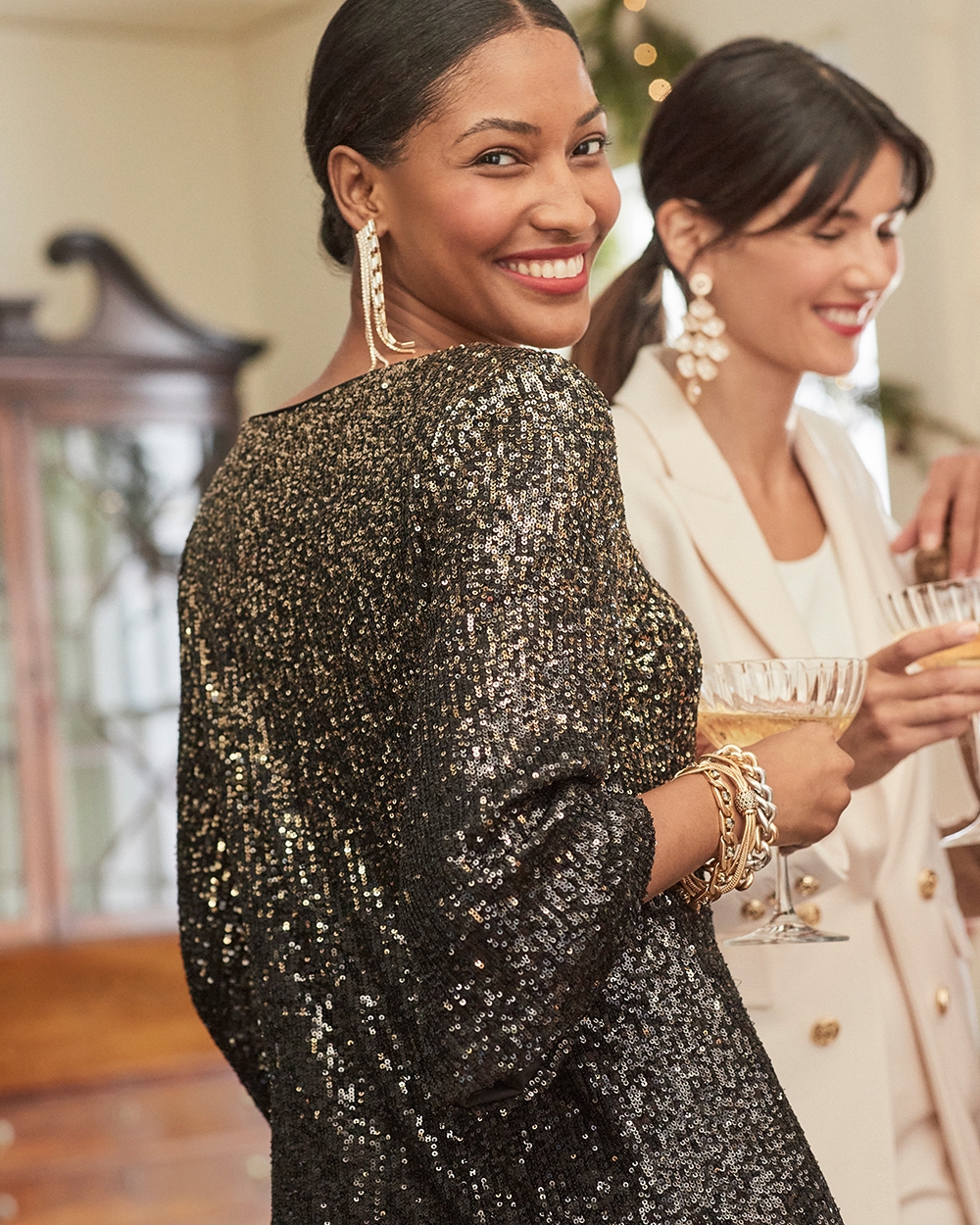 Get the Latest Chico's December Fashion Picks
Chico's winter fashion collection is the perfect blend of classic cuts and modern styles. Get everything you need for a trendsetting winter wardrobe. Peek at our newest sweaters, fashion tops, denim, pants, coats, dresses, and accessories. Shop Chico's for all your winter wardrobe needs.